Letters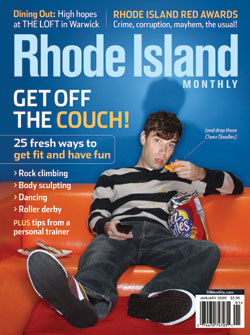 Everyday Bliss
Your article on "Cheap Eats" [November] overlooked the $8 nightly dinner special at Bliss Cafe in Newport. For home-cooked-style meals with gourmet style and flavor, the Café's daily menu, which includes heart-healthy seafood meals on Tuesdays and Fridays, is definitely a must-try!
Judith A. Byrnes
Newport
Newport News
Your article on Liza Baldwin ["Living the High Risk Life," November] has been the talk of the town. Good job! I just wanted to clarify to all your readers that the real "Newportant Group" was founded in the summer of 1983 by Brian Sullivan. Because of an influx of new people in town, Mr. Sullivan gave Newport natives numbered hats and shirts bearing the term. There are still hats available for sale.
Sue Reed
Newportant #007
Newport
Several of us take exception to the unpleasant reference to St. Catherine's Academy as a "now-defunct parochial high school for girls." The school has a far more interesting background than this might suggest.
In the late 1880s, William Osgood of New York built a residence called Osgood Villa. After he sold it, Herbert Claiborne Pell, J., then U.S. Minister to Portugal, purchased the estate. In 1940, the estate was given to the bishop of Providence and converted into the academy. Today, the building is home to the Newport Preservation Society.
Those of us who attended St. Catherine's more than fifty-five years ago are hardly defunct — still drinking cocktails and sharing gossip, as before, while fixing Thanksgiving baskets and wrapping presents for the needy at Christmas. Nor were we ever envious of our surroundings; rather we enjoyed the sublime landscape, architecture and beauty of Newport.Maureen E. McGann
St. Catherine's Academy, class of ´57
Providence
Rhody Trip
I read every issue of your magazine from cover to cover, and then share it with family and friends. It more than keeps alive all my memories of a great state.
I was pleased to see the photograph of John Gallo and John Giarrusso [Current, November], both of whom I served with in the Air National Guard. I am going to drive across the country next summer and hope to see them again in person.
Frank Manzi
Garden Grove, California
RIMonthly.comments
"V"-licious
Online readers weighed in on their own "cheap eats" favorites in response to our November feature:
"You obviously have not tried the VFW in Middletown. Recommend you try the "V" homemade burger with great and fresh fries, $7.95. And while you're at it, come back for the Friday fish dinner — bring doggie bag."