Letters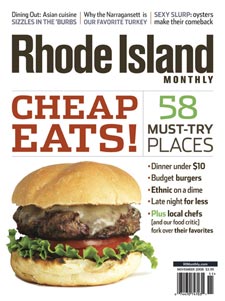 White Pages
I didn't think that my old neighborhood would be included in the article on "Best Neighborhoods," ["Welcome to the Neighborhood," September] but I had hopes. I should have known better. There is no way that the (apparently clueless) Caucasians who run your magazine would realize the excitement and value of living in a socio-economically and racially diverse neighborhood like Elmwood, on Providence's South Side.
Look at your photographs for this article. The only minority person pictured is in the background of a photo of Wickenden Street. Clearly, according to this article, the best neighborhoods are free of people of color.
"Out Takes" includes twenty-one photos, all white folks.
"To Do List," more photos of white people.
Ads (over which I realize you have limited control), almost entirely white people.
You should be ashamed of yourselves. You're like so many other clueless white people. Part of the joy of living in Elmwood was to be among people — of all colors — who choose to move beyond our culture's integral messages of racism (of which Rhode Island Monthly plays a part) to find a more inclusive vision of America.
How sad that so few white Americans share this ideal.
Anita Robertson
Blackstone, Massachusetts
---
On the Right Track
The list of schools in the piece on Providence's Downcity neighborhood ["Welcome to the Neighborhood," September] includes the Urban Collaborative Accelerated Program as a neighborhood middle school. It's true we are located in Downcity, but we only enroll students who are at risk of dropping out because they have repeated a year or more. Our school is a collaborative made up of the Providence, Cranston and Central Falls school districts, which are committed to seeking ways of serving students who have not been successful in traditional schools.
UCAP is a true public/private partnership. We receive tuition from our students' districts, but we also raise money every year from the private sector to provide a wide variety of academic and recreational enrichment activities.
Any Downcity resident whose child has been retained would be welcome to call us, but we also welcome visitors interested in volunteering or contributing to help these kids succeed. Their success is inextricably intertwined with our own — they are, after all, our future.
ROB DEBLOIS
Director, Urban Collaborative
Providence
---
Recipe for Success
I was delighted to see the Rhode Trip article on the Kenyon Corn Meal Company ["True Grits," August]. When I was growing up in Rhode Island, they were the required ingredient for Johnny cakes. It's nice to know they still grind the old-fashioned way.
We also enjoy their clam chowder, the only canned chowder with tender clams. We've tried other brands, but Kenyon's is the best.
Bill Worthington
Mountain View, California