Letters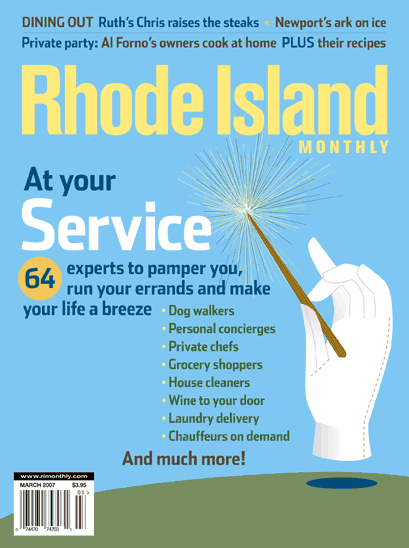 More telltale Rhody signs
I read your article "How Rhody Are You?" [January] with a smile on my face. My wife and I moved to this state four years ago and find ourselves being assimilated into the "Rhodies." I thought
I'd return the favor and perhaps bring a smile to the faces of you and your readers by sharing my "Top Ten" list of reasons that I'm becoming "Rhodyized."
10. I always wait a full two seconds and look both ways before starting into an intersection when stoplights change to green (those horns be damned).
9. I now anticipate the actions of other drivers in parking lots and no longer have to make crash stops in those areas.
8. I have made scuba dives to the Orpheus, Cerberus and the U-853.
7. I have had to take a ferry to referee a soccer game.
6. I have visited all cities and towns listed on the Rhode Island state road map except for Glocester.
5. I use the Warwick wave at intersections.
4. I have come to realize that I am the one with the harsh, strange accent.
3. I call the bulls at Colt State Park by their proper names.
2. I know when and where to change lanes driving West Main Road from Route 24 to the Newport Bridge turn-off or vice-versa.
And the number one reason I know I'm being assimilated into a "Rhody" is:
1. I start to feel more secure as I drive over the Newport, Mt. Hope or Tiverton bridges to my new home in Portsmouth.
Henry J. Veix
Portsmouth
Karen Adams's real Rhode Island moment in "How Rhody Are You?" reminded me of my own years ago. I was a Connecticut kid who had just graduated from the University of Rhode
Island when I got a job interview in Providence. When I asked my prospective boss for directions to his office, he told me to meet him "where the How-
ard Johnson's used to be." I exposed my lack of true Rhode Island roots by innocently asking, "what is there now?" I got the job anyway.
Chris Barnett
Cranston
A bad harvest
What a nice article ["Neighbor," Pat Thompson, January] to start off our new year with! Harvesting? Is that like hunting and maiming and killing our innocent wildlife? Whether you love it or abhor it, to paraphrase Shakespeare, hunting and maiming and killing by any other name still stinks!
Stan Fellenbaum, D.V.M.
Narragansett
The state's best loser
I was reading your December issue and was surprised to see how many reality TV stars our small state has produced [Insider, "Rhode Island Reality"]! There is one more that needs to be added to the list: Erin Jeffrey from Charlestown who represented the state of Rhode Island on NBC's "Biggest Loser 3" this past season. Erin arrived in California sporting a Rhode Island T-shirt hoping to lose enough weight to bring home the grand prize and title of Biggest Loser. Unfortunately she was sent home before the end of the show but returned for the season finale in December. After dropping eighty pounds (and still losing!), she may not have won the grand prize on the show but she will always be our biggest loser!
Karin Riccio Ogle
Westerly
Feeling the heat
Ellen Liberman's article "The Heat Is On" [December] successfully identifies several major reasons why Rhode Islanders should be concerned about global warming, including threats to our coastline and native species in Narragansett Bay.
The article also correctly identifies the Regional Greenhouse Gas Initiative, a landmark regional effort to cap and reduce global warming pollution from power plants, as the next step Rhode Island should take to reduce our state's contribution to global warming.
Whether that happens through an executive order from Governor Carcieri or action by the General Assembly remains to be seen, but as I sit in my office looking out the window at another sixty-degree day in January, I can't help but think that this year is the time to act.
Matt Auten
Environment Rhode Island
Providence
Correction
In November's feature, "Great Stuff Cheap," the wrong phone number was listed for the Save the Bay boat tours. The correct phone number is 272-3540.