Letters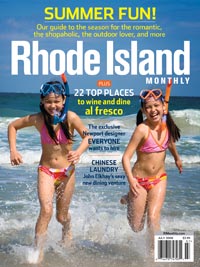 Barrington Response
After our son Jonathan was killed last November as a passenger in a car crash in which underage drinking was a factor, my husband and I had little desire to participate in an article ["Driven to Drink," May 2008] on the subject. Aside from our own anguish, we were tired of the town and its young victims being vilified by the media.
Your writer assured us that she wanted to give the victims' families a chance to voice our concerns and present ideas for change. We expected a thoughtful, sensitive, articulate article on how the legislature, communities, parents and teens are trying to combat this epidemic.
What we finally read, however, was an article in which the feelings of the victims' families and friends, the confusion of our teens and the ways the community is working to address these issues evidently were not as powerful a media tool as generalizations, finger-pointing and the exploitation of a community's grief.
Two of the tragedies in the article involved kids who had never been in any trouble before their fateful nights (our son included). A quote from one of Jon's good friends was taken out of context. Details of the accidents and mean-spirited remarks were used simply for dramatic effect. We don't see anything beyond ill feelings and continued stereotyping to have come from this article. Whatever happened to one of the major points in the code of ethics for reporting, that a journalist should "minimize harm"? Maybe this code should be re-read before another group of people are denigrated.
Terry and Dan Converse
Barrington
I am deeply saddened and disappointed by "Driven to Drink." After your article was presented as a piece on underage drinking in Rhode Island, I offered my time, extensive national and local data, and invited your writer to a community task force meeting. I hoped to present not only the challenges of changing a long-accepted community norm, but to highlight the many people tenaciously striving to make this community a safer place.
The end product is a scathing exploration of private grief and an insult to those who are working not "aimlessly," but together, to make positive change after too many high-profile tragedies. The Barrington School Department has made numerous policy and educational changes to address this issue. Our police chief has received national recognition for his efforts to enforce underage drinking laws. Parents, the YMCA and local church leaders have mobilized to make change.
Your focus upon sensationalism and trivial divisions can only add to the misery of those involved and reveals an inability to see the larger picture.
Kathleen Sullivan
Coordinator, The BAY Team
Barrington Substance Abuse Task Force
As I began to read "Driven to Drink," I was already expecting more Barrington bashing. However, I was surprised to find a well-presented telling of these tragic events and the seemingly impossible task of stopping them from happening in the future. As a lifelong Barrington resident, I consider myself and my grown children to be "survivors" of this syndrome which, as stated, is not unique to Barrington, but somehow seems more prevalent here.
I raised two boys here, part of the time as a single dad. My parenting skills were challenged daily. I tried hard to instill good sense in my sons, but ultimately, only they could chart the course of their future—and even that was no guarantee that bad luck might not step in the way.
No matter how much information we give teenagers, the attitude is "it can't happen to me." The only solution is to enforce laws designed to keep teenagers away from alcohol and drugs by supporting police and concerned parents. In this town, where opportunity is great, we need to be aware and vigilant in our constant messages to stay away from these illegal and potentially deadly activities.
Joe Sturm
Barrington
Life Lesson
Thank you for following the girls at the Training School and bringing insight into their lives ["Bad Girls," April 2008]. I was disappointed, however, in the stereotypical title of the piece.
I have seen firsthand, through a Big Sisters program at the Training School, that these girls are intelligent, insightful and in need of a safe, nurturing environment. They often have low self-esteem or feel they aren't capable of accomplishing anything because others have told them so. They need our support, encouragement, and the opportunity to make better choices and give back to the community. As one girl who participated in our program told me, "Thanks for showing me that I am more than the mistakes I make."
Karen Gager, MSW
Big Sisters of Rhode Island