Letters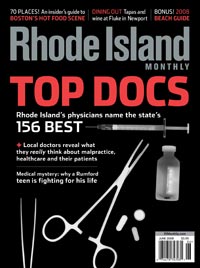 "Om"issions
In your yoga 101 report ["Om School," April], you omitted a nationally renowned twenty-five-year-old studio: Yoga Concepts at Bikram's College of India in Cranston.
rosalind kurzer
Cranston
I loved the feature on Rhode Island yoga and was thrilled to see many of my fellow studio owners in the spotlight. However, I was surprised that Focus Yoga in East Greenwich was not included. We offer over twenty weekly classes, including children's and youth yoga programs.
I invite you to come and meet the many bright-spirited students and highly skilled teachers who make Focus a notable yoga destination.
Katherine Conte
Owner/director
Focus Yoga + Bodymind Arts
East Greenwich
I was disappointed to see that my teacher, Linda DiCarlo, and her studio, Iyengar Yoga Source, were not included in your survey of local yoga venues.
Linda is president of the Iyengar Yoga National Association. She has taught Iyengar Yoga for over twenty years and is one of the more senior teachers in New England. Her studio is an important option for those interested in local yoga.
Claude Goldstein
Providence

Breath of Fresh Air
Thanks for the great article on Rhode Island public radio ["Don't Touch That Dial," April]. WRNI is a Rhode Island treasure and Joe O'Connor is the curator.
Fourteen months ago, I returned a WRNI pledge card, refusing to support a station I couldn't receive without static. Days later, general manager Joe O'Connor telephoned personally to inform me of the acquisition of a Narragansett FM station. He waited on the phone until I success-
fully located 102.7.
Now that is great management. I am now a loyal listener and willing supporter of WRNI. Thanks so much, Joe.
Tom Maguire
North Kingstown
Green Thumbs Up and Down
We appreciate being included in the "Green Fields" article [April]—great coverage of nurseries in Rhode Island and beyond.
Your writer may have misread information on our website concerning the history of the 'PJM' rhododendron. 'PJM' was the first plant hybridized by Ed Mezitt in 1939. He named it after his father, Peter J. Mezitt. 'Olga Mezitt' was introduced by Ed Mezitt in 1964 and named for his mother.
Jennifer Angell
Marketing Manager
Weston Nurseries
Hopkinton, MA

I was somewhat disappointed to note that no garden center of any kind in the Providence area was featured in "Green Fields." Gas is up there—I will never drive to Little Compton or Portsmouth unless the price drops to a buck a gallon.
I am sorry that only the hybrid crowd will enjoy these leisurely drives to pick up geraniums. I will stick with Ann and Hope.
John M. Casey
Cranston
Survey Says
We noticed your annual "Top Docs" survey has no category for wound care.
Wound care is an exciting and fast-growing specialty, serving patients with non-healing wounds caused by diabetes, pressure, circulation problems and a variety of other causes. With the aging population and increase in diabetes, the need for this service has expanded greatly—our own wound center has grown very quickly since it opened ten years ago.
Several technologies have greatly improved healing outcomes. Our hyperbaric oxygen service treats problem wounds, diving accidents ("the bends"), carbon monoxide poisoning, as well as a newer diagnosis—tissue damage in cancer patients who have been treated with radiation.
Wound care is certainly something many of your readers would find interesting. Any consideration you might give to a wound care category for "Top Docs" would be very much appreciated.
Dixie Egan
Business Manager
Wound Recovery Center at Kent Hospital
Warwick

We enjoy the "Top Docs" series, but please—isn't it time to survey patients for their opinions of the excellent Rhode Island doctors who have saved their lives? We are two grateful patients.
Brenda and Jonathan Hankins
North Smithfield
Correction: While factchecking our April Dining Out column, we were provided with information that we are now told is innacurate. Paula DeRuosi is the sole proprietor of n-Joi restaurant in Cranston.