Letters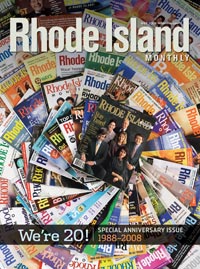 Practice Makes Perfect
I just read your article on yoga ["Om School," April] and was very disappointed to find that the studio I attend was not mentioned.
There is a wonderful yoga haven right in Cranston called Studio Exhale. The studio is warm and inviting while creating an ambience of calm and peace conducive to the practice of yoga.
Dayna, the owner, is an excellent teacher who makes sure that her classes meet the needs of her students.
It is a disservice to your readers to have failed to mention Studio Exhale. I'm not sure what the criteria were for highlighting the particular studios that were featured, but, perhaps you could at least include a comprehensive list of actual yoga studios in Rhode Island at the end of future articles?
Lynn Lundgren
Warwick
Ego Boost
As a freelance court reporter, it was so nice to see the hard work we do finally get a little recognition [Rhode Trip, March 2008]. We are the unknown profession, so it was nice to get noticed, let alone actually get praised for the hard work we do.
I am sure you put a smile on the faces of all Rhode Island court reporters.
Barbara J. Warner
Cranston

Little State, Big Impact
Hats off to the genius who wrote "Election Schmelection" in the March issue [Current]. This issue was in my mailbox around mid-February, at a time when even a high school kid could have predicted that the Rhode Island Democratic presidential primary election would be a key component to both Senator Clinton and Senator Obama.
What were you thinking?
Fred E. Joslyn. jr.
Cranston
Editor's response: Because of our lead time, we wrote this story in late December, when it looked as if Rhode Island wouldn't be influential in choosing the Democratic nominee. But, a week is an eternity in politics and, happily, Rhode Island got its say after all.

Public Exposure
Thank you very much for inclusion of our romantic program, "Inflections of Love," in the February issue of Rhode Island Monthly [Current]. Because of the placement of the piece, "Poetry in Motion," I am sure that this certainly contributed mightily to the full house at our performance.
Bobbie Chambers
Administrative Director
Aurea Ensemble
A Beef with Beef
As an advocate of animal welfare and a vegetarian for more than half my life, it was with much disappointment that I received my first issue of Rhode Island Monthly [February] only to see a close-up of animal flesh gracing your cover and a long-winded article extolling the "virtues" of it.
I have eleven more issues of my subscription, and I will give the benefit of the doubt that in at least one of these issues, you will have a cover story or at least an
extensive article on the greatness of the numerous vegetable and fruit farms located within Rhode Island.
Beth Iovino
Warwick