Letters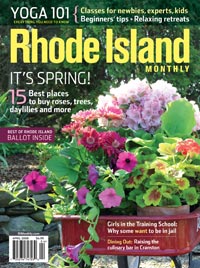 Red in the Face
First, I would like to thank you for acknowledging my son's science fair project in the Rhode Island Red Awards for 2007 [January 2008].
Even though the award from the magazine is a dubious one, he did win the top award from last year's Amgen Rhode Island Science and Engineering Fair for the middle school level. But his name is Matthew Iovino (not Lovino), and he is currently an eighth-grade student at St. Kevin's School.
You are not the first, and are surely not the last, to spell our surname incorrectly; we are quite used to it. We will keep you posted as to the progress of his science fair project for this year. He is expanding on last year's experiment. Who knows where this will lead!
Beth Iovino
Warwick
"A" for Effort
As a teacher, I take serious offense to Ms. Noonan's letter ["Schooled," January 2008]. In order to enter the teaching profession, I had to earn a master's degree. With that degree, I could have chosen to enter a far better-paying position in another field, and yet, I chose to become a public school teacher (in an urban, low-income district, no less) because I believe in educating
our youth.
During my summers, I have to take additional courses—usually at my own expense—so that I stay up to date in my certification. I will have to take these courses for the remainder of my career, even though I earned National Board Certification, the highest level of certification available in the field.
After school, I volunteer my time so that I may give additional help to my students. Most of my colleagues do the same. When I go home at night, I grade papers and plan lessons. Most of my colleagues do the same.
More and more, the average teacher has to do a great deal of parenting because it is not done at home. I have had to buy students lunch and pay for their college application fees. I have had to explain to them why cheating is wrong and why fighting is not always the answer. I have had to provide them with avenues for dealing with alcoholism, jailed parents, abuse and neglect. I've helped complete college applications, work permits and resumes. I attend their sporting events and dance recitals because their parents often do not.
Teachers work hard, and we receive little recognition from a society in which we are undervalued. There are a lot of careers in which people do little work for a lot of recognition and financial reward. Teaching is not one of them.
Kelly Andreoni
Revere, Massachusetts
(Formerly of Portsmouth)
Sticky Situation
What a mess! Page thirty-three of the February 2008 issue, that is.
Stuck on page thirty-three is a pull-out for Rhode Island College. That glue stuff must have been old, because I am unable to remove the insert without tearing the page so that it becomes unreadable.
Is there anything else you can do with these inserts? They drive me bonkers!

Gretchen Scott
Dexter, Michigan