Letters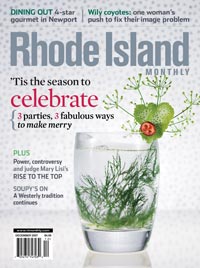 Buddy Backtalk
Your October cover and complimentary story on Buddy Cianci ["Free Buddy"] was ill-conceived and unworthy of Rhode Island Monthly. He is nothing but another Rhode Island disgrace.
Eugene A. Nadeau
Warwick
I enjoyed reading "Free Buddy." Denise Dowling did a great job in the writing, although knowing Cianci, she had a lot of material to work with. I was always impressed with Cianci and have a little anecdote on meeting him. Our Boy Scout Troop was having a spaghetti dinner as a fundraiser, and we had some of the Mayor's Own sauce donated. Cianci came with his Providence police driver. One of my scouts asked the Mayor about the gun the policeman was carrying. "Is it real?" he asked nervously. Cianci calmed the boy down by saying that while it was real, he made the officer account for all the bullets. The boy was relieved, and we all shared a good laugh.
Paul Kelley
Providence
Disgraceful!! And to honor the man who embarrassed city government with his lies, cheating and stealing with a cover photo! It seems like he is being embraced as a conquering hero. You are judged by the company you keep, and that is one magazine I'm NOT keeping on my coffee table! UGH!
Marcia Mascena
Warwick
I give Buddy Cianci a lot of credit. Gone with his toupee is the veneer. And dare I say that prison life has made Buddy a better, more centered man.
In the late 70s, I left the swamp that was the Rhode Island economy as I headed for university life in Boston. Twenty-five years later, as a global technology executive and new father, I returned to raise my young children as thirteenth-generation Rhode Islanders. Ironically, neither I nor my Wall Street-trained wife could find jobs that even remotely matched our previous incomes or responsibilities. So after two years, we once again left Rhode Island—this time for jobs in Connecticut.
So who is the villain? Buddy Cianci who broke glass to lead the renaissance of Providence…or the state legislature who in the same twenty-five years is guilty of gross negligence in its stewardship of the Rhode Island economy? I for one welcome Buddy home and wish Rhode Island had more unreasonable leaders like him.
Michael Shea
Farmington, CT
Another Claim to Fame
In your September issue, Paul Kandarian highlighted many of Rhode Island's fine halls of fame ["Homegrown Heroes," Rhode Trip]. But there was one glaring omission: Bristol's own America's Cup Hall of Fame at the Herreshoff Marine Museum, celebrating the world's oldest and perhaps most distinguished sporting event.
I invite all of Rhode Island to visit, learn about the America's Cup and experience the adventure of world-class sailing.
Halsey C. Herreshoff
Bristol
Correction: In our Holidays issue, we ran an incorrect phone number for Kenneth Cote Renewal Center. The correct number is 884-2810.