Letters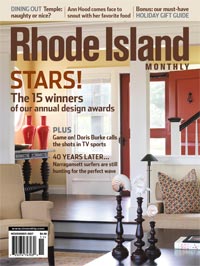 Fan mail
Hooray, you've finally found Ted Leo ["The Independent Man," September]!
Those of us paying attention for the last few years to alternative-type music have been waiting for him to be discovered, but then again, if everyone discovers him, it'll be more difficult to get tickets to his sometimes small, local venue performances.
He is an amazing musician, and we love him live. We just wish he'd come back to Rhody a little more often. He's wonderful to his audience, hangs around before/after shows, won't sign autographs (because he doesn't think he's famous), lets us film, but more so, his music is meaningful.
Sharon Terzian
Warwick
Please give us more articles by Jamie Samons. She is bright, articulate, funny and a wonderful writer. It was a pleasure reading her recent piece on Ted Leo. Keep them coming!
Libby Peiser
Providence
Class wars
In the September feature "An Educated Choice," the current principal of BEACON Charter School trashed its past administrators. The Rhode Island Department of Education (RIDE) and Johnson and Wales, along with their hand-chosen administrator, may have attempted to portray themselves as saviors, but involved residents of northern Rhode Island recognize what actually occurred. Many also realize how an opportunity for northern Rhode Island to be showcased was squandered. The current Head of School has basically dismembered the school, while increasing his salary approximately three-fold—with Johnson and Wales's blessing.
Despite what the article may have portrayed, apparently gone are the once established plans for the following programs: college prep for competitive colleges; the fencing and drill program; the four-day senior week with fifth for special time; the special scholarship program; dance; ceramic lab; wood lab; essentially the ethnic connection to the French community; the utilization of the Stadium Building, listed on the National Register of Historic Places, which would have operated as an anchor facility for the northern section of Woonsocket's Main Street; and agreements with other schools of higher learning.
Nearly everything we executed was often guided and directed by RIDE including, to my objection, the projected student enrollment of 165. The Rhode Island Commissioner of Education, however, allowed for the betrayal and demolition of a true prototype school that combined art and business in the developing of a student's creativity. This is the same commissioner who allowed his department to state that BEACON was $500,000 in debt, which was far from the approximately $82,000 shortfall. In our dealings while discussing BEACON with RIDE, the words "student" and their "benefit" were never once mentioned or uttered. In fact, we were instructed by a high-ranking member at RIDE to "think of students as numbers and not faces"! The term "students" seemed overlooked and was replaced with terms such as "power" and "money." These attitudes reflect typical, arrogant, ignorant bureaucracy at its best or lack of foresight at its least. As was apparently seen in the article, we currently have a group that is gloating and feeding off the carcass of what once was, which had the potential to make education relevant to the student as well as to the community.
Since their takeover, none of the Johnson and Wales members has ever sat down to discuss either the original BEACON school concept or its potential with any of its former directors. Johnson and Wales has apparently chosen to ignore thirty-three years of research. The three original BEACON designers represented over a hundred years of working within the classroom. It would be interesting to verify just how many years of secondary classroom teaching experience those interviewed by Rhode Island Monthly actually have.
As for some of the testing, do not be bamboozled; examine the current SAT scores. The article mentioned the organizing of the students, parents and faculty to rally at the BEACON/RIDE hearings. The current administration had no involvement with the students then. Some might state that they did appear as tourists or witnesses. Others may accuse them of utilizing that time to plot strategy behind our backs.
If charter schools are to have a future within Rhode Island, their potential will hinge on a number of factors. There are certain pitfalls that charters must be aware of: short-sighted superintendents along with other school officials with a similar mindset; union officials who do not have the foresight to recognize charter teachers as future members; want-to-be ambitious educational philosophers who do not understand students and faculty potential; know-it-all or jaded teachers; ignorant and arrogant bureaucrats; those who have forgotten what education is all about: the student and the community. The latter, unfortunately, is a concept that many, other than the students, faculty and community, do not and likely will not, ever understand.
As for the directors, board, counselors, support personnel, faculty, advisers, community, parents and students, these were some of the finest, most unselfish individuals one could possibly work with. Despite Rhode Island Monthly's article, the current board has managed to transform the original concept into a square tire wheel barrel.
Paul Lawhead
Activities Director
Northern Rhode Island Council for the Arts
Founder and former Head Director of BEACON Charter School
People's choice
Your magazine's article written by Karen Deutsch entitled "Back to the Future" [September] is a repeat performance of the culinary critique mediocrity that seems to plague Rhode Island Monthly. First the absurd article printed in September 1992 by Deborah Flateman [review of Al Forno] and now the article on Bacaro, another restaurant that will make Rhode Island proud as well as a destination in the global culinary trail.
For the Gold family it is a delight to support an award-winning chef who has struck out on his own following his life's culinary training at world-famous Al Forno.
My family frequently dines at both Al Forno and Bacaro—each deliciously enjoyable with teams of professionals not only serving up globally award-winning food and drink, but also providing unique evening dining in Rhode Island.
We are fortunate to have in the Ocean State our share of world-class recognized restaurants. Your publication's critique of Bacaro is imbecilic, unfortunate and undeserved.
David Gold
North Smithfield
Karen Deutsch's harsh review of Bacaro is out of line. It is clearly immediately among Providence's best restaurants. A 2 K-star rating insults Bacaro and the Rhode Island Monthly reader.
John Machata
North Kingstown
No class
As educated professionals, teachers deserve respect. I am thoroughly disappointed in your magazine's use of an old cliche. In the Kidstuff section ["Best of Rhode Island," August], you write "Those who can't do may teach, but those who know better sell to the rest of us." This cliche is offensive to both teachers and to individuals who appreciate and respect teachers. Teachers have a hard enough time gaining the respect of their students, but have an even harder time gaining the respect of the public when such cliches are carelessly published in magazines such as yours. Your magazine has been careless and offensive and owes an apology to both teachers and your readership.
Melissa Heywood
English Teacher, Toll Gate High School
Warwick