Learn How to Find, Shuck and Cook Shellfish
The DEM has free classes to teach you how to clam.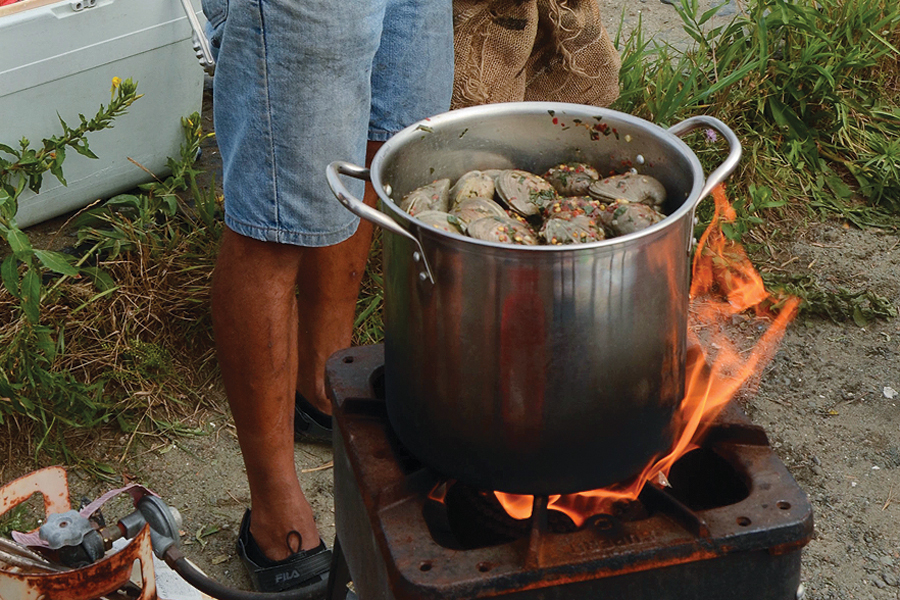 You can have your clams and eat them, too. This summer, the Rhode Island Department of Environmental Management's Division of Fish and Wildlife's Aquatic Resource Education (ARE) program is organizing six free "Come Clam With Me" workshops to teach locals about quahogging in the Ocean State. Groups will roam the flats with commercial quahogger, Jody King, as he teaches about Rhody natives' right to obtain a half-bushel of clams per person, per day, without a license. Participants will also learn about shellfish safety and how these bivalves miraculously clean up the bay, says ARE coordinator Kimberly Sullivan. "We talk about the importance of clams to our ecosystem," says Sullivan. "Creatures depend on the clean water that clams produce." Access shellfish regulations, licensing information and more at dem.ri.gov.
Here are five tips to get you mucking about for buried treasures:
"Pay attention to which areas of the bay are open to quahogging. Some areas close for potential pollution in the water. We don't want people eating clams that could potentially harm them," says Sullivan. Call the shellfishing hotline at 222-2900 to hear a list of areas that are closed.
While Rhode Island residents don't need a license, out-of-staters can get in on the fun by obtaining a yearly license or a fourteen-day tourist license.
When searching for a prime clam-digging spot, "look for shells along the shoreline," says Sullivan. "If you see lots of quahog shells, you are more likely to get clams there." She also recommends hitting spots at low tide. When the water retreats from high-tide areas, more quahogs will be out there.
"Make sure you bring a cooler with ice," she says. "As soon as the clams reach air temperature, bacteria is more likely to grow."
Wear your bathing suit. "Most people expect to only go in the water calf-deep, but some end up wading up to their shoulders," says Sullivan. "Plan to get wet!"

As part of the free classes, participants keep as many clams as they can catch (up to legal limitations), and King will lead a cooking demo of a dish at the end of the adventure (recipe below).
The available dates are as follows:
June 21, 1-4 p.m. in Bristol
July 19, 12:30-3:30 p.m. in Bristol
August 4, 2-5 p.m. in North Kingstown
August 19, 1:30-4:30 p.m. in North Kingstown
September 17, 1-4 p.m. in Warwick
A registration form should be filled out online or printed and mailed. Registration is required and participants can only register for one date (first, second and third choices available). Include all participants attending. Families with children ages eights and older are welcome. An email confirmation with detailed directions will be sent to you once you are officially registered. If you need further information, please contact Kimberly Sullivan or Jessica Pena at 401-539-0019.
Watch a Commercial Clamming Video with Jody King
Linguini and Clams recipe
"You get to sample something my father taught me. Everyone who tries it takes it home and eats it for the rest of their life. And it's the easiest thing in the world. You ever cook clams before? Do you boil them? Most people put them in a pot with a bunch of water and watch them steam away. Then I look at you and go, 'Do you cook your vegetables in a boiling pot of water and eat them all mushy? Then don't eat my clams like that.' All you need is olive oil, chopped fresh garlic, basil and crushed red pepper. Put clams in the pan with the other ingredients, and no water, then pour the olive oil on top. The oil keeps them from burning and starts the steaming. As soon as the first clam opens, it drops its liquor into the pan to steam the rest. Once all the clams open, serve them over cooked pasta, and pour the clam juice from the pan right over it." –Jody King
Want even more clams? Check out the New England Quahog Festival (which also includes the sounds-like-it's-awesome Wickford Sea Creature Parade) on June 25 from 10 a.m.–6 p.m. North Kingstown Town Beach, 10 Beach St., North Kingstown, newenglandquahogfestival.com