Leaning Green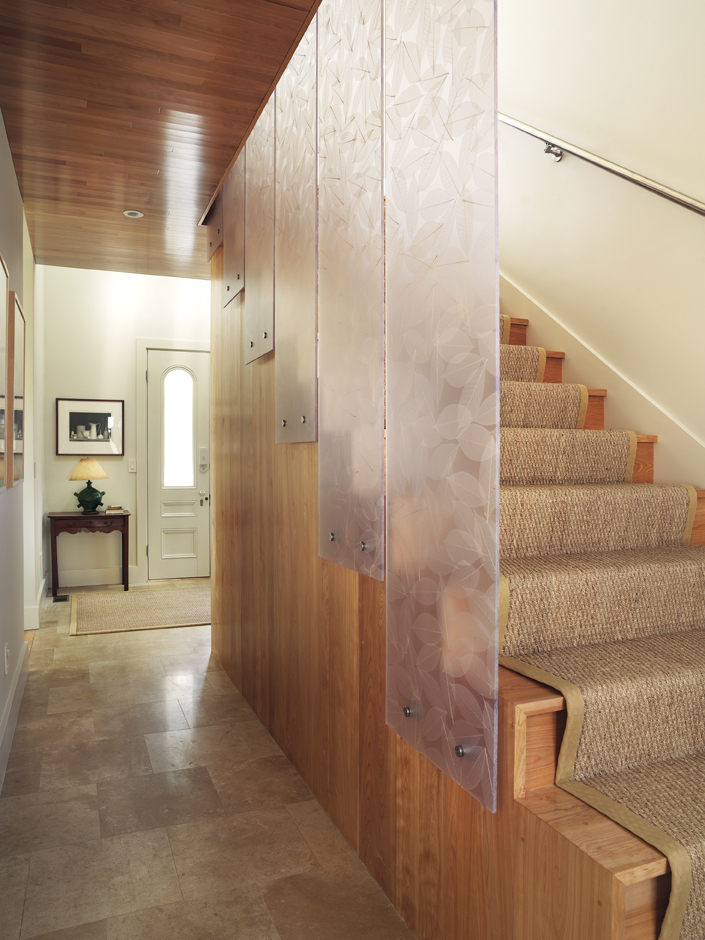 After years of happy comings and goings, this 1865 farmhouse in Westport, Massachusetts, was in need of an update. To nudge the home into the present century, Portsmouth designer Michele Foster of Foster Associates and her team, Scott Galczynski, Chris Cote and Michelle Hartwell, merged twin parlors, flipped the stairs and added a modest 600 square feet. Today, the client's home is more comfortable and efficient. "Conserving means limiting the size of the building and the number of materials involved," Foster explains. Here's a rundown of her stellar, planet-savvy moves.
Salvaged Goods
"Reuse of a building or materials is a green strategy," Foster says. Here, she kept most of the siding and all the exterior window trim and details. She also recycled the original interior pocket doors. Two made it into the kitchen where they guard a compact laundry area on one side and an orderly pantry on the other.
Clever Cuisine
MDF (recycled wood pulp) cabinets made by New England Woodworking in Middletown, teamed with stainless energy-saving appliances, give the kitchen a contemporary twist. Countertops are CaesarStone, a long-lasting composite stone made of recycled and natural products. The backsplash is light-conducting, recyclable glass, and the floor is readily available, easy-clean limestone. Kitchen lighting, and lighting throughout the house, is by Lightolier, a Fall River company working to limit industrial waste in manufacturing.
Seeing the Light
The kitchen, where everyone gathers, was dark and cramped. To afford the family ample space and an abundance of light, Foster, along with Kendrick Snyder Builders of Westport and Cleveland-based interior designer Pat Brownell, created a sitting/dining area maximizing the south, southeast exposure with a series of energy-efficient Marvin glass doors and windows. Existing windows in the rest of the house were also swapped for new Marvin windows. Their low e-coating allows light and heat in, but reduces fading on fabrics. The windows are wood with a factory-painted-black, low-maintenance aluminum exterior sash, to mimic the original and offset the taupe-colored clapboard. In addition, a quartet of new skylights usher sun into the entry and stairwell. Translation? Plenty of natural light keeps electricity costs down and spirits up. Skylights in the entry area promote cross ventilation and pull heat out of the building.
Chill Factors
The farmhouse has a forced hot air heating and cooling system. Icynene spray-on foam insulation, made from agriculture byproducts, in the addition's walls and roof prevents draft and keeps the owners cooler in summer, warmer in winter. Runtal heating units, manufactured in Massachusetts, were installed upstairs for better heat control. "They have a higher BTU rating per linear foot," Foster explains. A number of ceiling fans help reduce energy bills even further by circulating the air. Should temperatures soar, the broad overhang of the roof provides shade for the kitchen.
Tread Carefully
"Because the stair is new and you enter from the north instead of the original south entry, we wanted it to feel like a piece of furniture slipped into the old fabric of the house," Foster explains. Red birch, a fast growing, semihardwood, is the material of choice along with stainless stair components and railing, locally made by Russell Daley of Specialties Unlimited in Middletown. 3Form Architectural Eco-Resin Panels composed of 40 percent post-industrial resin take the place of ho-hum spindles. For continuity, Foster also selected red birch for floors and ceilings. Stair treads and the adjacent living room are carpeted with environmentally friendly, durable seagrass.
Mark the Spot
Although some areas required repair along the way, most of the clapboards are original. Their taupe color and black window trim is also a nod to the past. Different roof heights and materials help mark what's old from what's new.