Leah Carroll's Buzzworthy New Book, Down City, Unpacks Family Tragedy in Gritty Providence
The memoir, which explores the untimely deaths of her troubled parents, was featured in Sunday's New York Times book review.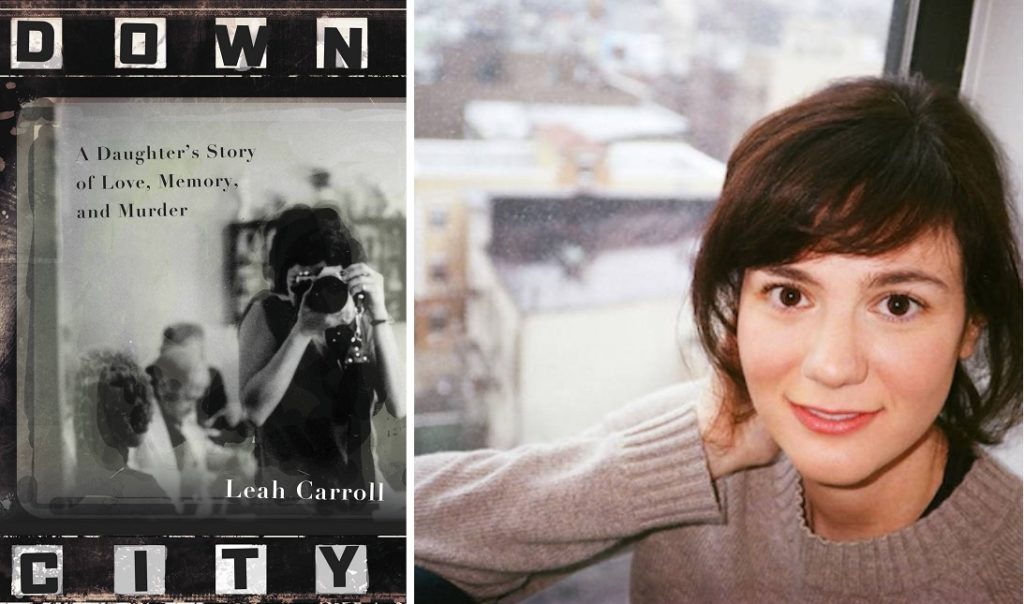 Last month, Grand Central Publishing released the memoir, Down City: A Daughter's Story of Love, Memory and Murder, a debut from Brooklyn-based writer, Leah Carroll. The story investigates the murder of Carroll's mom in 1984; she was strangled by drug dealers with mob ties, who suspected she was working as an informant. Carroll was four years old.
Fourteen years later, Carroll's dad, a former Providence Journal photographer, was found dead on the floor of the old Sportsman's Inn in downtown Providence. His body had finally succumbed to the strains of lifelong substance abuse.
We caught up with Carroll to learn more about the book, which was reviewed in Sunday's New York Times. Read the review here or meet Carroll in person at the Point Street Reading Series in Providence on May 14.
Rhode Island Monthly: When did you decide you wanted to write about this complicated family history?
Leah Carroll: I've been working on it for a long time, probably about ten or twelve years. It really started when I went online in college and started to find out information about my mom. I was creative writing undergraduate [at Emerson College in Boston] and I have a graduate's degree in creative writing [from the University of Florida], so I always knew it would be some kind of writing project. A little after I turned thirty, which was the age my mom died, was when I decided it was time to write the book.
Did you always want to write a memoir?
No, I actively resisted the fact that I was writing a memoir. I think that's why it took me so long to write it. I really thought I'd be doing more of a sociological study of my parents and Rhode Island and I did a lot of research. When I was trying to write the book, I realized that I was the bridge between these two stories. When I hit this form, I sat down and wrote the book in three or four months, after years of research. It entailed letting go of a lot of research but I think it was what the book was always supposed to be.
Is there any line of research that you wish you could've included in the story?
I had done a lot of research on, for instance, the Dean Hotel, which was the Sportsman's Inn. And so I had researched the history of that building intensively and thought it was so illustrative of Providence. It was a home for wayward sailors and then it became the Sportsman's Inn and then it became the Dean Hotel. I loved that story.
The Sportsman's Inn is a real emblem of Providence's seedy history. Is that history a big part of your story?
Definitely. My family exists only in Rhode Island. My grandparents were the children of immigrants who came, on my father's side, from Ireland and, on my mother's side, Jewish Eastern European immigrants. When they came here, there was industry and that really died out. My parents straddled the time in the late '70s, '80s and '90s when Providence was really struggling. They were in that time when [the] Patriarca [crime family] was ruling everything and Buddy was running for mayor again in 1990.
My dad worked for the Providence Journal for twenty years. And he lost his job when Belo bought it out. The Journal was so important to my father, and it was so important to so many Rhode Islanders. It was one of the last things we really had. Today, it's much different than it once was. It was a big blow and a big loss, and my father felt that loss personally.
My dad grew up on Eddy Street in South Providence; my mom grew up in Western Cranston. She worked in the American Tourister factory. It's gritty in the sense that we have Brown University up on the hill and everything else is below it. I don't know if that's entirely true. But my parents were quite removed from that and also aspired to that side of Rhode Island.
It's funny that you mention American Tourister, because it's being renovated into apartments as we speak.
That's fascinating. Of course it is! The career I knew about was that she worked as a dog officer in Cranston; she really loved animals. It was in one of the newspaper reports I saw that they had referred to her as a factory worker. My aunt was like, "Oh, she worked at the American Tourister factory for a couple of months."
What was it like, finding all of these little details about your mom along the way?
There was so much silence about her when I was growing up because of the way she died and because of the fact that she was a drug addict and she was murdered. It was something we never talked about. People wanted to remember my mom but they didn't want me to remember her with any flaws. I was told she was in a car accident until I was, like, nine or ten
One of these things I loved finding out about her was that she was really wild; she was fun. She would skip school and she didn't like the rules and that was all part of her.
What have you learned about yourself over the course of this decade of family research?
One of the craziest things was realizing, first, how my mother's life had been stolen from her. When you're a kid and your mom dies, you think of her as just being your mom. But really she was only thirty — like, how incomplete of a life was that.
I had all of my dad's annual reviews from the Journal. And they're like every single job review I've ever had. They're like: "Kevin is great to have around the office and he doesn't really show up on time."
I was very close with my dad. He was not a particularly good father, in the traditional sense, but I think he instilled in me an intellectual curiosity that changed the course of my life.
How did you feel about stepping into the mob connection to your mom's death, which is still alive and well in Rhode Island?
I was thrilled to step into that. I have been in touch with the guys from "Crimetown" and I think the history of organized crime in Rhode Island is a story that I'm really glad is being told right now. It's fascinating.
I also think that it dominated every facet of life in Rhode Island for so many years in a negative way. I think it's important for a story like mine to come along and tell my mom's story. For so long, it's been [her mother's murderer] Peter Gilbert's narrative. I could show that not only was she affected by this mafia presence in Rhode Island, but that people in law enforcement and government were as culpable. They didn't kill her, but they viewed her as this disposable person that they could use as a means to an end. Nobody ever had to answer to that. There was never even a trial for her murder. She was here and she was important and she was a casualty to this fantasy we have about organized crime.
What are you working on now?
I'm working on a novel. Other than that, I work at Refinery 29.
Can you tell me anything about the novel?
I can't, because I haven't yet fleshed that out in my mind yet. I will say this: After writing a book about your family, and your family know you're writing a book about them, writing a book about pretend people is great.
How did your family take Down City?
So amazing. For somebody like my aunt, my mom's sister, it was nice after so many years of silence to get to talk about my mom as a real person. My family has been so great about opening up their lives and letting people look at parts of their lives that are hard. They've been supportive and really great. My little sister is twenty-three, and she's the same age as I was when my dad died. And my stepmother, who raised me when I was six on and is my sister's mother — they have always been there for me and they were there for me throughout this book.
Last month, I read at Barnes and Noble in Warwick and there were so many people there who knew my dad. One man came and he had a photograph that my dad had taken and given to him as a wedding gift, and he gave it to me. People still remember them.
The interview has been edited for clarity.