Latest Ventures: Hope & Main
Kitchen incubator project kicks off in Warren, Rhode Island.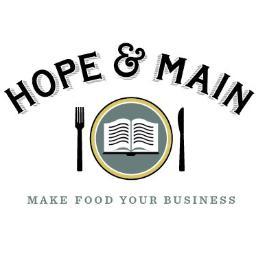 WHO: Founder and director of Hope & Main Lisa Raiola, the town of Warren, the USDA and dozens of hopeful, food-related small business owners.
WHAT: Hope & Main is a nonprofit culinary incubator. The mission is to jumpstart early-stage food businesses with a special focus on supporting the local food system. Specialty foods are a rapidly growing market, but those businesses that source locally have difficulty securing code-compliant commercial kitchens for creating their products. Hope & Main will provide shared-use of three kitchens, including one that is gluten-free, as well as cold and dry storage, approved by the RI Department of Health. Businesses will pay an hourly fee to use the space for scheduled time. Hope & Main will also have a demonstration kitchen, a classroom, an event space for seminars and conferences, and they will hold four-season markets so that the people making the products will have access to a customer base right away. "By making it accessible to the community, we can sell products here, we can have classrooms for educational opportunities and the end-consumer can be part of the experience," Raiola says.
WHEN: Hope & Main broke ground on July 26 with a ceremony attended by U.S. Senators Jack Reed and Sheldon Whitehouse. The purchase, renovation and project were made possible by Raiola's own $200,000 investment and a $3.2 million USDA Rural Development Community Facilities Loan. "It's one of the reasons we're in Warren and not Providence, because it's rural," Raiola says. Hope & Main will be accepting applications for interested businesses in September, and they'll announce the inaugural class of fifty small businesses after the first of the year in an effort to open by next spring.
WHERE: The culinary business incubator is transforming a 17,000-square-foot vacant elementary school, the former Main Street School in Warren. Initially, Raiola was searching for a foreclosed location to start her own local foods business, but when a real estate agent showed her the school, she got a better idea. "I thought, what if I created a space where lots of people could start a food business, not just me?" Raiola says.
WHY: Her idea to start a food business came after becoming very ill. "I attributed my recovery to nutrition," she says. "Trying to find the things I needed to eat was very difficult. So I thought I would start a business that would provide foods to people in my situation." But then she found the school, and decided to pursue an even bigger project. "I put my personal dream on hold, because I thought this was also a fantastic opportunity for others who wanted to start food businesses," Raiola says. "It would be great for our food system, great for the economy and great for public health to make these kinds of products more accessible to people."
HOW: After initial applications come in, a board including small business owners and people active in the food community will choose the inaugural class of fifty businesses. Applicants will be required to obtain food processing licenses from the state and they will have to submit business plans. The USDA Rural Development Community Facilities Loan will help fund the project. "They are an incredible champion of what we're trying to do. The USDA is committed to the same mission to help build the local food system here," Raiola says. "I am grateful to Warren and the USDA for supporting this." makefoodyourbusiness.org