Labors of Love
A down economy might not seem the best time to pursue your dreams. But these six creators show that there's no time like the present.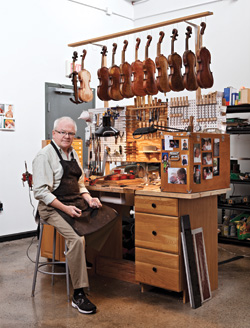 Dennis McCarten, 63
Owner, McCarten Violins,
1005 Main St. #2201, Pawtucket, 312-4260, mccartenviolins.com
Dennis McCarten had spent twenty-seven years practicing law when he told his partners he was resigning to learn how to make violins. Friends wondered if he was having a mid-life crisis.
He had enjoyed the courtroom, but had been interested in violins almost his whole life. "If I didn't do it [then], when I was fifty-three years old and still had my health, and then I got to be seventy years old and hadn't done it and couldn't do it, I would have been really angry at myself," McCarten says.
Growing up in Cranston, he coveted the violin of a neighbor's child. "He was a little kid and his dad was the brewmaster of Narragansett Brewery, and they had the means to have things," McCarten recalls. His family couldn't afford a violin, but McCarten learned a love of woodworking from his father, a statistician for the federal government who also painted. "My dad did what he had to do to feed his family, but he was really an artist," McCarten says.
McCarten became a lawyer and had a family but took courses in woodworking and calligraphy after hours. "Just different stuff to exercise the right brain," he says. He also came to love fiddle music from County Donegal in Ireland.
By the early 1990s, McCarten decided he wanted to work with violins. He bought books on his lunch hour, scoured the Internet and made a fiddle from scratch from a kit. He took violin lessons, met people from the local Irish music scene and fixed their fiddles. Then he found out about the North Bennet Street School in Boston.
He applied to the school just to get a peek inside. But after McCarten got accepted to the apprenticeship program, he took it as a sign to commit to violins full-time. He saw the challenge of trial work as similar to that of fixing violins. "In both cases, you're presented with a problem, and in both cases, you have to figure out a way to fix it."
But his wife wasn't working and he knew he'd have to take out student loans. He also thought about his father. "He would have been a much happier person if he could have done his art full-time," McCarten says.
Starting in 2003, McCarten commuted to Boston each day for three years, learning the intricacies of making beautiful instruments. "When an individual maker applies his skills to a piece of wood, it's as much sculpture as a functional object." But he also knew that at his age, he didn't have time to become an established maker. "I really needed to master repair techniques because I correctly anticipated that if I was going to do this alone, I was going to be a repairman more than a maker," he says.
After graduating in 2006, McCarten set up shop in Hope Artiste Village in Pawtucket. Drawing on his many years practicing law, he sometimes works as a mediator or arbitrator to supplement his income, but his shop is doing well. He rents instruments to students and adults and often gets customers with a fiddle from the attic that they want to have restored. "This is endlessly fascinating to me," he says.
---
Read about the other creators in our December issue.
Kate Dickson, 26
Tai Awolaju, 32 and Andrew Moon Bain, 38
Karen Beebe, 37
Owner and designer, Queen of Hearts and Modern Love,
222 and 220 Westminster St., Providence, 421-1471,
queenofheartsri.com
Adam Beane, 38
To read more of this story please visit your nearest newsstand or click the link below.