Labor Pains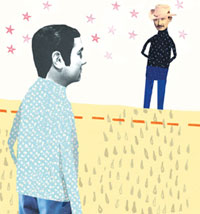 The first time Juan Garcia
crossed the U.S. border he was on foot, through the Rio Grande, across the Texas desert. He lost his food and water and was caught by the border patrol. The second time, Garcia crossed over in the trunk of a Buick with $150 in his pocket. He lost start-up capital after his traveling companion left him in a bar watching the Super Bowl with a promise to use the money to find an apartment. He never returned.
Garcia set up residence in a cardboard box behind a body shop in San Antonio. The owner gave Garcia his first job, doing body work for $40 a week. Eventually, Garcia moved on from sanding cars to trucking produce to construction work to metal polishing, from Texas to New York to Rhode Island. In 1985, he became a citizen. Today he works as a community organizer for St. Teresa of Avila Church in Providence's Olneyville. With the March immigration raid of a factory in New Bedford, which divided families as it scooped up 327 undocumented workers, and a dozen anti-immigrant measures circulating through the General Assembly, these are busy, if tense times, for immigrant activists. Garcia, who fled the poverty and political oppression in Guatemala thirty years ago, understands why people come here illegally, and he understands what would happen if they were all to up and leave.
"In this state, the economy would go down," he says with a conviction strengthened by years of clinging to the underside of the American economy, "because most undocumented workers do what Americans don't want to do."
What Americans want or don't want is a subject of great debate, as policymakers wrangle over immigration. Americans want cheap lettuce and landscaping, but they don't want to pay public benefits to the people who pick and mow at bargain rates. They want to honor America's immigrant heritage. They want everyone to be here legally. They don't want to acknowledge that their own forebears may have entered the Melting Pot with no more paper than a train ticket. They don't want to hear Spanish at the mall.
What is less clear is how many illegal aliens are living among us and what effect these undocumented workers have on the economy, locally and nationally.
The Washington D.C.-based Center for Immigration Studies, an independent think tank that advocates for a stricter immigration policy, cites the work of economists such as George Borjas and Lawrence Katz of Harvard University, who found in one study that immigrants depressed the wages of native-born high-school dropouts by 8 percent between 1980 and 2000.
"Because our economy has modernized, there's not as much room in the labor market for unskilled labor," says Jessica Vaughn, a Center analyst. "It doesn't make sense to pursue an economic strategy that calls for large numbers
of unskilled workers and much more of a welfare state.
In the past, when immigrants didn't make it, they went home. Today, because we have a bigger social safety net, it makes a policy of mass immigration more costly than it was decades ago."
University of California at Berkeley economist David Card studied the impact of the sudden flood of Cuban refugees into the Miami labor market after the 1980 Mariel boatlift and found no effect on the wages or employment of Cuban or non-Cuban workers in the city. Economist Giovanni Peri, in his studies of California immigrants, found that immigration increased the real wages of U.S. native-born workers as a whole by approximately 4 percent between 1990 and 2004.
The contention that immigrants displace native-born workers is "logical and very powerful, but that's not the way the economy works," Peri says. "It brings in new opportunities for employment."
Economists can reach different conclusions, he says, based on their research methodology. But most of the academic disagreement is narrowly focused on the size of a small wage effect on a 9 percent slice of the labor market — high school dropouts. Serious researchers have been reluctant to venture beyond wage and employment studies to the effect of immigration on the total economy because they would have to make too many assumptions based on too few data.
Rhode Island officials know little about the impact of illegal workers. Mark Brown, manager of Statewide Planning Program's state data center, says there are some guess-timates on the number of illegal aliens based on census figures that place them at about 1.5 percent of the population. As for their influence on the unemployment or wage rates, the state Department of Labor does not account for them in their analyses.
Immigrant advocates say they are washing dishes, cleaning hotels and offices, processing fish, landscaping and working in what few factories still exist. Many face sexual harassment, less-than-mini-mum wages, or non-payment of wages, says Greg Pehrson, executive director of Fuerza Laboral, a local labor advocacy group. The exploitation flourishes because increasingly, employers rely on subcontractors and temp agencies to supply workers. "As there are more and more subcontractors down the line," Pehrson says, "there is less oversight and less enforcement."
But politicians aren't averse to crafting policy in an information vacuum if the public outcry is loud enough. In 2006, state legislatures introduced 570 bills relating to immigrants. The National Conference of State Legislatures found that eighty-four became law in thirty-two states. Rhode Island legislators passed a law barring any new noncitizen child from enrolling in the state Medicaid program after the end of 2006. This legislative session promises to be at least as active.
"The reason, in general, is a frustration at the state level with the gridlock on the federal level," says Dirk Hegen, an analyst at the Washington D.C.-based National Conference on State Legislatures Immi-grant Policy Project, who is tracking the
immigration bills for the conference.
That was one motivation for Jon D. Brien, a Democratic state representative from Woonsocket. Brien and Represen-tative Marc Cote co-sponsored a bill that would require employers to use the Federal Basic Employment Verification Pilot Pro-gram, an Internet-based system where employers submit their new hires' I-9 form information, confirming that they are authorized to work in the United States, to the feds. Mostly, says Brien, he was spurred by his constituents.
"I've gotten flack from people who have said that this legislation is anti-immigrant," he says. "But I'm the son of immigrants, and Woonsocket was built on the backs of immigrants. What the argument comes down to is: immigration has always been good, so it will always be good. But as the times change, the approach needs to change. There's nothing wrong with ensuring people are following the law."
Providence Senator Juan Pichardo, who works closely with the Latino community, calls such bills "devastating for the citizens of our state. You get into the issue of stereotyping people and of deputizing citizens to do the work of the INS. It creates barriers for people to progress, and it's unproductive to the economy."
Labor historian Scott Molloy hears an old story in today's news. The Irish, who came to Rhode Island in the 1820s, built Fort Adams; the Italians dug the Scituate Reservoir; the French Canadians worked in the textile mills; the Central Americans made costume jewelry. The legality of one's debut in American society is a more recent phenomenon, he says. People often came through Ellis Island without proper documentation, or simply walked across the Canadian border.
"But the discrimination has always been there. It just takes different forms," Molloy says. "Most immigrants have a lot in common: low wages and lousy treatment. Then they climb the ladder, become the politicians and the backbone of the middle class."
And, sometimes, forget how they got there.