Kristen Minsky in Gal About Town
Rhode Island's own flapper, tapper and neo-vaudeville showgirl, Kristen Minsky dances to her own beat at shows across the Northeast.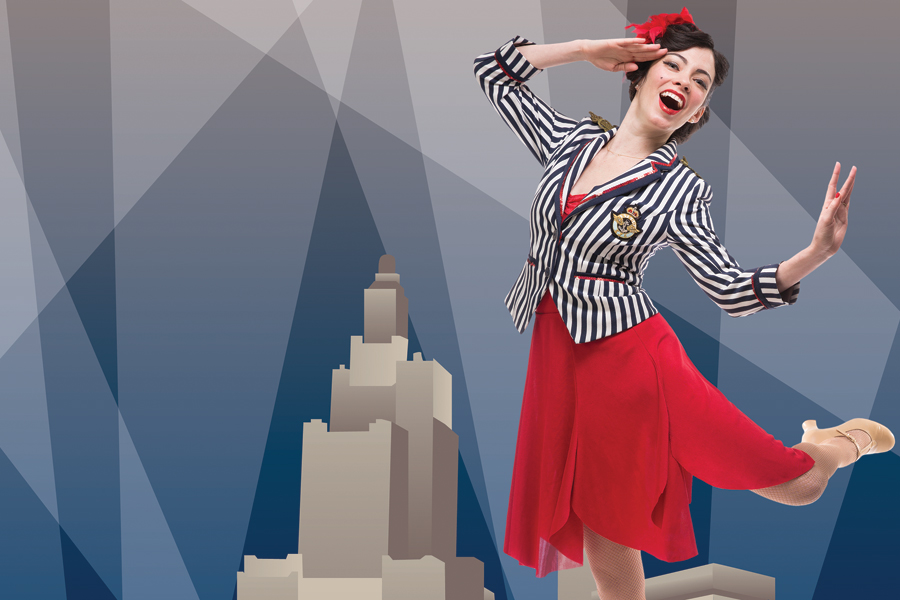 Kristen Minsky glides across the floor in a navy sequined romper with a plunging neckline, tasseled shoulders and thigh-skimming shorts. Her lips are deep crimson and her raven-black hair hides under a short curly blond wig, a cross between Marilyn Monroe and Shirley Temple — not usually a part of her look, but worn today because she didn't have time to pull together her signature updo, a chignon with pin curls. She was running around gathering last-minute costume bits, repairing props and then working with students in Central Falls at an after-school dance program. She arrived at the Trinity Square Theater just in time for this show. But not with enough time left to do her hair.
Minsky taps her toes on the wooden floor along to the instrumentals of the 1940s song "Is You Is Or Is You Ain't My Baby" by Bing Crosby and the Andrews Sisters. Smoky voices resound; the horns section entices. Her beige heeled character shoes bang rhythmically on the planks, a sound that makes her feel at home no matter where she's physically located. The stomping is exaggerated by swinging arms, a lot of leg and a beaming smile. Her high kicks and splits seduce the crowd into thinking they've time-travelled back to the Jazz Age of evening gloves and shiny red lipstick, before complicated technology and stress-inducing schedules — except for the person viewing the show through the lens of her digital video camera.
The Chifferobe event unravels at the theater that was built on the third floor of the Trinity Church in 1864 on Broad Street in Providence, now part of the Southside Cultural Center. The historic space once served as the original Trinity Repertory Playhouse from 1964 to 1973. Now the time-capsule-like space with wood detailing and high arches is home to the Wilbury Theatre Group, which allowed her to use the space for tonight.
The audience of about forty sits in rows of chairs arranged along the back wall or coupled up at small round tables, each spread with a white tablecloth and a single candle centerpiece like a jazz club. The guests are dressed for the occasion. A woman in her mid-twenties in a striking red frock with her hair twisted up in a side roll and pinned with a jeweled barrette leans on the bar talking to an older gent in a smoking jacket, something Hugh Hefner might've worn while gallivanting with his bunnies. Ladies parade past in tea-length dresses and elbow-length gloves; some of the men sport sweater vests and fedoras.
Minsky's husband, Brian Oakley, emcees in his vintage black and white wedding tuxedo, delivering charming banter in between dance numbers and songs from the ragtime band Amy Kucharik and Friends (With Benefits).
While introducing the ladies from his wife's dance workshop series, Oakley explains how the audience can be a part of future performances. "Up next, I'm going to bring to you Kristen Minsky and some of the girls from her workshop," says Oakley. "And if you are interested, you can sign up for the next workshop called…ahh — I might say this wrong — Be My Guillotine?"
The crowd erupts in fits of laughter. Minsky looks on in horror. "It's Be My Galentine," she says with a smirk.
Minsky, the self-described flapper, tapper and gal-about-town, is actually Kristen Rhea van Liew. Her dancing act and look have attracted attention from The New York Times, The New Yorker and Vogue Brazil. She was born in South Carolina and raised outside Atlanta, Georgia, where her parents enrolled her in dance classes at age three, and she continued through high school. She graduated from New York University with a studio arts degree, and later earned her master's in sculpture from Rhode Island School of Design. She's called Providence home for the last five years and will turn thirty this month.
As vintage has come into vogue, Minsky has capitalized on it. She launched the Chifferobe event entertainment production company five years ago, and last spring opened Chifferobe Atelier, her own dance studio for workshops and a reliable rehearsal space for members of her dance troupe, the TropiGals. She's working as a neo-vaudeville performer both as a solo act and as part of the Minsky Sisters. She also travels with a group of women performance artists for the Glamazon Tour, working the circuit in Baltimore, Washington, D.C., Philadelphia and New York City. After a show in the Big Apple, Minsky's been known to take the late-night 2:40 a.m. Acela train back to Providence to sneak in more time with husband Oakley, chief operation manager of Julians restaurant and catering in Providence.
Even when she's not at a show, she's usually dolled up, except when she's at home with her husband hanging out with their three cats and two dogs. "She's working non-stop all the time. A borderline workaholic," says Oakley. "It's funny to see her in blue jeans. There's always a lot of eyelashes around the apartment, and a lot of glitter. She still dresses up most of the time, maybe not to the extent as for a show. But she likes to maintain a certain aesthetic."
He adds, "She takes her company very seriously, and whenever she's out in public, she's smart enough to recognize that she is the best ambassador for her brand and whatever her presence or style is, it represents her company."
one morning this winter, Minsky arrives at the Duck and Bunny in Providence, the snuggery that's one of her favorite spots in town. The front tea room has a cozy seating area where she lingers over cappuccino and crepes. She's wearing a tan coat with a fur collar from the '60s that was made in Providence. Underneath is a simple long-sleeved black dress paired with black tights and vintage strappy gold and black heels that were a gift from "mommy Claus." Her black hair is pinned up in its usual twist, and she's wearing minimal makeup today, except for her unmistakable Red Hot Besame-branded lips.
Much of the attention she's earned centered on her gigs starting out as a Minsky Sister and her involvement with the phenomenon that is Michael Arenella's Jazz Age Lawn Party on Governors Island. In the summer, thousands of people board a small ferry to the island off the southern tip of Manhattan, dressed in vintage and reproduction dresses and skirts, suits, suspenders, bowties and fascinators. They spend the day transported back to the bygone era of swing dancing and big band music and, of course, tap-dancing acts by the Minsky Sisters. "It's really wild, whether you feel like you're on vacation or like you're time-travelling, there's definitely an element of escape that starts as soon as you get on that ferry," says Minsky, while taking sips from her warm, frothy cup. "It's still very much about the Jazz Age and the '20s and '30s, the culture from the dances to the music, and the cocktails." And everyone dresses up. "For the events in New York, especially, there's a tremendous community of people who identify themselves as lifestylers," says Minsky. "It's even easy to see here. There's this return to the aesthetics and the nightlife culture."
And she works hard to recreate the scene in Providence. As part of Chifferobe, seven ladies dance with the TropiGals and each new workshop births a few more make-believers who go on to shimmy and Charleston at charity events, private parties and public soirees, or just for their own dancing pleasure.
The vintage trend is growing in Providence where historic properties are treasured, not torn down to make way for the new. The Arcade was recently revitalized with shops and restaurants, vintage stores keep cropping up from Fox Point to the West Side to Downcity. Local bars and restaurants like the Dorrance and Ogie's Trailer Park and even BreakTime Bowl and Bar at Hope Artiste Village are adopting back-to-the-good-old-days themes. "We have a few really great folks in town who have a 1930s icebox because their entire home has been arranged and organized in a style of the past," says Minsky. She doesn't go that far when it comes to appreciating history, though she owns quite a few treasured antiques, vintage gowns and a trunk filled with family objects and mementos like old photographs and lace from her grandmother's wedding dress. "At this point, my interest in the past is a patina on the way that I live. My lifestyle is more like a neo-vaudevillian, like a traveling entertainer," she says.
Minsky invented her stage name alongside partner in crime Jennifer Zakrzewski, aka Gin Minsky, the other half of the Minsky Sisters. This whole thing started when the pair teamed up for an unexpected tap performance in New York City, which turned out to be a rip-roaring good time (though the performers have since asked the person who filmed the very first video to kindly hide the evidence). "I've tried to get them taken down but they live in infamy," says Gin. "Those who are good YouTube sleuths will be able to find it."
The gals met at orientation at New York University, where they both studied art, and where Gin continues to work in the photo department under her given name. "The best way to describe her was hippie cowgirl," says Gin. "She came from Atlanta. I remember her wearing cowboy boots. She had a little bit of the Bohemian-hippie style." They appeared to be opposites at the time. "Gin had pink spiky hair. She was very punk rock-looking," says Minsky, but between dance and art, they had a lot in common. They belonged to a student-run dance company called the Dancers Choreographers Alliance, but it would take another few years until they really became friends.
Minsky had to take a break from dancing halfway through college when she blew out her knee while filming a project. She says she didn't stretch enough and it caused her to dislocate her patella and tear ligaments. The incident required three surgeries to recover. She still has scars. "I was told I wouldn't be able to dance again," she says. "The only way to get someone to do something is to tell them they can't do it anymore."
Her senior year, she ended up sharing an art studio with Gin. "My first studio mate was a prolific painter and his paintings took up so much space, there wasn't any room for me anymore," says Minsky. "And she was right across the hall and she let me in."
That year, they began go-go dancing for a band, Maxi Geil! and Playcolt. "We decided to choreograph some dances while they were performing. We got into wearing lots of shiny things," Minsky says. "Usually any vintage garments we could find like big '70s prom dresses. They would be long with shorter things underneath so we could do a costume change." The ladies were onto something they didn't even know was coming.
After college, a friend was looking for tap dancers for her New York show series, Dances of Vice. The pair volunteered. "It had been years since either of us had tapped so it took us about five months of rehearsals to choreograph this one event," says Minsky. They delved into Jazz Age research to accurately play their parts. "A lot of what we were able to figure out was based on observation. We bought the books, watched the films and we looked at old photographs to figure out how best to work out our makeup, hairstyling and costumes." They pored over black and white silent films as well as classic musicals like Singin' in the Rain. They planned costuming and shoes, and had once-a-week rehearsals to produce two three-minute tap numbers. All for a one-night show. So they thought. "It went well enough where people invited us to perform again," says Minsky. "We were like, 'Wow. We can show up to a party and dance for a few minutes and make $20?' "
That's when they realized they needed a name for their act. So one day in Minsky's apartment in New York's West Village, they buckled down to do some research. "Gin came across the history of the Minsky brothers opening the first house of burlesque in New York City. It was initially intended to rival the Ziegfeld Follies," says Minsky. "There was a costume malfunction one evening which led to many costume malfunctions to follow. And that became a thing." Which isn't too far off from what happened to Gin during their first performance in that infamous video. Her corset kept sliding down and she kept right on dancing without a hitch.
Kristen and Gin embellished a story about being the daughters of a famed Minsky brother. As minskysisters.com states, "Having been raised backstage on the Vaudeville circuit by Eloise and William, widely known as Ellie and Billy Minsky, stage mom and pop of New York's best burlesque house, the pair learned to dance as a way to give their parents a break between acts." Eloise is actually Kristen's cat, who happened to walk by when they were dreaming up a name for their pretend mother. The two women are unrelated. "A lot of people do still ask if we're sisters and we usually give a little wink and say, 'Sisters of a different mister,' " says Minsky. And neither was born a Minsky, though Gin occasionally performs a tap-dancing striptease, separate from the Minsky Sisters act.
Minsky's father, Greg van Liew, thinks it's funny that most people don't know his daughter's real last name. "I like it. Oh yea," he says. "To be in show business, to have a stage name is as natural as can be, and I like the history of the Minskys and I think they selected well."
After performing with Gin and moving to Providence to study at RISD, Minsky launched her own company, Chifferobe, and began booking her group of dancers for entertainment at local events. She and Gin also continued traveling together and performing private shows as the Minsky Sisters for big corporations like HBO's "Boardwalk Empire," MTV and Tiffany.
Gin recalls one time when Kristen travelled to New York to perform with her for a Tiffany event at the Waldorf Astoria. "This stands out because it was a moment of panic," she says. "We had this beautiful suite [at the Waldorf] that we hung out in for an hour and a half before we had to go on. So [Kristen] started getting ready and she realized she forgot the top of our costume; it was shorts and a vest — and she had no top. We had to appear in like thirty minutes." The pair found a way around the glitch by reversing their acts, performing the wind-up doll number first, for which matching costumes were unnecessary. "Then we had an hour break in between. [Kristen] Googled to find an American Apparel, grabbed a cab, ran out and bought us two leotards [black, with sheer detailing], and we managed to do all this within that hour break we had. She got back just in time, and we changed and went out and did our number and no one was the wiser for it."
Minsky has a million costumes to take care of throughout her studio, her Prius and apartment. "It's not very often things like this happen, but it does happen," says Gin. "She's very good at being quick on her feet and remedying a situation."
Likewise, in high school, Minsky's parents were amazed at her ability to balance her schoolwork with her interests in art and dance. She never had to choose because she always managed to handle both. "She was active with high school things, active with dance and art and she was always juggling and juggling, but she was like a cat that always landed on her feet," says her father Greg, a retired pilot, army officer and police officer who lives in Decatur, Georgia, with Minsky's mother, Lynn, a psychiatric clinical nurse specialist. "We would hold our breath sometimes, and be concerned. Could she get all these things done without a crash? And she'd always pull the rabbit out of the hat," says her father.
Currently, Minsky is balancing her travelling performances with producing local public and charity events and running the dance studio, Chifferobe Atelier, in the Hope Artiste Village in Pawtucket.
"She's talented in multiple areas and uses the art skills and expertise and education combined with the dance," says her mother. "She's combined all of her interests and skills to do what she's doing now."
But it's not an easy way to pay the bills. "I travel to D.C. and New York most of the time to make money. I'm thankful I am making a living at this, but it doesn't mean there aren't slower times of year, or shows that don't do as well," she says. "A lot of the public shows we do here through Chifferobe, they might break even if I am lucky." But it's important to keep the neo-vaudeville tradition alive, she says, and to continue making contacts with other performance artists. "There is a circuit that is happening now, and social media is hugely helpful because we are able to locate performers in various cities and say, 'Hey, is there any chance you have a show I can hop onto?' "
Recent private opportunities included a 1920s theme party at an East Side mansion that was built for one of John Brown's daughters. The home was renovated by interior designer and architect Ann Clark, and this was an opportunity for Clark and the Providence Preservation Society to showcase the restoration work. One TropiGal dressed up as a mermaid and poured gin cocktails out of the bathtub. Minsky and the other dancers transformed into French maids and performed jazz and tap numbers in between serving drinks and hors d'oeuvres to guests on cocktail trays. "The role of the maids is kind of humorous," says Minsky. "They might be taking sips of their own Champagne off the trays as someone is watching." They also constructed a speakeasy in the attic complete with a guest appearance by mentalist Rory Raven.
The TropiGals performed at an Alice in Wonderland-themed fundraiser last spring to benefit Providence Public Library. The event included live artistic installations of the Queen of Hearts on her throne and a Mad Hatter Tea Party photo booth constructed by LuLu Locks of Suite Tart beauty salon and Providence Pinup. Minsky transformed into the White Rabbit, while jazz singer Miss Wensday donned a red and black gown with lots of feathers to become the Queen of Hearts. The TropiGals performed every hour on the hour, including can-can song-and-dance numbers. "We are hoping we will have more opportunities to do what we do," Minsky says. "Through workshops, classes and costumes, we are not just performing, we are working together to create over-the-top sculptures."
Perhaps Minsky's interest in the past is rooted in her family history. Greg van Liew and his brother recorded Minsky's grandfather's stories before he died. "I don't know how much of this is true, because a lot of it is tall tales, and the more these stories are told, the weirder they are," she says.
One of her favorite possessions is a photo of her grandfather with his pet bears Piff and Paff. Her great-grandparents lived with her grandfather in a mining community in the Caucasus of Russia. "There's this photograph of my grandfather as a baby just looking bewildered by these two bears playing next to him," says Minsky.
Another story explains how her great-grandparents took vacations to the United States. On the return trip to Russia, they were supposed to be on the Lusitania at the same time when the famous British ship was torpedoed by the Germans. "Apparently, my great-grandmother said, 'I won't sail on anything that doesn't have an American flag on it,' and so they got on this tiny steamboat instead," says Minsky.
On a late Sunday afternoon this winter, tap dance numbers from 42nd Street play on a small flat-screen television inside Minsky's dance studio at Hope Artiste Village. The vast room has beautiful wood floors, white walls, exposed brick and Art Deco pendant globes hanging from the ceiling. A vintage sofa and chairs, a piano and an antique chaise lounge are set up like vignettes in the room, surrounded by framed show posters, illustrations and old black and white photographs. An Edward Hopper art book lies open on a desk, and more art and Jazz Age books are stacked on shelves and arranged on the piano next to a pair of poised vintage shoes. Everywhere you look is another still life.
Seven ladies dressed in black leggings, loose-fitting tops and matching strappy black heeled character shoes prepare for rehearsal. A few fixed their hair in updos or tight buns, while others let their long locks flow freely. Some are in full makeup complete with those trademark bright red lips.
They are on week three of rehearsals for the next showgirl workshop "Be My Galentine," which leads up to performing at a public show. The ladies range in age from early-twenties to mid-thirties, and most say they danced throughout childhood and early adulthood and then picked it up again with Chifferobe. One young lady says she had never danced before this. The women line up two by two by three to perform pivots, high kicks and chaine turns from the far wall down to the other side of the studio.
As they practice each movement, serious expressions focus on the task at hand.
"One, two…three, four…five, six…seven, eight," says Minsky, performing the routine right along with the gals in training. "Up, up, shoulder, shoulder, quick turn, shimmy, shimmy."
Row by row, the ladies raise shoulders, pivot and shimmy while Minsky reminds them to smile and zone in on something in front of them to make turns less dizzying.
"Okay now we're going to try it with music," she says, heading over to her laptop to hit play on the fast-paced song, "A Little Party Ain't Killed Nobody," from the modern-day Gatsby movie soundtrack, which sounds like a remake of the Bing Crosby and Andrews Sisters song Minsky danced to at her show.
The lyrics: "I ain't got time for you baby, either you're mine or you're not. Make up your mind sweet baby, right here, right now's all we got."
The song kicks up the beat and they start from the top. "Now put on your sassiest faces and selves!" Minsky says. The first row of dancers takes off, this time with a little more showgirl attitude.