Korean Cuisine
Korean food is finally making national headlines. And fortunately for our small state we have three outposts cranking out kimchee that rocks.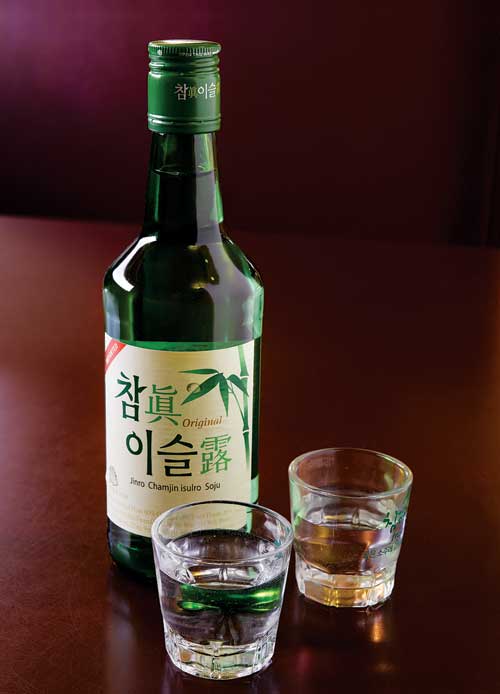 The gods seem to have chosen Korean kitchens as recipients of their celestial favor this year. Newspapers and food magazines across the country are touting the distinctiveness of an Eastern cuisine that values the comfort of stew as much as its elaborate stovetop-cooked "barbecue" dinners. After all, lumping every genre of Asian food into one group is nothing short of culinary sacrilege. (Chinese eggrolls and Vietnamese goi cuon have about as much in common as tortillas and crepes.) Whatever the reason for Korean food's foray into the limelight, it's welcome recognition of a cuisine that Americans have yet to embrace as fully as its Eastern neighbors. There's never been a better time to hit Rhode Island's best kimchee corners.
Solomon
404 Benefit St., Providence, 621-9749. Open for lunch and dinner Mon.–Sat. Street parking. Vibe You just meandered into grandma's kitchen. Price $6.99–$14.99. Karen's picks Kimchee fried rice, potato noodles with black bean sauce. Key
Fair
Good
Very Good
Excellent
Half-star

Walking into Solomon's feels like a wrong turn on fraternity row. The colonial ex-terior, tired gingham curtains, plastic garlands and pool-sized bowls of salted cabbage seem too incongruous for anyone but inebriated sojourners. Throw in a pint-sized dining area and a stove so close to the tables that the windows fog when your order hits the pan and you've hit twilight zone perspective. Fortunately, the kitchenette caters to the casual side of Korean cooking, churning out pan-fried meats and noodles that become more intriguing as the flavors settle.
The menu is a three and a half-inch business card that proclaims the twenty options; daily specials hang on the wall. American diners are rare though the occasional RISD student meanders in to feed his addiction. Small starter bites beyond kimchee (the country's most famous fermented side dish) aren't readily available, but the portions are both large and largely addictive. Thick potato noodles (ja jang myun, $11.99) are coated in black bean sauce with seafood, a testament to both the distinctiveness and subtlety of Korean ingredients.
Dak galbi ($13.99), a spicy saute of chicken and vegetables, is easily accessible for avid fans of Chinese though it has the novelty of chewy tubes of rice cake that temper the heat of its sauce. Nothing gets higher praise than the Kim family's kimchee beef fried rice ($12.99), a simple dish that's inexpressibly more alluring than the bland, greasy versions that have come to define the genre. But ultimately, that's what Solomon's is: quintessential home cooking. You're not going to bring a first date here unless the object of your desire is less than low maintenance, but the food is so tempting it'll likely become your go-to place once you're past first impressions.
---
Sura
300 George Waterman Rd., Johnston, 233-7888. Open for lunch and dinner Tues.– Sun. Service begins at 1 p.m. on Sundays. Parking lot. Vibe Diner meets Quest For Fire. Price $4.95–$15.95. Karen's picks Scallion pancake and Korean barbecue.
Key
Fair
Good
Very Good
Excellent
Half-star
Sura plays Korean news on a large screen during the day and the drama card at night with karaoke and myriad hibachi grills. Stovetop cooking is the hub of this sixty-five seater with seven varieties of mea t— including thinly sliced filet (bulgogi) and thick slabs of pork belly—that diners cook themselves. Korean barbecue runs a little more than pocket change (it averages $14 a person with a requisite two orders per table), but it's the most flamboyant aspect of Korean cooking. Grilled meats are then rolled in lettuce leaves and topped with soybean paste, making a quick dinner entertaining and gratifying.
Korean dinners are always preceded by a brigade of small "salads," though Sura's are comprehensive even by conventional standards. Beyond kimchee and marinated mung beans, Sura also offers sesame oil seaweed, Asian broccoli and kong jang, boiled black soybeans in a sugar-soy glaze with a distinctly dense texture and a welcome sweetness. It's a ritual of taste and custom that allows even uninitiated diners into the cultural fold.
Sura covers other basics as well, including a cache of seafood stews and udon soup that is generally strong. Battered garlic shrimp and chicken ($15.95/$9.95) bear such a striking resemblance to Buffalo wings that the cultural divide seems in danger of collapsing, but their pa jun, a classic scallion pancake ($9.95), may be the best rendition in the state. Fourteen inches in diameter on a bad day, it has just enough batter to hold together wedges of kimchee and green onions and, as with all successfully (pan) fried food, oil seems to make this Asian pizza lighter rather than more dense.
Johnston's a peculiar place for a Korean restaurant given that the state's largest Asian population lives closer to the universities in Providence and, to a lesser degree, in South County. It bears mentioning only because, according to the owner, I was the first American diner she had seen since the market plunged last fall. The trend isn't unexpected; Korean's not nearly as familiar to American palates as other Asian cuisines. Perhaps all Sura needs is a PR firm capable of arguing that bulgogi's a vastly superior version of mainstream Mongolian barbecue.
---
Sun & Moon
95 Warren Avenue, East Providence, 435-0214. Open for lunch and dinner Tues.–Sun. BYOB Tuesday and Wednesday. Street parking. Vibe 1970's sushi bar. Price $7.95–$17.95. Karen's picks Bi bim bop, any variation of soon tofu. Key
Fair
Good
Very Good
Excellent
Half-star
Sun & Moon is the only restaurant in the trilogy that gets a steady stream of non-Korean diners, perhaps because its name shows up more often in the press. The once thumb-sized eatery has taken an extra room that holds twice as many diners as the original space (the count's now up to a tight forty-five). Granted, it looks like a modified 1970s living room, complete with Karen Carpenter tunes, but it's no more absurd than the licensing issue responsible for Sun & Moon's BYOB policy (Tuesday and Wednesday only). The restaurant does serve Korean liquor and domestic wine ($4.50 a glass) every night.
The menu's expanded with the seating, and the staff (linguistically but graciously uncomfortable a decade ago) is downright sociable. Less of a surprise is the quality of food, which continues to be noteworthy, even as it brings a touch of modernity to traditional fare. The pa jun is decidedly light with more mushrooms than batter and barely a drop of cooking oil. Korean glass noodles ($8.95) are made from sweet potato starch rather than the more common mung bean variety found in Cantonese and Thai restaurants. The inherent sweetness of the noodles allows them to stand on their own rather than serve simply as a vehicle for heavier sauces.
Perennial favorite bi bim bop — rice, vegetables and a fried egg served in a heated stone pot ($10.99) — can't get much better than the Sun & Moon version. The egg is tossed on at the last minute, allowing diners to incorporate the runny yolk just as the rice begins to get crunchy. Lest you grow concerned, this is the intent. A quick mix of the ingredients and a heavy dose of spicy pepper sauce is all you need to foster a weekly compulsion. Tofu and spicy pork are available, but classic shredded beef prevails. In a culture big on soups and stews, soon tofu ($9.49), a slightly spicy broth that tastes like deconstructed kimchee, is delicious despite its simplicity. Soft tofu, scallions and sweet onion serve as textural contrast to this Korean version of simple broth. It's also an apt example of Sun & Moon's culinary philosophy: Classic cuisine stripped down to its strongest flavors never has to be heavy to be appreciated.