Knitting for Annabelle
When Ann Hood's friends knitted dozens of pink sweaters for an orphanage in China, they also helped mend an empty place in her heart.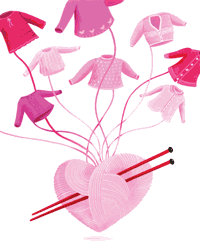 On January 31, 2004, my husband, Lorne, and I got the phone call we had been waiting for. Our adoption agency in Boston had just received a referral for us to adopt a baby from China. They had all the information in their office, waiting for us. And they had a picture of this nine-month-old girl whom we would name Annabelle. "She's cute," they told us. "And she appears to be healthy."
Our journey to adoption had been an emotional one. Two years earlier, our five-year-old daughter, Grace, had died suddenly from a virulent form of strep. As we struggled with our grief, we also watched as our eight-year-old son, Sam, dealt with his own enormous loss. Sam and Grace shared a world of secret games, camaraderie and coded language. Although she was younger by three years, she was the one who comforted him after a bad dream and gave him advice on things. We have many pictures of the two of them in costumes they designed, or sleeping side by side holding hands. Suddenly, we were a family of three, and Sam was alone in our house. Over time and after many discussions, Lorne and I came to the decision to adopt. We felt confident that a child would return joy and hope to our once happy and noisy home. Now that baby was ours.
At the adoption agency office, we were told that Annabelle was from Loudi in Hunan Province. They handed us a photograph and we fell immediately in love. It would be seven weeks before we arrived in China to bring her home. In the meantime, all we had was this picture. In it, Annabelle has a mop of dark hair, a perfect heart-shaped mouth, and she is wearing a pink sweater that I, an avid knitter, recognized as hand knit.
Before Grace died, I had never even considered knitting anything. In fact, some of my most embarrassing moments came from my misguided and failed attempts at sewing, needlepointing and crocheting. But in my grief, when writing and even reading became impossible, friends suggested I learn to knit. Knitting calmed the voices in my mind that screamed out for Grace; it quieted my endless questions of why —why Grace? Why us? Something in the steady rhythm of the needles as I knit and the softness of the yarn moving through my hands, calmed me. I knit and I knit and I knit.
That is why that hand-knit pink sweater on my new daughter waiting for me halfway around the world brought me comfort. I imagined someone lovingly knitting it, carefully buttoning it around her. Knitting had brought me such peace, and the connection to the craft helped me to believe she was loved, and meant to be mine.
Until the day our travel group of ten families met a few weeks before we left for China to bring our babies home. One by one we took out our referral photographs to share, and every baby girl had on that same pink sweater. The orphanage had one nice sweater, and almost every baby wore it for her picture. On some the buttons tugged; on some the sweater drooped.
Annabelle came home to a freshly painted room with yellow walls and stenciled red hearts; friends and family showered her with stuffed animals and dresses and cozy hats and fleece jackets. And sweaters. We kept her referral picture in our living room beside photographs of her finally in our arms, kissing her new brother, grinning into the camera.
I had decided that every year I would send something meaningful to her orphanage, to help the babies still there and to thank the women who took such good care of Annabelle in the five months she was with them. To celebrate her first year with us, I collected onesies for her orphanage.
A few months ago, I was in one of my favorite knitting stores, and I saw some pale pink yarn and a pattern for a baby sweater. I bought it, deciding to knit a new sweater to send to Annabelle's orphanage to celebrate her second year with us. As I knit, I realized that some other families might one day compare pictures only to discover all of their daughters had been posed in this same sweater. What I needed to do was get a lot of hand-knitted sweaters and send them all to her orphanage.
So I wrote a letter to my knitter friends, asking them if they would be willing to knit a sweater to send to Anabelle's orphanage. And I invited them all to a party where I would gather the handmade sweaters and thank them. I wrote: "We are about to celebrate the second anniversary of the day our Annabelle came into our lives. Back then, we had hoped she would bring joy and happiness back into our home, and as you all know, she has done that and much more."
The knitting world reaches far I've learned. So I shouldn't have been surprised at this next turn of events. But I was. One day, the midwife who had not only seen me through both of my pregnancies, but who had also provided great comfort after Grace died, came over to meet Annabelle. During our visit, I showed her Annabelle's referral picture, which sits on a table in our living room. When I look at that picture now, I still see that heart-shaped mouth and hand-knit sweater, but I also see a look on Annabelle's face, a look of something like unhappiness.
Annabelle was left at the front door of the orphanage when she was around five months old. Although we can only speculate on her history before that, we assume she was with her family. Perhaps she missed them still. Perhaps she was confused or frightened. Whatever the reason she wore that expression, I knew it came from loss. Maybe it was too painful to recognize it back then; or maybe in my excitement I overlooked it. But it is there, and I told my midwife about it, and about the pink sweater drive. Before I knew it, hand-knit pink sweaters began to arrive in boxes and bags on my back steps. She had told her knitting circle about what I was doing, and without knowing me, or Annabelle, they picked up their needles, cast on with pink yarn and knit.
The pinks ranged from blush to fuschia; there were rosettes and fancy loops; bright buttons and delicate ribbon; newborn sweaters and toddler ones; hearts and animals and collars and fancy trim. My house was awash in pink, beautiful pink.
At a reading of my new novel, The Knitting Circle, at the Providence Athenaeum in January, more than one person came up to me afterward, introduced herself, and said, "I knit a pink sweater for Annabelle's orphanage." Then went on to describe the sweater, its color and particular details. By knitting that sweater, we were no longer strangers. As I toured the country giving readings, women who had read about the drive on my website asked me if they too could knit a sweater for Annabelle's orphanage. What size? they asked. What type of yarn? Is there a special pattern?
When I wrote The Knitting Circle, I wanted to celebrate women and storytelling and, yes, knitting. In the months and years after Grace died, these three things held me together. My pink sweater drive has proven to me once again the strength in them: how women unite and support one another; how stories save us, nourish us and inspire us; how knitting connects us. There is a belief in the adoption community that our children are connected to us by a red thread, waiting to come into our families. These pink threads knit here and sent to Hunan, China, to those little girls in the orphanage connect them to the knitters, to Annabelle and our family, and even to that stranger who knit that first pink sweater in the picture.
On February 11, I covered my table with a red tablecloth because red is used for celebrations in China. I filled platters with dumplings, steamed and fried. I set out a bowl of homemade cold noodles in sesame sauce. There were wine and cupcakes. Annabelle's referral picture sat in the center. Then I laid out the sweaters, draping them over sofas and chairs. The doorbell began to ring, and women arrived, their arms full of pink. They oohed over each other's knitting, fingered delicate yarn, shared patterns and stories. I filled their plates. I filled their glasses. I stood back and watched them move through my home, the sweaters everywhere now, more than forty of them. I remembered the empty place I had occupied for so long, when loss and grief seemed insurmountable. Then I too filled my plate, and stepped forward, into the warm, warm room.
Ann Hood is the Providence-based author of several novels including, most recently, The Knitting Circle.