Kiel James Patrick Opens First Retail Location in Newport
The store features KJP's growing apparel line and trademark bracelets, jewelry and accessories on Bowen's Wharf.
Note: This article was originally published on April 6, 2017, and updated on June 15, 2017.
Rhode Island-based Kiel James Patrick is opening its flagship store in Newport on Thursday, June 15. It has been a long time coming for the accessories and apparel company, founded by Kiel James Patrick and his wife Sarah Vickers. The brand was waiting for the right time and right location to expand to retail bricks and mortar.
"I'm excited to open up our shop in Newport and give customers a look at the brand that they were only able to see through social media. Social media is a huge part of what we do, but we also create genuine American made products that reflect a heritage of craftsmanship going back three centuries in New England," says Kiel James Patrick in a release. "You're going to be able to see and feel that heritage in the store in a way our customers sometimes miss when they shop online."
This past January, they learned that the Narragansett store, located at 3 Bowen's Wharf for more than three decades, was relocating. "We had flagged it as a location we wanted to be in, and the space was going to be available in two months," says KJP President and Chief Operating Officer Jeremy Savage. "That started a fast-paced timeline of negotiating and signing a lease, and the last few months have gone at a crazy speed with architects, designers and contractors. We want it to be our flagship store and reflect the brand."
The store will stock trademark KJP bracelets, jewelry and other accessories, but it will mainly showcase its growing apparel line, including pigment-dyed pants and shorts, shirts, dresses and a collection of spring/summer cotton sweaters that are made in Fall River. "Up until this point, our brand is mostly known for the anchor bracelet, and I'm thrilled to release the next phase of our company," says Patrick.
The a new line of summer-weight sweaters — which include striped roll neck versions and crewnecks with nautical symbols like anchors, whales and sailboats — are quickly becoming best sellers. "Even if it's ninety degrees during the day, you always need one at night, especially in Newport," says Savage.
The store sports a clean, white palette but it has a coastal and nautical theme with pops of color from Victorian beach cabana-like changing rooms. "The quintessential Newport beach cottage is the best way to put it," Savage says. There are nautical flags along the front of the store and a brass golden retriever modeled after Kiel and Sarah's dog, Bennie, stands near the entry. In other KJP news, Kiel and Sarah are also expecting a baby this October.

Kiel James Patrick is opening the store in mid-June, a peak time for visitors traveling to Newport. The company is opening its first retail location during challenging times for bricks and mortar shops, because, Savage says, it's essential to the brand. Personalities spotted on the @KJP Instagram account will also be working and hanging out at the store on a regular basis.
"This is about growing awareness of the brand and having an opportunity to tell our story to our Rhode Island community," says Savage.
The company is hoping to build an even stronger local following. "We are an American brand, but we are Rhode Island founded. We are so excited to open our first store in Newport, and Bowen's Wharf is the perfect place for this next chapter in our story," says Patrick. kieljamespatrick.com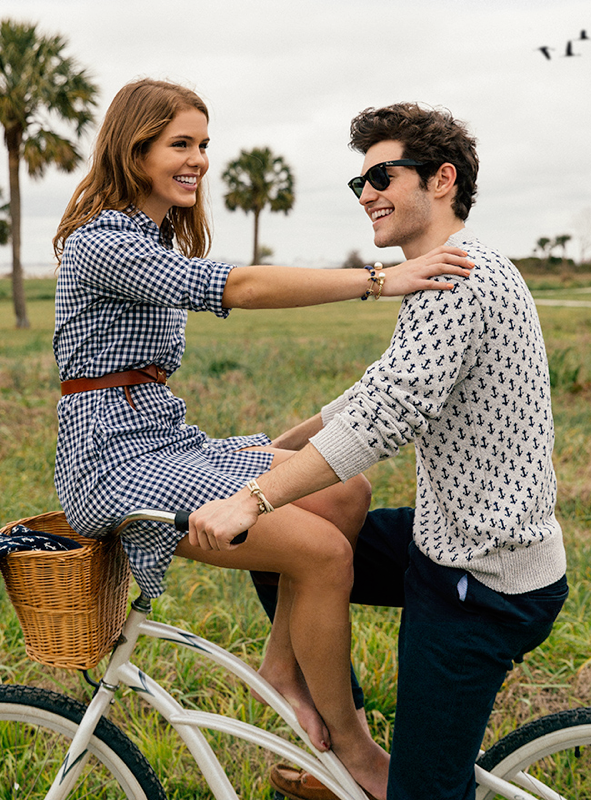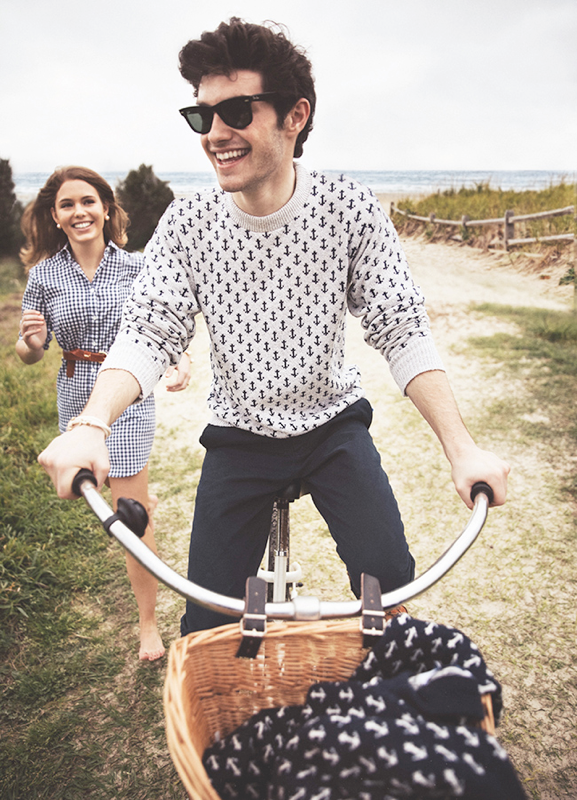 Read More: Inside the Photo-Ready World of Kiel James Patrick: How the designer went from his Warwick backyard to international appeal.