Keeping Up With Kent Stetson
The rise of a Rhode Island handbag designer.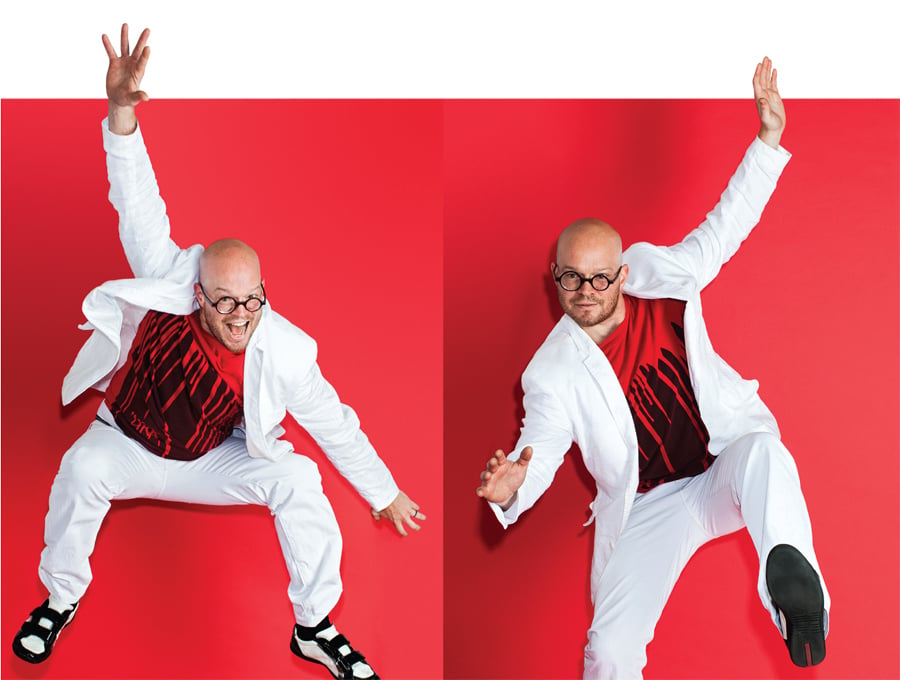 If a single snapshot could mark a man's arrival, Kent Stetson's might be time-stamped January 29, 2013.
It'd capture the bespectacled designer, near breathless from the thrill of it all, leading a group of latex monster/models — a fly-eyed fashionista, a hulking beast with three teeth — toting his latest line of luxury handbags down the StyleWeek Northeast runway. Behind them, an enthusiastic audience is on its feet, dancing, cheering, snapping photos and absorbing the extraordinary spectacle.
With help from Providence's Big Nazo puppets, the StyleWeek show, which marked the tenth anniversary of Kent Stetson Designs, elevated the high-camp designer to a new level in the regional fashion circuit. A sleek color-block tote, a doughnut bag, a glitzy clutch covered in sequins: Kent Stetsons flooded the fashion-forward scene — a high tide of laminate-coated color at every runway show since.
Stetson raced from zero to 150 in the retail sector, too: a non-existent presence in 2013 to, today, designs in more than 150 stores around the globe, from New York City to Tokyo. The growth is palpable. By mid-2014, Stetson had already earned in revenue what he'd made in all of 2013 and, consequently, launched his first flagship shop and studio in Pawtucket's Hope Artiste Village.
"You can have a beautiful idea, a product that is magical and a piece of you, but it needs to be marketable to sustain it," he says. "So it's an exciting time because the curve is going up and it's steep. I'm trying to really savor this."
And it's only just the beginning. His sights are high and the pace is steady because, for Stetson, a life without growth is no life at all. "Creative practice is a form of play. If you keep doing the same thing over and over again, the playfulness is compromised," he says with earnest enthusiasm, a trademark characteristic. "If I just figured out what sells and did that for the rest of my life — creatively, that's a form of death."
Thirty-six-year-old Stetson was raised on a horse and maple farm in rural New Hampshire with his twin brother and older sister, a place of astonishing natural beauty — roaming peacocks, maple sugaring in spring, haystacks for days — but one where sequin tops and silver pants for boys simply didn't exist.
"I used to go to the fabric area at Wal-Mart and fantasize about all the flashy things I could make," he says. "I also had an early love affair with glitter. There's still glitter between the floorboards of my parents' house."
Stetson was born into a long line of creative types: his mother, the resident horse whisperer, maintains her own tack, his father is a third-generation blacksmith and his great grandparents, both artists, met at the School of the Museum of Fine Arts in Boston. But according to his father, Gardiner Stetson Jr., Kent stood out from the start. "It was almost like he fell out of a spaceship; he was very unique," Gardiner Stetson Jr. says. "I don't think he walked until he was two years old. He's been running from that day forward."
Young Kent, like all of the Stetson children, kept busy — and avoided farmhouse chores — with a rigorous academic schedule and extracurricular activities. He attended high school summer courses at Harvard and Dartmouth and filled his school year with sports. "Kent started out on the football team, he was a very large fellow, but then he seemed more called with cheerleading, much to the dismay of the football coach," Gardiner Stetson Jr. says. "He never seemed to be concerned that he was thinking differently from the group, that his direction was different from the majority."
He remembers when the cheerleading squad won the annual state competition, which led to an invitation for Kent to compete in an individual freestyle event. "He was the first male in fifty-five years to receive an invitation," Gardiner Stetson Jr. says. "It was absolutely amazing and quite controversial."
After high school, Stetson enrolled at Brown University on a pre-med track. However, by his junior year, he changed his concentration to philosophy and studio art. The family welcomed the news.
"The general feeling around the household was that higher education was just an opportunity to be exposed to what's out there," Gardiner Stetson Jr. says. "He was always quite creative and the legacy is being carried on with some of our grandchildren. His mother still buys glitter in industrial quantities."
In his senior year at Brown, Stetson developed an interest in new media, particularly hybrid printmaking. He opted to stay in Rhode Island after graduation, working at Strada, a shoe boutique in Providence. Instead of buying a car, Stetson purchased a large-scale digital printer and continued to make art. "I would go back home and people would say, 'Oh, you went to Brown so you could work at a shoe store?' " he says. "But it gave me some tools that allowed me to find success at all levels of the market."
Stetson had his first solo art show in 2002 but he didn't sell a single piece. He even weathered a harsh critique from a former professor who deemed Stetson's fine art "nice wall decorations." Despite the disappointment, a lesson was learned: If he couldn't sell his art on the wall, perhaps he could frame it in the form of a handbag, an idea that sprouted from his experience at Strada where artful, quirky accessories sold well.
Using his large digital prints on canvas and some sewing skills he picked up from his mother, Stetson began toying with an old Singer industrial upholstery machine from the 1950s. "I had to learn its quirks, sort of like an old truck," he says.
Along with his own digital prints on evening bags, Stetson's earliest designs boasted polka dots, feathers, sequins and colorful fringe. His penchant for high camp a la Charlotte Olympia and Judith Leiber was evident from the start. The most successful experiment birthed Stetson's sleek, easy-to-carry signature clutch: an image printed on canvas that's coated with a liquid UV-protected laminate, folded into an envelope pattern, fixed with a Kent Stetson Designs metal label and, lastly, signed by the artist on the interior flap.
While Stetson worked at Strada and, later, managed a real estate investment portfolio full-time, he sold his handbags wherever he could — "the lemonade stand model," he says. "That led me to juried shows, which then led to wholesale and trade shows."
But in a twist of fate in 2008, Stetson got his first taste of wholesale success. On a whim, he attended the World Shoe Association show and met an L.A. rep who liked his collection. It wasn't long before Stetson was fielding orders from Nordstrom, Fred Segal Rocks and other majors.
He worked to improve his technique so the affordably priced designs (ranging from $100 to $400 for clutches and climbing to the $1,000s for one-of-a-kind pieces) could stand next to major manufactured bags. At the time, Stetson was designing out of the basement of his home on the North End of Providence.
Then, the market crashed. "Artisanal — there wasn't much cachet to that term," Stetson says. "They no longer had a budget for emerging luxury goods."
His wholesale business plummeted but Stetson wasn't ready to give up the handbag dream. In addition to his own graphic art, Stetson expanded his line to include tongue-in-cheek digital designs that, to this day, are his best sellers. Out of this vein came the doughnut bag, a clutch boasting a punchy image of frosted baked goods with a realistic doughnut prop — handcrafted by a Miami food artist — affixed to the envelope flap. Then came the bagel, sushi and French fry bags, and the rest is history.
Within the last year, Stetson has dedicated a chunk of design time to one-of-a-kind leather and skin totes with reinforced bases, some with visible flaws. Instead of hiding or mending them, Stetson celebrates the range marks with strategically placed chains and inlays of neon fabric. "It's a secret the owner knows about the bag, and it's similar to the many things we do to turn imperfections into strengths," he says.
While trade and wholesale shows bring in the biggest lump sales, Stetson remains a fixture in the craft show scene, where he can market his art — and his story — directly to customers. On a temperate Saturday in July, Stetson is working the Guilford Craft Show in Connecticut, one of three long-weekend juried shows he'll attend over the summer.
Wearing Prada sandals, vibrant flowery shorts and lime-green rimmed glasses, Stetson sells on his feet the entire day. It's an understandable sacrifice as, at one point in the afternoon, ten people — and two others doing some passive-aggressive squishing from outside — crowd into his small black booth at once.
Most are drawn by Stetson's whimsical designs: swanky cocktail clutches that, when opened, reveal empty glasses; colorful Pop Art prints; a bag with a juicy, stacked hamburger similar to one In-N-Out Burger ordered in bulk for company leaders in spring.
Stetson admits his designs aren't for everyone. "My work is attention-grabbing and if someone isn't comfortable with the idea of drawing attention to themselves, this probably isn't for them," he says. The hamburger bag, for example, wouldn't work for a woman who struggles with body image issues. And the garbage bag — featuring a snapshot from Stetson's tour of the Central Landfill in Johnston with a small toy garbage truck attached to the flap — might not appeal to the conventional dresser.
But he also knows not to judge a person by her wardrobe. In Guilford, Stetson strikes up a conversation with a conservatively dressed woman carrying a monogrammed Louis Vuitton tote. As they chat, she opens and closes half a dozen bags hanging by their removable chains. When she picks up a martini glass clutch with a decorative olive and a vibrant swirl lining, she says, "That's the one. And I'm not going to sell it on eBay when you're famous; I'm keeping it."
Shortly thereafter, a middle-aged man in a pastel shirt and khakis enters Stetson's booth. "I walk through fifty booths that I don't look at, but I like pop and you got pop," he says.
Stetson engages the man, who tells several long-winded stories about his adventures in 3D printing. Although some of Stetson's larger, structured totes appeal to men as travel or electronics bags, it's evident this gentleman isn't in the market. The two swap cards and part ways, neither richer nor poorer from the exchange.
Unexpectedly, however, Stetson's attention pays off. Later in the day, the man returns with his wife, who listens intently as Stetson explains his background in fine art, his process for creating the bags and the stories behind several favorites. The woman purchases a fun deck of cards design for $140 and can hardly part with a second bag, this one flashier with neon splatters, one of Stetson's original graphic works of art. He's earned a fan for life.
It's part of his business strategy: Stetson draws in each customer with the line's origin story but allows the conversation to take friendly, organic turns away from the product — more of a shopping companion than a suggestive seller. "When you're buying a non-essential item, the experience should be glamorous and fun and not a pushy experience. It should be delightful," Stetson says. "It's 99 percent about people looking and walking away, but it's also a chance to tell the story, a form of marketing. It's like show and tell: Look what I made!"
That's how Stetson lured Sally Lapides, president and CEO of Residential Properties, and turned her into a regular collector. "Kent's an interesting combination of designer, intellectual and creative thinker, so I actually enjoyed the process of meeting him, getting to know him and continuing the conversation in between pocketbooks," she says. "I love that they're handmade in Rhode Island, and I love that he started this business as a Brown graduate. You understand this more when it comes from a RISD graduate, but he always wanted to follow his design dreams. It's very special. Every bag has a piece of his soul in it; it feels very personal."
Lapides, who owns several of Stetson's totes, clutches and evening bags, has also gifted a dozen more to friends and family. She's a neat dresser with a taste for high-end labels but, as a realtor, she also looks for accessories that double as conversation pieces. Many times, she says, a Stetson design does the trick — and without much effort on her part. She notes a clutch bearing a graphic image of a closed eyelid that, when opened, reveals a vibrant blue iris on the inner flap.
"The truth is, it doesn't matter what size dress you wear," Lapides says. "You can always perk up an outfit with a handbag, and you don't have to get depressed if you go up a size."
In July, shortly after Stetson settled into his Hope Artiste Village studio, Lapides says she visited the new digs and lusted over several of his latest designs. The next month, she returned to buy them all.
"Can I get this with a pug on it?"
Stetson is working the Handmade section at NY NOW, a huge five-day trade show at the Javits Center in New York City. He's just sealed a deal with an eccentrically dressed boutique owner from California, and she's eager to place a second order with a specific customer in mind — one who has a flair for quirk and a fondness for pugs.
Stetson agrees, despite an already bustling morning of orders that, while time-consuming to make and ship, won't require any new custom designs. He rarely says no and considers custom bag-making a fallback option, should his original designs ever lose their appeal.
But he's not there just yet. Just four hours into his first day at NY NOW, Stetson has signed ten new wholesale clients. Many of the buyers, from a fine art museum to an award-winning Michigan gift shop to a New Jersey boutique, choose six to eight designs each, all of which are made to order. These contracts, plus more from a multiday wholesale show earlier in the month, have a typical turnaround of two weeks.
Stetson's employee, Tara Hansen, a longtime friend and a skilled sewer, helps keep the operation running while Stetson is on the road. "I'm thankful that I have a teammate in Tara, who understands what's at stake and believes in it as much as I do," he says. In addition to Hansen and a young social media manager named Liz Mary, Stetson will add another sewer and bookkeeper to the team before the end of the summer.
It's all part of a plan to double his retail presence from seventy-five stores to 150 — a goal he set, and achieved, in two weeks of trade shows. The work is compounded by a twelve-design deal with elite fashion retailer Nordstrom and another with a European mini chain with locations in New York, Las Vegas and Orlando.
His release from work, he says, is more work. Up until this summer, Stetson taught at Eyes of the World Yoga Center in Providence. But he gave up his practice to focus on the business. "Something had to give. I loved teaching, but I need to take all the energy I have and translate it into this," he says. "Dharma work is finding the thing that can fulfill and sustain you. This is my yoga."
The busy bee mentality — a vestige from his childhood on the farm, no doubt — is part of Stetson's charm, according to his husband, Luis Astudillo, a Classical High School teacher.
"He always had artistic preoccupations and endeavors, and that continues to this day. He'd sit and watch TV with me for a few minutes but would get up, always, to go work on something," Astudillo says. "He's one of those people who is very driven, very talented, very smart, and I really do believe he can do anything. It's hard work for him, but I think he would will it to succeed."
Astudillo, who joins Stetson for a quiet, restorative night in New York City during the NY NOW run, says the pair began dating over Christmas in 2001. "I was having a bad night and happened to run into him just serendipitously," Astudillo says. "We went bar hopping and had a fun night together, but I knew when I dropped him off at the end of the night that it was going to be something special."
Stetson realized their potential a bit later when, after a date in downtown Providence, a homeless man accosted the couple on the street beneath the Turks Head building. To Stetson's surprise, Astudillo took charge of the situation and pacified the man. "In that moment, I knew it would always be an adventure with him," Stetson says.
After ten years of commitment, Stetson and Astudillo were married last year — the first couple to receive a marriage certificate after Rhode Island passed its Marriage Equality Bill. The pair wed beneath the fated Turks Head and, like so many significant moments in Stetson's life, the building was memorialized in the form of a stunning stone-faced clutch, more exquisite once you know the back-story, as Stetson intended.
In the midst of his summer of selling, Stetson crafts a collection for the catwalk, he says, that people won't want to buy.
Stetson was commissioned by local designer Sarah Prost of Yellow Clover to create a line of handbags for her closing night show at StyleWeek Northeast. Prost's collection was inspired by Grey Gardens, the documentary film about a reclusive mother-daughter duo who, in spite of their blue blood, lived in defiant, prideful squalor in the Hamptons. "It's fun to push it to a place that's not sellable, to tell a story that's kind of dark," Stetson says. "Creatively, it's nice to not think of the end transaction once in a while."
It appears, however, that Stetson can't make an unsellable bag. The collection, which paired seamlessly with Prost's sweet, all-American line of cotton dresses, plaid skirts and headscarves, included a boxy American flag baguette with metal fringe, a red gingham tote crawling with plastic ants, a vintage coffee can minaudiere and, the biggest hit of the night, a yellow and black shopper affixed with the phrase: "Men are Shit." The following weekend, several fans flocked to Stetson's Facebook and Twitter feeds for information on how to purchase the designs; about half of the collection was sold under the radar.
Stetson was, at one time, a fixture of StyleWeek's Accessory Showcase, a pre-runway event where emerging accessory designers could peddle their work to a fashionable crowd. "Now I go as a spectator and see a sea of people carrying bags I made. It's really amazing," he says. "But I'm just one part of a much bigger community of designers, and StyleWeek is really nurturing that and working to make their dreams come true."
StyleWeek founder Rosanna M. Ortiz, who first met Stetson in 2011, says he is the rare sort of designer who could translate from the accessories table to the runway. "I look at Kent as more of an artist and an innovator than a handbag designer," she says. "He has the business mentality and creative side, and when he marries that, the sky's the limit for Kent. I wish he would come back and do another runway show for us."
Stetson says StyleWeek helped forge important relationships with other local designers, which led to his first bricks and mortar venture at nude, a retail boutique that doubles as a fashion incubator inside the Arcade in downtown Providence. Along with Sarah Prost, Stetson teamed up with local designers Susan Troy, Jonathan Joseph Peters, Jess Abernethy and Amy Stetkiewicz to pool their collections and man-hours for the boutique.
This summer, Stetson opened his flagship operation in Pawtucket's Hope Artiste Village, prompting him to bow out of nude. But the experience was invaluable, he says. "It was an accelerator for me and is a really great model for emerging artists and designers."
Stetson's cozy new space, open during business hours on weekdays and on Saturdays for the Pawtucket Wintertime Farmers Market, functions as his design and retail headquarters. Scores of handbags line the peripheral walls while sewing and assembly stations take center stage, allowing shoppers to watch the team in action.
In addition to the Hope Artiste Village space, Stetson's Rhode Island retailers include Feminine Fancies in Barrington, Studio Hop in Providence, Wilson's of Wickford and Pawtucket's Slater Mill, for which he crafted a series of bags inspired by the cotton mill's industrial past.
Stetson has plans for more craft shows this season — including Pawtucket's Foundry Show and CraftBoston in early December — plus five trade shows across the country in January and February. "Personally, I'm always thinking: What am I growing towards? What's the edge?" he says. "I've seen lots of rejection. I still see a lot of rejection. Just a couple of weeks ago I was thinking, a year from now, what would I think of this work? By looking critically at your work, you can grow so quickly."
He barely has time to sleep. But to dream — that's a different story.
On a sticky day in late summer, the humidity thick like the pile of orders to fill, Stetson carves out some time to visit his future. He exits from the back door of his Hope Artiste Village space, winds through a gray hallway that smells of old industry and arrives, minutes later, at a set of double doors bearing a sign: "For Rent."
Stetson peers through a window and into the 5,000-square-foot, steel-floored loft space. He admires the natural light that spills in from two-dozen clerestories and ponders where the packing and shipping area might go, where clusters of sewers and assemblers might sit.
"I come and look at this space from time to time, and I don't think it's that far in the future," Stetson says. "It's more of a metaphor because, despite the momentum, I don't think we've arrived. I get emotional sometimes thinking about it; I know there's more. If we dream it up, it's possible."
It's hard to dispute the notion. The full-time incarnation of Kent Stetson Designs was nourished by a daydream. In 2011, Stetson was making few handbags in his spare time. His career managing a real estate investment portfolio was all-consuming and left little room for art. So, after five-and-a-half years with the company, he quit. "I left my keys, my phone, my hard drive," Stetson says. "I was panicking, so I went and bought a hammock. Lying in my hammock trying to sort out what I'd just done, I looked up and took a photo of the sky."
That pivotal moment made its way onto a handbag: an oversaturated, optimistic snapshot of the clouds folded into a glossy clutch that, to Stetson and his clientele, represents how bright the future can be. Afterwards, he pieced dozens of his real estate notebooks into a collage with the Rent-inspired phrase: "2,453,760 Minutes. How Do You Measure, Measure a Career?" It hangs over his sewing machine and serves as a reminder to be grateful every day.
"Oftentimes, I wake up feeling like, 'Let's do this!' " Stetson says. But the dream's not nearly over. There are still more handbags to make.