Keep the Peace in Rhode Island
A local nonprofit organization hosts a pro-peace celebration.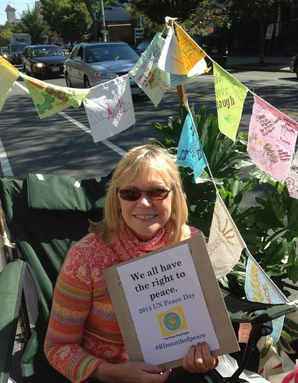 Chuck up your index and middle, throw on a tie-dye top and join the global celebration of peace this September at Peace Fest RI. The free community event welcomes peacemakers of all ages to Burnside Park and Kennedy Plaza to parade around Providence and spread the love.
Hosted by the nonprofit Peace Flag Project, Peace Fest features events throughout the month of September to focus on all the good that happens around us every day. The main event will be held on September 19 in Burnside Park, also appropriately known as the People's Park.
Peace Fest kicks off at 1 p.m. with various activities that celebrate a nonviolent world. Both children and adults will enjoy making peace flags, peace pinwheels, peace cranes, peace T-shirts and more. Flower children can also anticipate a large interactive art project, storytellers, puppeteers and food trucks.
Once 3 p.m. rolls around, attendees will fully release their free spirits and dance for peace through the park and Kennedy Plaza. The Peace Flash Mob features the work of four choreographers: hip-hop dancer Sokeo Ros, Zumba master Nellie Guerriero, Bollywood-style dancer Nita Trivedi and modern dancer Rachel Balaban. The foursome's fun and diverse techniques will have everyone grooving for goodwill.
Bohemians will come together to close Peace Day with a silent Peace Walk meditation. The walk is a Peace Fest tradition led by interfaith clergy, each step a step for amity. Taken slowly and silently, the Peace Walk concludes with interfaith prayers for peace.
For freethinkers who want to keep the celebration going, the Peace Flag Project hosts events to rejoice all month long. Check out the Peace Art Exhibit opening on September 11 at the Atrium Gallery of the First Unitarian Church with local works inspiring and addressing peace.
The neighborhood branches of the Providence Community Library will also host peace flag workshops throughout the month, providing the public with classes to create flags that express their peaceful wishes for the world. The flags will be displayed at each Providence library in celebration of the Month of Peace and the International Day of Peace (September 21).
Keep the peace going at the Peace Film Festival on September 26, featuring three free and open to the public peace films.
Whatever way you decide to celebrate a month full of peace, carry the physical and spiritual connections made with you onward. Namaste.