Just the Ticket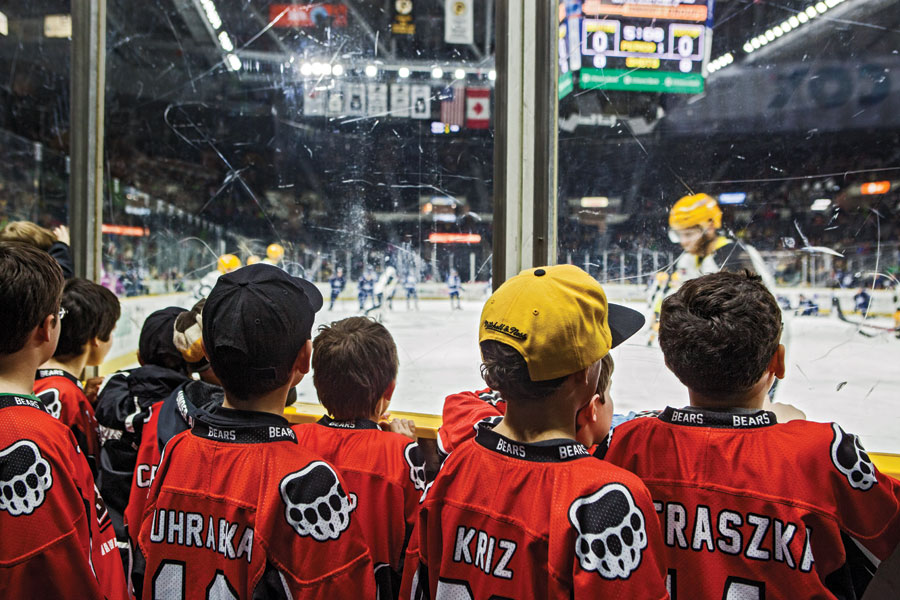 Justin J. Ryan, a talented center with lanky blond hair brushing his shoulders, sits at his locker in the Dunkin' Donuts Center, reliving his moment of glory on the ice. He unlaces one skate, then another, and drops them on the floor. Then he squeezes his curved wooden hockey stick, eyes still shining from the ice as coaches and teammates buzz around him in the cramped dressing room.
"Did you see that goal I had in the second period?" he asks. "I think it went off the goalie's back!"
If Ryan sounds like a kid in a candy store, it's because he is a kid, a nine-year-old veteran of the South Shore Seahawks, a Squirt B team from Massachusetts living the dream of a professional hockey player. His Seahawks have just beaten the Woonsocket North Stars, skating on the same ice as the Providence Bruins, sitting on the same bench as P-Bruins stars, some of whom have gone on to hoist a Stanley Cup in Boston. Ryan was introduced over the public-address system just like a Bruin and saw his name etched in bright lights on the massive overhead scoreboard as he notched two goals in front of 8,880 people streaming into the Dunk for that Friday night's American Hockey League contest between the Providence Bruins and the Syracuse Crunch.
Later, after he and his teammates have filed out of their locker room and past Bruins players in T-shirts and shorts playing hacky sack in the hallway, Ryan will go home with enough P-Bruins swag, including a DVD of the game, to fill a child's bedroom shelf with memories.
"Last time I was here, I got a hockey puck autographed by Ryan Spooner," he says, referring to the P-Bruins star center.
His coach, Chris Connelly, who has brought the Seahawks to Providence two years in a row, says it's a thrill for the kids.
"Playing youth hockey, we go to a lot of home-grown rinks," he says. "It's cold, it's wet, it's dark, it's early in the morning. Then the kids come here and they're treated like — they are — special."
Some even get a thrill out of being sent to the penalty box.
"Hey, some of them know it's the only way they're going to get their name up on the big scoreboard," says Connelly, laughing.
Kids like Austin J. Ryan are the hidden stars in a remarkable success story that has unfolded in Providence, where the Bruins have built a model minor-league franchise. Despite Rhode Island's rich hockey heritage, this is not your grandfather's Providence, the era when the fabled Providence Reds drew overflow crowds to the smoky Rhode Island Auditorium for nearly half a century to cheer Zellio Toppazzini, Frank Brimsek and the legendary 'Kraut Line' of Milt Schmidt, Wood Dumart and Bobby Bauer.
With a sluggish economy and hundreds of cable channels and entertainment options, it's not so easy to put people in the seats. But the Bruins have found a winning formula: youth hockey, children's choruses singing the national anthem, school bands, children's dance troupes, gymnastics, martial arts, robotics teams, scout troops, day care centers, birthday parties, family reunions, company outings, community groups, charity benefits, even animal shelter nights.
When a child performs at a P-Bruins game, he or she brings along ticket-buying parents, siblings, grandparents and friends.
Combine that with affordable ticket prices, special deals, more than 1,000 corporate sponsors from Amica to Pooch Pawsitive of Rumford, and a large and aggressive sales and marketing force, and the Bruins are consistently one of the top draws in the thirty-team American Hockey League, averaging about 8,000 fans a game.
Two years ago, the franchise won the AHL President's Award for its overall excellence and business growth. Last year, Providence drew 10,800 to the Dunk for the AHL All-Star Classic. For the 2012-13 season, the Bruins trailed only the Hershey Bears and the Chicago Wolves in AHL attendance, drawing 311,000 fans, which they expect to top this season. Six years ago, the team drew 244,000.
As the top farm team of the Boston Bruins since coming to Providence in 1992, the P-Bruins offer fans the opportunity to see future NHL stars at a fraction of the cost and the hassle. The average group ticket price is $17, and you don't have to brave Boston's Southeast Expressway. Future Boston stars like Patrice Bergeron played in Providence, as did Brad Marchand, Adam McQuaid, Johnny Boychuk and Tuukka Rask.

But it's not enough to be in a state where families grew up skating on ponds and toddlers wobble across the ice holding onto milk crates.
"It took a long time to change the mindset that people would just show up," says team president Matt Poore. "Most parents are at the rink enough. But if their son or daughter is playing a game before or singing the national anthem, they're not going to stay home."
It was about a decade ago, says Poore, that the Bruins began to focus more heavily on group sales as opposed to season tickets. In a more competitive, cost-conscious world, a minor-league hockey team can no longer count on the same core of fans coming to thirty games a year.
Since the late-1990s, the team's group sales have soared from about 10,000 to more than 150,000 last season — about half of all tickets sold. Most fans come to only one or two games a year, which is why forty of the team's forty-seven front-office employees work directly in sales, drumming up a plethora of group events to keep those turnstiles spinning.
Poore calls it a hedge against down years. Though the team recently went three straight years without a playoff appearance, attendance continued to climb.
"If we're struggling on the ice, we're still going to have a good crowd," says Kevin Boryczki, the team's vice president of public relations, marketing and operations. "When they leave, they may not know who won or lost the game, but they know they had a good time. This is a great family night out. That's how we pitch it."
Four years ago, the Dunk's general manager, Lawrence Lepore, asked the Bruins if they could replicate their hockey success and help sell tickets to other events. Thus was born Providence Sports + Entertainment. The new company, which owns the Bruins, now also handles group sales for other events at the Dunk, including rental of the twenty luxury suites, as well as events at the adjacent Rhode Island Convention Center and the nearby Veterans Memorial Auditorium, home to the Rhode Island Philharmonic and Festival Ballet. Essentially, the State of Rhode Island, which controls all three facilities, hired the Providence Bruins to help sell Disney on Ice and Cirque du Soleil, Mahler and Mozart, The Nutcracker and Peter Pan.
"Now we can offer them Disney on Ice," says Poore. "It's helped us grow our base and bring new customers into the family. Once we get them in the door, the experience sells itself."
High above the ice, in a remote corner of the Budweiser Bar and Grill, Poore and Jeff Fear, the Bruins' CEO, watch the game, a scoreless duel highlighting the skills of Boston's young Swedish goaltending prospect, Niklas Svedberg, last season's AHL goaltender of the year.
Like the Wizard of Oz, Poore and Fear are hidden behind a curtain. Unlike the Pawtucket Red Sox, Rhode Island's other successful minor-league franchise which has a statue of its late owner, Ben Mondor, outside McCoy Stadium, the two P-Bruins minority owners keep a low profile, seldom giving interviews.
"My job is to deal with the finances and the building, and get out of the way," says Fear. "The players could ask, 'Who are you?' Their boss is their coach and the Boston Bruins management." (As is typical with minor-league teams, the parent club signs and pays the players' salaries.)
Poore says that he and Fear have spent years building a culture; seven of their eight senior vice presidents had never worked in the sports industry until they came on board here.
"This is a big company now," he says. "I want to stay out of their way and let them do their jobs."
The Matt and Jeff Show has proved to be a winning combination. While Fear focuses on the team's operations and finances, Poore thinks of new ways to market the team, which invariably involve hiring more sales people.
"We're a good mix," says Poore. "I believe anything is possible…"
"And I'll rein him in once in a while," interjects Fear, smiling. "We had a conversation just in the last forty-eight hours about whether we're spreading ourselves too thin."
"Jeff's conservative, I'm aggressive," says Poore.
"When we got to twelve employees, I said, 'That's it, right?' " recalls Fear. "Matt said, 'We'll see.' "
Fear, a trained accountant from Ontario with a master's in sports management and an MBA from Ohio University, interned with Triple A baseball's Evansville Triplets, a team managed for a time by Jim Leyland, a future World Series manager and likely Hall of Famer. Later, Fear was the controller at Portland's Cumberland County Civic Center, where the Maine Mariners played. He then followed the team to Providence in 1992. He has missed only three games in twenty-two years.
That first season in Rhode Island, the Bruins lost their first four games, all on the road in Halifax and Newfoundland, raising Fear's fear about what kind of reception they would receive in Providence. But when the players skated onto their new home ice, the Providence Civic Center was packed, nearly 12,000 strong eager to welcome professional hockey back to Rhode Island fifteen years after the Reds had faded into history.
"Okay, I told myself, it's going to be alright," recalls Fear.