Jump In: Beautiful Backyard Pools in Rhode Island
Someone had to do it. We perused tony pools all over the state. None spoke to us like these three and for very different reasons.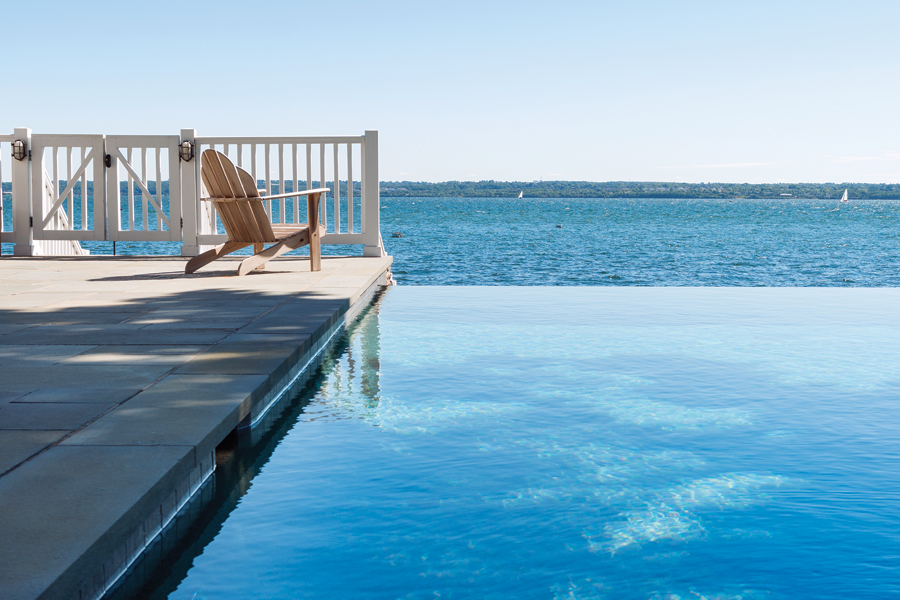 Au Naturelle
Why dwell on the mechanics? Infinity edge pools are magic. Take this Jamestown idyll where man-made swimming hole and bay seamlessly converge. Architect William Burgin (along with project designer Jon Brundage) of the Newport firm Burgin Lambert deftly reworked an existing dwelling — whittling it to a proper shape and size — to create a complementary, fully equipped pool house, too. When it's time for a dip, the owners make their way from the main residence (also a stunning Burgin Lambert) that perches at the top of the site down a pretty landscaped path. By the water's edge, the cinematic vistas grow even more dramatic. "Minus a fence, views sit lower on the horizon," Burgin tells us. Whether you're lounging on the terrace or swimming, it's blue as far as the eye can see.
---
Haute Couture
Boston-based architect James Cullion's eponymous practice is highly touted for myriad elegant projects. It's no surprise that here the gorgeous house he designed and the luxe pool area he collaborated on with the late Portsmouth landscape architect Sharon Mooney complement each other. Cullion even arranged picturesque pool views for the family from inside. Still, in summer, who ventures in? "Devised as one big outdoor living space with a smaller area for different functions," he says, the grand bluestone terrace provides sun and shade at opposite ends. There's a spa to revel in and a pool pavilion (note how its classy columns copycat the house) tricked out with all the amenities, including a TV and outdoor shower. Of course, the setting — manicured lawn sloping gently to the Sakonnet River—doesn't hurt either. Savvy Cullion specified a glass safety railing for the pool to ensure this beautiful bonus wasn't obscured.
---
Seeking Shelter
This colossal indoor pool (there's a cool bar as well as a changing room) defies labeling. Automated doors lift, revealing water views in one direction and — our favorite accessory — a garden in another. Created by designer Catherine Weaver of the North Kingstown landscape architecture firm, Tupelo Gardenworks, the latter's Old World ambience is as heady as the flowers. Clever Weaver has wrapped the pergola in underused Virginia Creeper and filled pots and raised planters with classics like agapanthus and dahlias. The handsome, beautifully renovated '70s house and its adjoining pool are all about contemporary. But the garden's aged brick wall, she points out, serves as a "historic connection to the Newport locale." The contrast is dazzling. Let the rains come; nothing deters swimmers. Both pool and surrounding landscape are also handicapped accessible. Translation? There's plenty of functionality to match all the luster.