July 2014 Seafood Issue: Oyster Farm Video Tour and Cooking Clams on the Beach
A Rhode Island shellfish adventure, including an oyster farm tour and clamming and cooking on the beach.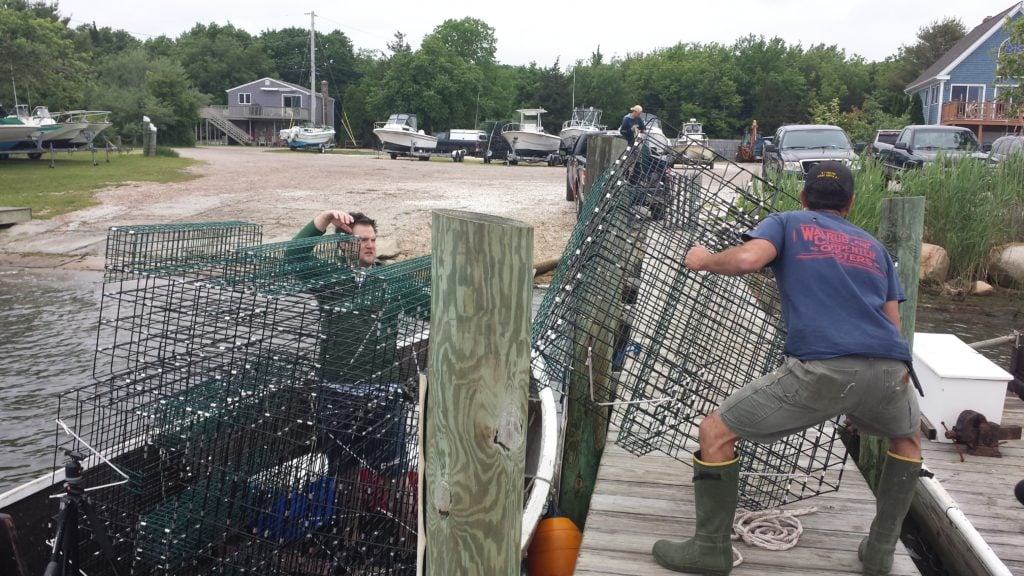 Looking across Ninigret Pond in Charlestown, you'd never know there are enough oysters underwater to host a raw bar for quite possibly the whole state. Jules Opton-Himmel of Walrus and Carpenter Oysters is taking us out on his boat for a tour of his oyster farm. There are six oyster farms located here, within the biggest pond in Rhode Island.
Opton-Himmel drops some new oyster racks into the water and then motors over to his oyster nursery, hidden under the secret trap doors of a private dock, where 1.5 million baby oysters are growing inside boxes called silos in a structure called an upweller. Ocean water circulates underneath, so they can continue to feed on phytoplankton and increase in size. He puts his hand inside a box and comes up with a handful of tiny shelled creatures. More than 200 baby oysters cover his fingers and palm. The boxes need to be cleaned every day and sieved once a week, and once the oysters reach the size of a thumbnail, they can be transferred to a second upweller for bigger oysters, or they can go right out to the farm.
Opton-Himmel has more than 160 oyster racks underwater. We thought it must be tough to keep track of all those beauties without any buoys or floats to mark the spots. "Each one has a number in a row, and we have a map we're constantly updating every week," he says. "Each rack has ten bags of oysters in it."
The oysters can't simply grow and be left alone in the pond. "You have to clean and thin them out every month or they get crowded and suffocate, and this time of year, you've gotta get to it or you'll ruin the crop," he says. "The water flows naturally, we just have to keep the bags clean. That's why we're always switching them out."
If the bags get covered in oyster waste, algae and tunicates (fouling organisms), they can't get food because there's no water going into the bag. "They have to have a flow of water and constant supply of food and oxygen to keep growing.They are like cows grazing all the time," says Opton-Himmel. "The bulk of the job is keeping the fouling at bay."
Today, we're taking some oysters to eat on the beach, along with some clams that will be cooked on a grill by chef Benjamin Sukle of birch restaurant in Providence. But first, the guys need to go clamming. Rhode Island residents can harvest up to a half bushel of clams per person per day without a license, and these men are taking advantage of this Rhode Island state resident right.
Once the pair digs enough clams using rakes, we take the boat to the beach where the grill is waiting to be fired up. Sukle lays down a tarp to spread his cooking utensils and ingredients, and then he demonstrates his secret recipe for clams (featured in the July issue of Rhode Island Monthly). While Sukle cooks, we join the group for dinner. Along for the party is Sukle's wife and birch co-owner Heidi Sukle, Steve Wynn from the Wine Bros., chefs from birch restaurant, staffers from Rhode Island Monthly and some of the oyster farmers that work with Opton-Himmel. We eat shellfish with grilled asparagus and rareripes (green onions) from Four Town Farm in Seekonk, while sipping Foolproof Backyahd India Pale Ale and Barstool American Golden Ale as well as Westport Rivers wines. It's a Rhode Island beach feast done right.
Watch the video documenting our day spent on the water.
There's nothing like eating shellfish in the setting right where it was harvested. On August 12, Jules Opton-Himmel of Walrus and Carpenter Oysters and chef Ben Sukle of birch in Providence will collaborate on a meal for the oyster farmer's summer dinner series, which includes an in-the-water raw bar with wine and prosecco and four courses served on the beach. The pair will take lucky guests on a culinary adventure at the oyster farm on Ninigret Pond in Charlestown, followed by the multi-course meal that will include plenty of oysters and clams. For Sukle's clam recipe, see the July 2014 issue of Rhode Island Monthly. birchrestaurant.com; walrusandcarpenteroysters.com
Other restaurants featured in the Walrus and Carpenter Dinner Series include: Ella's, Southside Community Land Trust Oyster Bash, Nicks on Broadway, north and New Rivers.

More photos from the day:
Oysters are tumbled and sorted inside this machine.
Sukle and Opton-Himmel hanging out on the boat.
Digging for clams.
The path to the beach.
Sukle cooking clams, his favorite Pennsylvania sausage and vegetables on the grill.
A view of the beach.
The sun setting over Ninigret Pond.