Jamestown: The Best of Both Worlds
While the water views steal the show, the island's pastoral history lives on.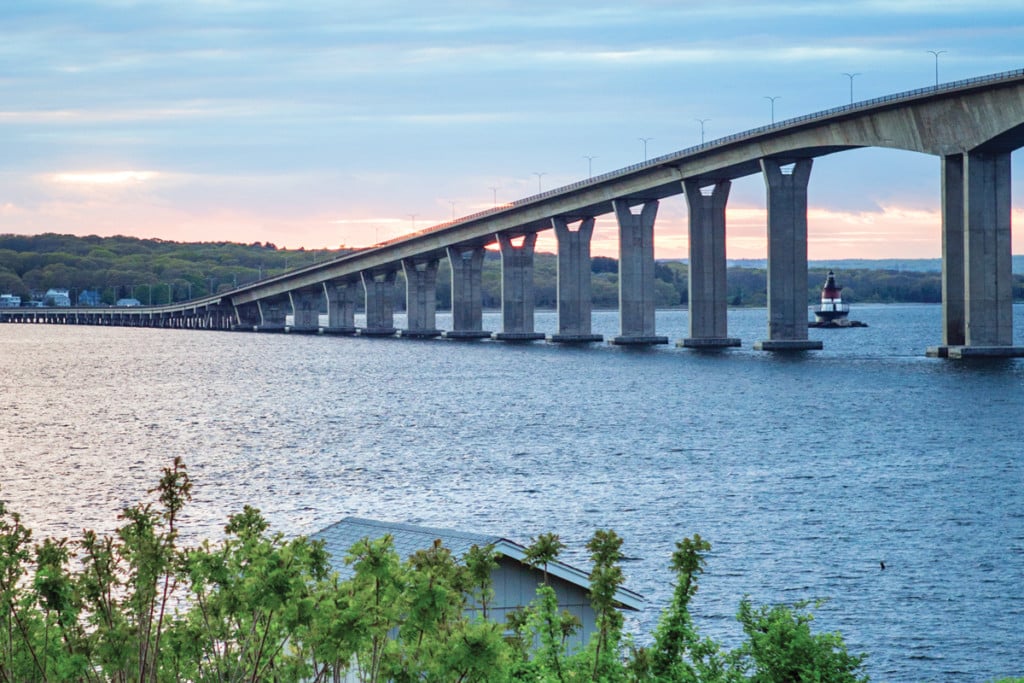 For some, Jamestown inspires memories of sunshine-filled days spent at Beavertail Park. For others, it's the frustration of having to cross an entire island before they can make their swanky dinner reservation in Newport. For me, it all starts with a bang.
As a teenager, nothing excited me more than the prospect of getting to watch something explode. In 2006, my dream was realized in the form of the old Jamestown Bridge (circa 1940). As any longtime Rhode Islander can attest, its demise was well past due. If you search YouTube for videos of the demolition, you will come across comments like, "I miss the slipping and jutting sideways when driving on that bridge. You could see the bay through the metal grid, which enhanced the psychological effect."
It was sentiments like this that led to the construction of the new Jamestown Verrazzzano Bridge in 1992, just a few car lengths north of the original. The older bridge then shut down permanently and for almost fifteen years remained a rusty blemish on Narragansett Bay — that is, until the state finally allocated enough funds to dispose of it. But in the wake of all that build up, my recollection of the explosion offers more of a "pop" than a "kaboom." And from my perch on a nearby hill in Saunderstown that April morning, the billows of smoke and falling debris didn't appear nearly as apocalyptic as my overly dramatic teenage self would have liked.
As it turns out, I probably wasn't the only one disappointed by the blast that day, although Jamestowners have their own reasons.
"The joke is that everybody who comes across the bridge stops here, stays here and then wants to knock the bridge down," says Rosemary Enright, an officer of the Jamestown Historical Society. She is one of those transients and unfortunately for her, the new bridge next door was unscathed.
Jamestown would have been happy if there hadn't been a backup. Just about everything its residents could possibly need is right here — from early learning centers and scenic beaches to bustling grocery stores and award-winning restaurants — in a town that covers a whopping thirty-five square miles (twenty-five of which is made up of water, mind you).
Now, more than ten years after I watched the original bridge meet its watery grave, I can at the very least attest to the staying power of the island's coffee shops or, rather, one coffee shop in particular. Enright and I are enjoying an early morning cup of coffee at Slice of Heaven on Narragansett Avenue, which she tells me is the gathering spot for locals.
"We've always been very independent. No matter what we've faced, it's been, 'We're going to make this work.' And we did," she says. "There's still a little bit of that mindset left in town; it's why Jamestown has thrived."
It all started with the 1657 Land Agreement. After almost twenty years of leasing farmlands on present-day Jamestown from the Native Americans, 101 men, mostly from Newport, got together, pooled their resources and purchased the island.
"They didn't just take over like others did back then," Enright explains. "They even drafted a contract saying who was going to pay and how much, and then how much of the island they were each going to get." The agreement is now on display in the town hall.
Then, just a couple centuries later, the self-reliant islanders took it upon themselves to kickstart the economy. Up until the early 1870s, Enright says Jamestown was "totally an agricultural community." While the rest of the state had steamships, this tiny island relied solely on erratic and expensive sail ferries.
So they organized and funded their own steam ferry system, and in came the summering families, large hotels and a booming tourism industry. But Jamestown was still too isolated, at least in the eyes of the rest of the state. Naturally, with industry on the rise, a bridge was the most logical solution. But no one (namely the state) wanted to pay for it. So the privately owned Jamestown Bridge Commission was established and they alone raised the funds to build the first bridge on the west passage in 1940.
From there, Jamestown's population increased exponentially, which Enright says has proved both a blessing and a curse.
"No matter how you say it, the more people you crowd in, the more impact it has on the beauty," Enright explains. "But we have a good deal of the island that is, in one way or another, protected from development."
Enright agrees to give me a bit of a tour, and after just a few minutes cruising down the coast I realize that the locals' inherent protectiveness of their backyard is warranted.
We pass large Victorian mansions sitting high on expansive grounds that overlook the waterfront. (My entire childhood home could fit on any of the historic homes' giant white porches, with room to spare.)
We pass Clingstone, a.k.a. the "House on the Rock," perhaps the most illustrative example of Jamestown's autonomous, borderline insubordinate, nature. Built by Joseph S. L. Wharton, just after his original home was torn down by the government to make room for Fort Wetherill, the self-sufficient property stands stoic on a cluster of rocks a few miles from shore, completely unaffected by the whipping ocean breeze.
We pass through Beavertail Park, Jamestown's premier destination for non-islanders. Once a World War II observation and entrance command post, the present-day lighthouse is flanked by panoramic views of Narragansett Bay, and seeing it up close on this sunny spring morning erases any mediocre postcard depictions from my memory.
We visit Jamestown Shores, a community on the north end of the island that Enright likens to Fort Lauderdale. It's a lovely area, with perfectly manicured lawns and smiling neighbors, but it's here that I can see where her earlier "packed" sentiment comes into play. More than 50 percent of Jamestown's population lives in this neighborhood alone, made up mostly of newcomers to the island.
The newness of the Shores contrasts greatly with our next stop just a few minutes down the road (although everything here is just a few minutes down the road). We pull up to a property that's set back a bit and is surrounded by looming oaks. The sign out front reads that the Carr family (one of the original purchasers of the island) homestead dates back to 1690.
"Whether that building in front of us was really built that long ago is questionable. I think it was probably built in the 1770s on the same foundation as the original," she says. "But the property was far enough off of the main drag downtown that it didn't get burned down."
You will see very few remnants from the Colonial era in these parts because the British tore through in 1775 and set fire to the most heavily developed section of the island at the time, the road between the east ferry and the west ferry (now Narragansett Avenue). The Carr house is one of the only structures that managed to survive intact, thanks to its somewhat remote location. On our way back to Slice of Heaven, looking at the sprawling farmlands and lush conservation areas, I remark that beauty certainly can, and does, rise from the ashes.
But, before we end our time together, I have to ask one question that's been on the tip of my tongue all morning: Did Jamestown really have pirates?
"Everybody wants to know about the pirates!" Enright says, laughing. She tells me that there was once a privateer named Thomas Paine, who worked with William Kidd before he became a full-fledged pirate. Paine built a house on the north end of Jamestown when he retired, but he also maintained his friendship with Captain Kidd.
"Kidd was actually here right before he was arrested in Boston and then taken over to England to be hanged," she says. "After he was taken away, there are records showing that Paine sent money to Kidd's widow on a regular basis, so the theory was that Kidd left his treasure with Paine and he acted as an exchequer. But I think that if it were buried somewhere on Jamestown, somebody would have found it already; it's long gone."
Many a tale has popped up over the years claiming that locals suddenly came into large sums of money after working up at the Paine house (which today is a private property). Even more mysterious, the stories go on to say that each of these locals disappeared without a trace soon after their good fortune.
But Enright doesn't seem convinced.
"I don't know if any of that is true. And maybe Paine was just a good guy who was helping out the widow of a friend on his own dime. The facts are that Paine was a privateer, Kidd would visit him here, and he sent money to Kidd's widow. That's about all the pirate-related history we have."
Or maybe this is just one final gem that Jamestown is determined to keep for their own. That's okay; today I've seen that the real treasure is the island itself.