James Montgomery Brings It on Home
Blues musician James Montgomery knows love and loss and sings about his life with raw energy and rare talent. With a new band in the works, he's just getting warmed up.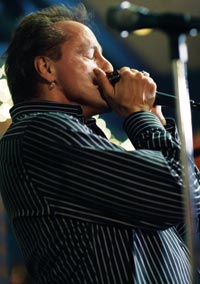 James Montgomery's right leg bounces nervously, up down, up down, as he sips from a glass of merlot, staring at the stage at Chan's restaurant, that bastion of blues and jazz in Woonsocket. He looks excited, like a kid eyeing unopened presents under a Christmas tree. In a few minutes, he will be in front of an audience, playing his Chicago-style blues to the delight of the crowd, and himself.
"He's got stage fright," confides his girlfriend, Brenda Lombard.
Really? It's hard to believe that this iconic bluesman who's toured with the Allman Brothers, jammed with James Cotton and B.B. King, and given a few lessons to Mick Jagger gets the shakes before performing, for the umpteenth time, to a packed house at Chan's, but now is the moment of truth.
"Are you nervous?" Montgomery nods his head slowly, in the affirmative, but his concentration on the stage never breaks.
"Ladies and gentlemen, please welcome, from Dee-troit, Michigan, the great James Montgomery," David Hull, the bass player, yells into the microphone.
Montgomery enters from the back of the room, takes a youthful hop onto the stage, cups his harmonica in his hands and proceeds, stage fright forgotten, to bring the house down.
Montgomery is complex, sensitive, spiritual. He writes some of his own music; his albums have been nominated for some of the highest awards in blues, and he recently recorded the title song for Delta Rising, a documentary starring Morgan Freeman. He has made Newport his home for the past sixteen years, toured the world and played with the best in blues and rock, but he's still not ready to take a seat in the audience. At fifty-eight, he's embarking on a new venture with a new band that will include Aerosmith's drummer and the horn section that tours with the Rolling Stones.
Blues is music that has its roots in lost love and struggle and Montgomery has dealt with both. The stage is his altar and the venues his church. "I'm in it for the music, pure and simple," he says.
"He's simply the best," says actor/musician Jim Belushi, a close friend. Belushi will be singing and playing harmonica in Montgomery's new band, and Montgomery played with Belushi and Dan Akroyd when they performed as the Blues Brothers. "His proficiency and showmanship are amazing."
It all started with a jug band, in Detroit, more than forty years ago. Montgomery grew up, the son of a journalist, on a farm outside the Motor City, and studied clarinet in junior high school. That, however, involved practicing written music. "I hated practicing," Montgomery says with disdain. When he entered high school, he heard a jug band where musicians played washboards and upside-down washtubs. That was playing the blues. It was a moment for Montgomery akin to Jake and Elwood Blues beginning their "mission from God" to bring their band back together. "When I heard the blues, I thought, wow, that's what I want to do," he says.
Montgomery bought a harp (a.k.a. a harmonica to the uninitiated) and taught himself how to play. He began to hang out at the famous Chessmate club in Detroit, where legends such as Muddy Waters, James Cotton and Paul Butterfield were performing. Still, it was the late Junior Wells, the Chicago-based blues vocalist and harmonica player and one of the all-time great harp players, who inspired Montgomery. "Junior Wells taught me some tricks for playing the harp," Montgomery recalls. "Junior's Jump," a tribute to Wells' teacher, Sonny Boy Williams, and a track on his Handy Award-nominated album, "Bring It on Home," opens his show to this day.
Montgomery's reputation around the Detroit blues scene grew quickly, and one day he found himself invited on stage with Muddy Waters at Paul's Mall in Boston.
"I couldn't believe it. Here I was on stage with Muddy Waters," Montgomery recalls with a smile. "It was such a great feeling."
He also became friendly with James Cotton. Cotton may be the best blues harp player there ever was, and as word of Montgomery's playing began filtering out into blues circles, Cotton took notice. One night at a gig near Chicago, he invited Montgomery to play with him.
"I was on stage, playing along with Cotton, when all of a sudden, in the middle of a song, he looked at me and said, 'Take it,'" Montgomery says. "So there I was, soloing with his band, my first solo in a big time gig. I learned the hard way."
Over the years, Montgomery and Cotton became close friends. They frequently tour together and Montgomery invites Cotton to his Rhode Island gigs a couple of times a year. Montgomery considers Cotton his teacher.
"I call him dad, he calls me son," Montgomery says fondly.
On a warm summer day, Montgomery and I sit at a small table on a patio outside his cozy condo in Newport. When I ask him to define the blues, his answer is somewhat, um, esoteric.
"It's the Aristotelian Cathartic Principal," he says without skipping a beat. I wait with anticipation for further explanation. "Being in touch with that part of your soul, or being, that struggles with life."
One of Montgomery's struggles was his divorce from Rhode Island artist Lizzie Congdon. "I fell madly in love with her," he says. "We were together for nine years, had no children. She is a gifted oil painter who remarried and lives in Jamestown. We are still friends."
As he stares at his iced tea, Montgomery talks about his spiritual side. "I am a practitioner of Satyagraha. I read scripture every morning." Satyagraha is the philosophy of nonviolent resistance. Mahatma Gandhi, Senator Claiborne Pell and Dr. Martin Luther King Jr. are among the followers.
Montgomery also talks a lot about the teachings of Jesus, "not the Catholic Church's version" but the teachings as he reads them, and the inspiration he takes from them.
"I love it when people say things like 'Jesus said such and such,' when I know Jesus didn't say such and such, because I read what Jesus said every morning for about an hour."
His condo is in a white-clapboard building that was the first free black church in America. Watching Montgomery perform could lead you to think he's channeling some of the souls who once occupied this house of worship.
"Let me give you a tour of my nine rooms," he says with a smile. His condo would be considered a studio apartment in New York City, but it's warm and comfortable.
"Here's my library," he says, pointing to a small bookshelf. "Here's my living room," gesturing toward his couch. I get the joke. We move on to the "office," a desk with a computer in one corner of the same room as the library and living room.
The hundreds of photographs on the walls provide a road map of Montgomery's climb to critical and popular acclaim in the world of blues.
There are pictures of him playing with B.B. King, James Cotton, Junior Wells and the Allman Brothers. In one photo, it's Montgomery and George Harrison, in another Steven Tyler of Aerosmith sharing a microphone with Montgomery as they play a harmonica duet.
When Montgomery talks about his career and who he's played with, it can sound like name-dropping, but the time I spend with him over a two month period assures me it's not. He's proud of what he's accomplished in the very competitive professional world of music. And who wouldn't brag a bit about being considered an equal to blues greats like John Lee Hooker or Muddy Waters, James Cotton and Johnny Winter?
"He's really humble and self-deprecating," says Brenda, his girlfriend of two years.
Despite the accolades and recognition, when he performs, he works hard to prove himself, to give all he has and leave nothing on the stage, to live up to the "legend" that precedes his name whenever he's written or talked about.
"I still hear guys play things I don't know how to play on the harp," he says. "I am always learning from other guys, and they learn from me."
---
Montgomery is a walking Wikipedia of music. "He really is the blues historian," says bass player David Hull. "He knows everyone who's ever played, how they played and where they played."
Just last year, producers hired Montgomery as a blues consultant for Delta Rising. It was screened this summer at the Newport Film Festival and has received great reviews.
"Freeman asked us to join him at his blues club, Ground Zero, in Clarksdale, Mississippi," Montgomery recalls. "It was the scene of the film. My band played for him and he was blown away."
Freeman asked Montgomery to write the film's title song, and it's become part of Montgomery's set list for his gigs.
While the Ocean State has its share of great musicians, including Duke Robillard and bands like Roomful of Blues, cities like New Orleans, Memphis or Chicago would be a more likely place for someone like Montgomery to call his crib. How did he wind up in Rhode Island?
"Two reasons," he says. "One, I fell in love, and two, I did a benefit for the Groden Center and they had Duke Robillard's band, the Pleasure Kings, back me up. So there it was, love and an established band!"
His reputation among musicians is perhaps best exemplified by a jam session he had a couple of years ago on New Year's Eve.
"I was playing at Trax in New York City. After the show, I go to my dressing room and who's sitting there waiting for me? Mick Jagger. 'Hey man, that's cool stuff. Show me,' Jagger says." Montgomery and Jagger jammed until the sun came up, with the Rolling Stones' front man getting harmonica lessons from the master himself.
Montgomery formed the James Montgomery Blues Band in 1970 while he was majoring in English at Boston University. In short order, his band became one of the most popular in New England, and along with Aerosmith and the J. Geils band, they were signed to Capricorn Records. Montgomery's association and friendship with Aerosmith, in particular with front man Steven Tyler and drummer Joey Kramer, dates back to those days. In 2006, when Aerosmith's bass player was diagnosed with cancer, it was David Hull, Montgomery's bass player, who was tapped to tour with the band.
"He's the best around," says Joey Kramer of Aerosmith, who will be playing drums in Montgomery's new band. "His phrasing is like a horn section. It's like he's playing rhythm…it has no comparison."
Watching Montgomery play is like studying a man possessed with the desire to explore and reveal the depths of his soul for the pure pleasure of his audience. And for him, it's much like Buddhism.
"When I play and I'm on, I go beyond myself. I reach that higher level."
One recent night, he and his band were playing a gig at the Blues Café in Newport. Montgomery invited a special guest, Ruby Wilson, a.k.a. The
Queen of Beale Street, to sing with his group. Montgomery's band members were backstage.
"He's a class act and a real leader of the band," says bass player Hull. Hull himself is one of the best bass players in the business. He's played with the Joe Cocker band, Aerosmith and was opening for Jimi Hendrix when he was seventeen years old.
Montgomery's drummer, Seth Pappas, and lead guitarist, George McCann, agree that playing with Montgomery is pure pleasure.
"He brings out the best of us," says Pappas, who's been a sessions drummer in Nashville. And long time road manager Debbie Fain says Montgomery is just "a great guy, not overly demanding."
When Montgomery takes to the stage at the Blues Café, or anywhere else he's playing, his presence is captivating. He is introduced Chicago style from offstage by one of the band members after a few warm-up numbers.
His slender six-foot frame always dressed in a stage black suit with black or dark shirt, Montgomery lopes onto the stage and playfully beckons the audience for more applause. This guy knows his stuff. He talks up the audience a bit and then with a high leg kick he breaks into the first song with abandon.
Montgomery is also a news junkie. He reads local and national newspapers, watches television news and reads news periodicals. He likes talking politics but is most comfortable talking about his music. When I ask if blues is a dying style of music, he shakes his head quickly in the negative.
"As I've grown as a singer, player, writer and performer, I feel that I'm now at the top of my game. Last year was my best year ever."
As his website indicates, he is booked steadily throughout the year with the James Montgomery band, and he'll be touring with his new band as well.
Montgomery has a philanthropic side. He's the executive director of the Debi Blu Foundation, which helps musicians get health coverage. Rarely do full-time musicians have health plans, but Montgomery and other blues musicians play benefits to help fund the program.
Over the years, Montgomery has been a one man support team for Johnny Winter, the legendary blues guitarist who, like many musicians, ran into a rut with booze and drugs. For the past ten years, Montgomery has been touring Europe with Winter, but more importantly, he got Winter to stop drinking.
"I am so glad I was able to play a small part in getting this great human being clean," Montgomery says, a wave of emotion washing over him.
At Chan's, Montgomery and his band are blowing the walls out. The crowd is a good mix of baby boomers and men and women in their twenties. Some are up dancing, while most simply take in the heavy doses of Chicago blues.
Montgomery is also the band's singer. His voice is clear and gutsy. His on-stage personality is engaging. His eye contact with audience members reminds you of the great nightclub performers, singers such as Frank Sinatra or Tony Bennett who make you feel as if they're singing only for you.
When Montgomery is blasting a solo on the harp, you can almost see him enter that other level of being. His eyes close, his hands are tightly wound around the harmonica that is pressed against a microphone that is touching his lips.
"He always sells out," says John Chan, the restaurant's owner and music aficionado. "He's a great performer."
Montgomery finishes the first set. He makes his way back to a table in the corner where Brenda waits. He's drenched in sweat. His black stage clothing is damp and his hair is glistening.
"We're tight tonight," he tells her. "The band is really on."
But Montgomery's not finished. He will play another set before the night ends. The next day, he's off on the road again, playing more gigs and dazzling more audiences with his command of that tiny harmonica that he makes sing. When I ask if he has any plans to retire, he looks at me as though I had lost my mind.
"Retire? I sing," he says matter-of-factly. "Why would I ever want to stop singing and playing?"
With a new band and another CD in the works, there really is no reason for the legendary blues man to stop reaching for that higher level.