Jahunger's Hand-Pulled Noodles are Utterly Satisfying
The East Side newcomer dishes meals that are a little bit Asian, a little bit Middle Eastern, and different than anything you've ever tasted.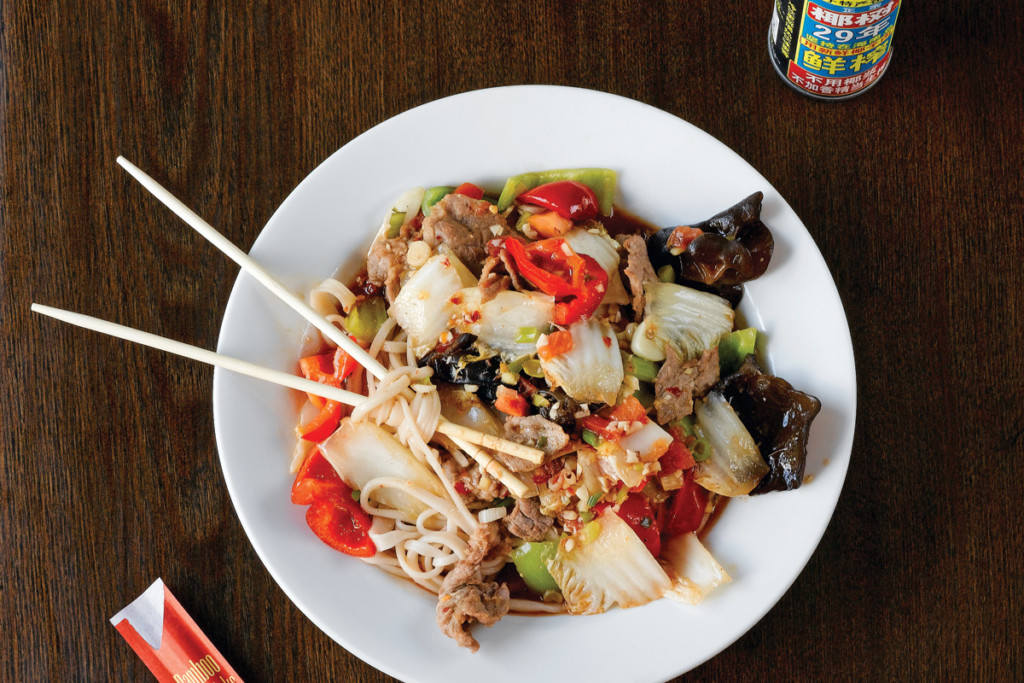 A sixty-four-year-old woman in the corner (she's not shy about her age) is telling stories about her high school reunion without pausing for a breath. Details about the attendants, the expectations and the morning after are all offered in the same exuberant enthusiasm to a man who can't find space to respond other than to nod in agreement. That is, until the skewered lamb — threaded on what look like three Russian sabers — arrives at the table and then all falls silent.
The food at Jahunger tends to have that effect, not only because its appearance often warrants consideration but also because it hits the mouth with an element of the unexpected. Asian food — sesame beef, pad thai, tekka maki — has become so entrenched in the American culinary lexicon that it's as referential as apple pie. You'd have to go back several decades to find an Asian menu that was genuinely unpredictable, or you could enter the unassuming Colonial building that houses Jahunger, a Uyghur restaurant that focuses on food from the northwestern corner of China. The blend of Far and Middle Eastern influence, coupled with a decidedly quirky demeanor, is not only endearing but also eye-opening for anyone who relies on food as a threshold to the broader world.
If the clientele is diverse — every age group from toddler to the adventurous elderly has a seat at the table — the ambience belongs to grad students with man buns and a willingness to embrace the frenetic pace of the restaurant. The main dining room holds twenty seats, but when that overflows, diners are sent up the twisted stairs to await their dinner, which is in no rush to arrive. One server manages both rooms and upstairs can feel like a no-man's land. Children's music is piped out of a speaker that sounds like a Nickelodeon short, eventually turning to international talk radio as the evening progresses. After twenty minutes with no sign of service, one diner plucks the pitcher of ice water off the counter and begins refilling glasses for anyone in need. The disorienting seclusion doesn't seem to evoke consternation though. Rather, it feeds the philosophy that Jahunger is a lesson, not a validation. When each person at a three top chose to order their own dish, only one plate arrived at a time. "You should not wait for the others," the waitress announced. "Food is made to order and the other plates will not be out right away." In response to the bewildered looks, she added, "This is not like other restaurants."
That's true in almost every sense. Food that looks familiar, like scallion pancakes and dumplings, is not. Pancakes ($5) are puffed out like poori and dumplings ($7) come wrapped in either dense dough (the meat version) or wrappers that tastes more Vietnamese than Chinese (the vegetarian version). Most things on the menu are simply new to the American palate. Hand-pulled noodles entered the mainstream in Boston and New York some time ago and their popularity is understandable: Thick and chewy, they're easy to love. But it's the sauces and spices that make Uyghur food so intriguing and unfamiliar.
Cold chicken with hot chili sauce ($10) is braised until it releases its bone and, though the peppers are scorching, the chicken is so bright and acidic that something in the back of your mind will try to orient the experience. Hot fried chicken and pickles? Spicy wings and blue cheese? Reference all you want, there's very little success in trying to categorize the cuisine. One teenager eating with her mother tries in vain to articulate the enigma in front of her until she finally declares that the food was "covfefe, but I mean it in a good way."
Jahunger's chicken stew ($15) walks that same line. The deep broth could easily be mistaken for Italian, Jewish or French. Its seasonings, dominated by bay leaves, are subtle and blur the line that differentiates cultural cooking. But the flat pulled noodles and chunks of potatoes pull out hints of star anise, cumin and pepper. There are hunks of aromatic chicken as well (though exactly what part of the bird remains unclear). "I feel like Andrew Zimmern," says a twenty something with heavy glasses and a Nirvana T-shirt. "Bring it on," he adds, gnawing zealously on a bone.
But Jahunger's regular crowd clearly comes for the sauteed noodles. The ropey version is the restaurant's namesake dish ($13) and, tossed with beef and vegetables, its rich, dark sauce is the closest variation of Szechuan cooking. The ding ding noodles ($12), however, are the star of the menu. Cut into minute pieces, the noodles look almost undressed. But the light, acidic broth, crunchy bell peppers and small bits of beef won't remind you of anything; they'll make you realize that there's still so much left to learn about the world's food. It's possible to clean the plate with chopsticks but the server knows enough to bring a spoon without being asked. It's a dish that embodies Jahunger's core, part old school, part innovation, as well as the cultural weight that young Asian chefs have brought to America in the twenty-first century.
Fusion food trucks, incarnations of ramen and kitschy desserts, have not only opened up the east, they've fundamentally changed the west. Owner and chef, Subat Dilmurat, may not yet be shifting the tides altogether, but even as the restaurant works out of a single wok and with two hands in the kitchen, it's evident that Rhode Island caught an early wave in this culinary awakening.
If there's one nod to the American audience it's in Jahunger's singular sweet: a seven-layer cake filled with cream, hazelnuts and chocolate. An older, maternal server brings the check without a mention of it, but a young waitress running the stairs at a frenzied pace pauses to tell a mother with squealing toddlers that it's a panacea for impatient children. True enough, the dessert marries at least two cultures and, like most things at the restaurant, it subdues everyone at the table into submission. The waitress, in a T-shirt emblazoned with "Squad Goals," simply nods her head at the ensuing silence. If Jahunger surprises everyone who walks in the door, the kitchen is quietly confident that it's already making its mark.
✱✱✱
333 Wickenden St., Providence, 861-2735. Open Wed.–Mon. (Closed 3–5 p.m.) for lunch and dinner. Not wheelchair accessible. Street parking.
Cuisine Central Asian cuisine, known as Uyghur (referring to the people) or Urumqi (referring to the region).
Capacity About twenty in the main dining room, thirty more in an upstairs dining room.
Vibe A space that asks you to expect less and receive more.
Prices Appetizers $6–$10; entrees $11–$24; dessert $6.
Karen's picks Cold chicken, potstickers, kavap, ding ding noodles, Jahunger noodles
Key
✱ Fair ✱✱Good ✱✱✱Very Good ✱✱✱✱Excellent +Half-star
Save