(It's a) Farmers' Market
Local agriculture is thriving, bringing good food to our tables and keeping household spending in the hard-driven local economy. Here's how farmers and consumers are both getting some green.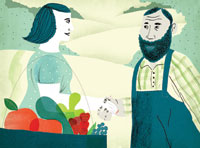 Eyeing, tasting, bagging, buying. A Rhode Island harvest lined the brick halls of Hope Artiste Village and a stream of shoppers swirled and eddied around each stall. Some fields are fallow in December, but others are yielding root crops and crisp lettuces. The chickens are laying and organic ground beef is selling for $5 a pound.
Lucy Hitchcock was unsuccessful scouring the new Providence Wintertime Farmers' Market for a locally grown Christmas tree. But she and four-year-old Phoebe were enjoying the ambience.
"It's fun—a social thing," says Hitchcock. "And we like the idea of locally grown and the small scale. Small is beautiful."
The air smelled of apples and pine boughs. Tucked into one corner, an old-time string band of no name provided the soundtrack. Under the fiddling, pianissimo, was the ringing of registers. Farmers hear that sound clearly. Twenty years ago, they trucked their produce at dawn to the Governor Dyer wholesale markets, where grocery stores and restaurants would fill their orders. Today, retail rules.
"Agriculture has re-invented itself. For the farmer, there's been a paradigm shift," notes Susan Sosnowski, a South Kingstown farmer and state senator. "And agriculture is the one shining star in a dismal economy."
The 2007 census counted 850 farms in Rhode Island. Dairymen, sheep farmers and beef producers have found survival in cooperatives to process and market their wares. Vegetable farmers are thriving through Community Supported Agriculture operations, selling shares of the harvest to consumers at set prices. The state's most chi-chi menus read like brag letters about a dish's local origins.
The reasons for this newfound agricultural support vary, says Ken Ayars, chief of the Department of Environmental Management's Division of Agriculture. "Concern about the environment, the cost of fuel, children's health, food safety and food culture," he ticks off. "And we're lucky. The marketplace is phenomenal. Rhode Island is now second in the nation in per-farm direct marketing sales."
Like any renaissance, this dawn of agriculture was preceded by a long Dark Ages.
Cutting out agriculture's middlemen is a national trend. Between 1994 and 2008, the number of farmers' markets nationwide grew from 1,755 to 4,685, according to the federal agriculture department's Agricultural Marketing Service. Maria Marshall, a Purdue University agricultural economist, says that for several years, farmers have been moving toward direct marketing and diversification. Even in the Midwestern Corn Belt, where 3,000 acres constitute a medium-sized spread and the county roads carve them into neat squares, farmers are setting aside fields for a retail produce operation or a petting zoo.
Rhode Island's position at the front of the flock has to do with the cultivation of relationships between farmers, the state and a handful of nonprofit agencies.
Nine years ago, Dorothy Brayley launched a crusade to put local produce on the lunch trays of Rhode Island school children. Brayley, executive director of Kids First, a nonprofit that promotes children's nutrition, became alarmed after learning that one farmer was cutting down his apple orchards for lack of customers. Cranston, which ran its own food operation, was the first to buy into the concept. Today, local farms supply thirty-six districts with some produce. Every year, the amount and types of fruits and vegetables grow. In 2006, Rhode Island schools bought 544 bushels of apples, along with corn, tomatoes, potatoes and butternut squash. Last year they purchased 13,163 bushels of apples and ten other local products.
"It just makes sense. It's our money," Brayley says. "Why shouldn't it go back to our local businesses and why shouldn't our children eat fresh, local food?"
While Kids First brings agriculture into schools, the Rhode Island Center for Agricultural Promotion and Education sends students out to the farms. RICAPE, a six- year-old nonprofit, works with farmers to forge stronger links to the public through school tours and special "agritourism" events.
"These alternative enterprises are providing an increasing portion of the farmers' dollar," says RICAPE's director Stu Nunnery. "We don't just want them to buy an apple, we want them to enjoy the larger farm experience."
Such as watching a pumpkin explode. Twelve years ago, Warren farmers David and Barbara Frerichs went to watch state pumpkin czar John Castellucci's annual giant pumpkin weigh-off. The spectacle was entertaining, but David Frerichs thought he'd go one better by dropping a giant pumpkin from a great height, for the sheer destructive joy—and a seed giveaway to attendees. The next year the Frerichses hired a crane. Three years later, Castellucci, who had turned his talent for growing monstrous pumpkins into a happening, suggested moving his annual weigh-in to the Frerichses' more spacious farm. In the first year, the Southern New England Giant Pumpkin Grower's Annual Weigh-Off attracted about 450 visitors. Last fall, about 5,000 came to watch the big orange ball drop.
"Those pieces really fly," David Frerichs says. "We learned to keep people at quite a distance."
Visitors are encouraged, however, to see the gift barn, the farm stand and the corn maze up close. The Frerichses make their money off growing and selling bedding plants, vegetables, hay and Christmas trees, but over Columbus Day weekend, they earn an unquantifiable income in free national advertising (they are a favorite of the national morning news magazine shows), name recognition and repeat patronage.
Like any renaissance, this new dawn of agriculture was preceded by a long Dark Ages. As the twentieth century advanced, Rhode Island lost farmland—80 percent of it. In 1974, the state was down to 597 farms, according to the National Agricultural Statistical Survey. In the 1980s policymakers became sufficiently alarmed to enact farmland preservation legislation. State efforts to buy farmers' development rights have been so successful, there's a lengthy waiting list. The bleeding was stanched at about 60,000 acres, an amount that's held steady.
But the state will never have the resources to buy its way out of a decline. The best defense, says the DEM's Ayars, "is to make farms economically viable." Its main strategy has been to seed market development with small grants. Farm Fresh Rhode Island, a nonprofit, organizes the Wintertime Farmers' Market and others and, with state support, runs a website designed to link consumers with farms and their products. The division of agriculture has also worked with the state department of health to establish regulations allowing farmers to safely process food on the farm.
Farm Bureau Federation Executive Director Al Bettencourt, who is paid to worry about agriculture's unfinished agenda, sees some troubling trends. There's a looming battle over water use. The Farm Bureau has been lobbying hard for inheritance tax relief so that farmers can pass on valuable farmland without forcing the younger generation to sell off acreage to pay the tax. If there is a younger generation, that is. The USDA pegs the average age of a Rhode Island farmer at fifty-six, but Bettencourt's board is made up of farmers in their sixties, seventies and eighties. He suspects that many are on the verge of retirement with no successors to the family business.
"We are holding our own," he says. "But it is fragile."
Yet farming is, at its heart, an optimistic enterprise. To successfully impose your will upon Nature—before she does the same to you—demands a virulent persistence. Pat McNiff, farm manager for Casey Farm in Saunderstown, acknowledges the important supporting players, but maintains: "A lot of this is due to the farmer's entrepreneurial spirit and market genius."
Or maybe the public is finally ready to notice. Back at the Wintertime Market, Skip Paul's Wishing Stone Farm is doing a brisk business in salad mix, leeks and potatoes. For twenty-five years, Paul has been raising organic fruits, vegetables and chickens in Little Compton—a little bit of everything, including some consciousness.
"I knew we'd achieved something," he says, "when my teenage son came home from school one day and told me: Dad, it's hip to be a farmer."