Intimate Apparel: An Expertly Woven Work of Art
Lynn Nottage's Pulitzer Prize-winning play makes its Rhode Island premiere.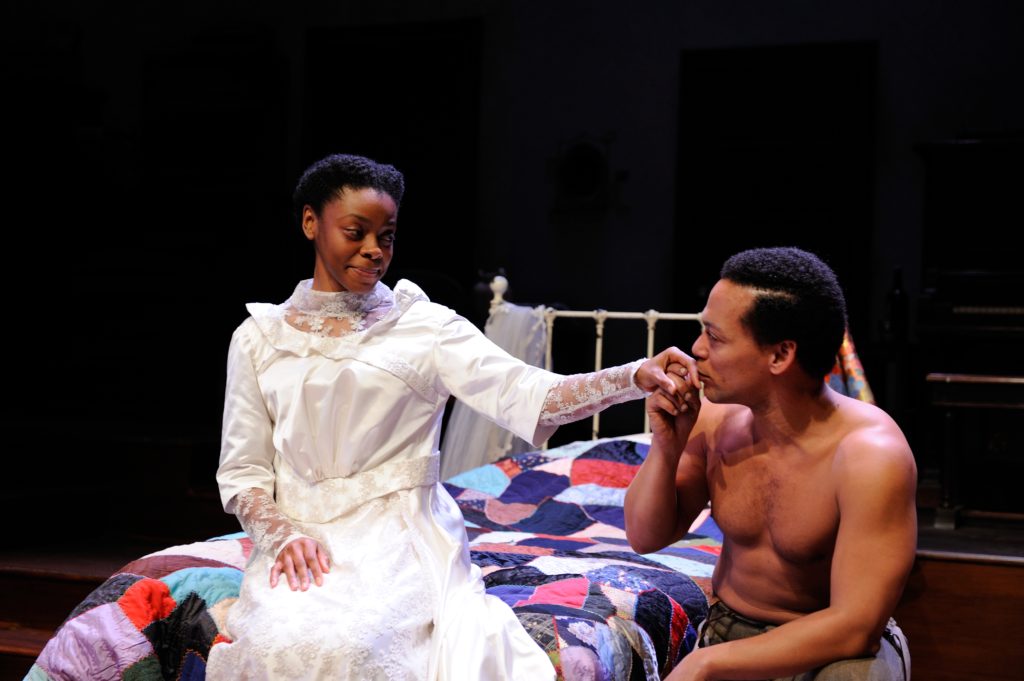 Love, fulfilling work, fortune, a family: Intimate Apparel, written by Lynn Nottage and directed by Trinity Rep's Janice Duclos, brings our age-old desires to the stage by way of a thirty-five-year-old African-American seamstress named Esther.
It's 1905 in New York City and Esther, played by an elegant Mia Ellis in her first starring role at Trinity Rep, spends her days crafting lingerie for Fifth Avenue housewives and downtown ladies of the night. Esther wishes to marry and have children of her own, but she dismisses the luggage-toting men her landlady Mrs. Dickson, played by a maternal Barbara Meek, nudges her way. Together onstage, actors Ellis and Meek are a theatrical force; their connection electrifies each scene, whether it's melodramatic or laugh-out-loud funny.
While she waits for love, Esther works at her sewing machine. Each week, she visits Mr. Marks, her Orthodox Jewish fabric supplier played by Mauro Hantman. An undeniable spark exists between the two, however, like so many of life's love stories, it never turns to flame.
Esther's hands, Mr. Marks notes, are ideal for the intricate stitch work of intimate garments, but she has other occupational goals in mind. With every dollar she sews into her patchwork quilt, Esther inches closer to her true dream: a high-end salon for African-American women. She's been saving since she moved from her childhood home in North Carolina to Mrs. Dickson's boardinghouse seventeen years earlier.
But everything Esther knows about life, love, even her own worth, takes a backseat when she receives an unexpected letter from a Barbadian laborer named George, who works on the Panama Canal with Esther's old friend from church. Esther carries the letter around with her, torn because she's shamefully illiterate and can't trust Mrs. Dickson to be her scribe. "He'll steal your common sense, he will, and walk away," Mrs. Dickson warns Esther. "It just don't seem like you, Esther; you're too practical a girl for this."
So she leans on her client Mrs. Van Buren, a wealthy, barren housewife for whom Esther makes scandalous lingerie, to write her responses. Actor Angela Brazil is fabulous as Mrs. Van Buren. She's a quick-witted ham, but she's painfully lonely, too, and is authentically fond of her seamstress.
Mayme, a prostitute and pianist played by Shelley Fort, also assists as Esther's scribe. The exchanges between Mayme and Esther are straight out of a rom-com: giggling, gossiping, loud singing, flamboyant dancing. It's all so girlish and pure, despite their respective ages and Mayme's occupation.
We're introduced to George, played by a multifaceted Joe Wilson Jr., in the first act. Beneath a white spotlight, George reads his letters aloud in a thick accent and appears to be a complete gentleman. We all fall for him, and yearn for George and Esther to be together. But, like our heroine, we don't truly get to know George until he comes to New York to marry Esther — again, another rom-com-cum-disappointment for the audience, which had faith in the young Barbadian who, it turns out, is a barbarian, a user and a thief.
Intimate Apparel is a love story and a tragedy. It's a tale of friendship, of loneliness, of betrayal and of renewal. The play has all the trappings of a real and valid life, weaved together with a golden thread that may snap in an instant — but is salvageable for those with a steady, practical hand.
See Intimate Apparel at Trinity Repertory Company through March 2. Tickets are $44 to $68. Call the box office at 401-351-4242 or visit trinityrep.com for more information.