Interview with the Artist
Stone carver and Foster resident Tracy Mahaffey gives us a sneak peek into her artistic world.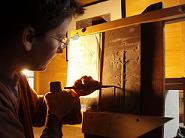 This Saturday, eleven of Rhode Island's great artists, all tucked away in the northwest corner of the state, will fling open their doors to the public for the Artist Open Studios Tour, sponsored by FosteringArts.org. The free, self-guided tour gives visitors an opportunity to see artists in their natural working environment, view the artists' latest work, ask questions and participate in demonstrations. In this Q and A, stone carver Tracy Mahaffey gives us the scoop on her craft as well as a sneak peek of what to expect for Saturday's tour.
How long has your shop been a stop on the Artist Open Studios Tour?
This is my second year. But my work has been involved in all eleven open studios due to my association with Karin Sprague's stone carving shop, another of the fine artists on the tour. For the past eleven years, Karin has commissioned me to carve the sculptural elements on gravestones.
When did you make the decision to become a stone carver?
At the age of fourteen, a piece of stone was put in front of me to carve. It's not that I decide to be a stone carver at that point, but I did decide to go and study sculpture. Over the next twenty-five-plus years, I've tried different mediums but kept returning to stone. Eleven years ago I became a professional stone carver. I still don't actually say that I "decided" to be a stone carver. It's something that has become me!
What is it about the craft that keeps you interested?
After trying many different mediums, stone was the one that had the answers for me. It compliments my thoughts and ideas, and works well with the tempo of my mind. Stone always keeps me stretching the possibilities of my designs — particularly slate, which allows me to do lettering, relief carving and three-dimensional sculpture. Slate is also a great material to build with, which is leading me down a path of furniture design, such as benches and clocks.
What is your most prized piece?
It's always the one I'm working on at the moment. And at this moment, I am working on a commission for a private garden. What really excites me about this piece is that it was inspired by a design I did for a memorial about a year ago. This is my personal vision to bring art back into the cemetery, and when a memorial design becomes a piece for the home, or vice a versa, then I know I'm on the right path.
Could you describe your studio for us?
My shop itself is a very inspirational place: I work in an old colonial wheelwright factory that was built in 1826. They made wagon wheels in this space using water-powered machines. Behind the shop is a beautiful man-made reservoir that feeds a waterfall, which flows into a stream that goes right underneath my work space. There's even an original bench that runs the length of one side of the shop. When I carve stone on this bench, I can't help but think of all the hands that have worked in this same spot.
Which studio on the tour would you like to explore?
There's no possible way for me to choose just one studio out of all these amazing artists participating. That's part of the fun, listening to everyone who's taking the tour and hearing how many artists they get to visit. Some make it to every studio! No matter how many studios you make it to that day, I encourage you to take the time to stop, observe, listen and interact with the artists. It's a very inspiring event.
The eleven studios spread across Foster, Glocester, North Scituate, Scituate and Chepachet will be open from 10 a.m. to 4 p.m. on Nov. 5. Click here for the downloadable tour map.