Instant Gratification
It all started with a family recipe for lentil soup. Now, twenty-five years later, Millie's Soup is the queen of just-add-water mixes.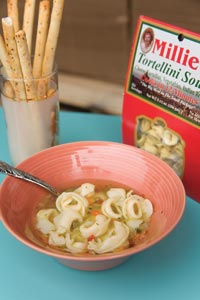 Water plus heat equals lunch—not just any lunch, but a nutritious bowl of soup, low in fat, cholesterol and salt, and completely free of meat and meat derivatives, monosodium glutamate, preservatives and pesky trans fats.
So, water plus heat, minus unhealthy additives and ingredients, equals lunch, though sometimes it also adds up to dinner or an afternoon snack.
It's not molecular gastronomy, but who wouldn't love this brand of kitchen science?
Millie Pezzillo loves it and lives it. Her family (including husband, John, and sons John and Mike) has been producing a line of fourteen just-add-water soup mixes—all-natural, vegetarian, delicious, convenient–from a warehouse in Greenville for nearly twenty-five years.
Standing outside, you'd never guess that the modest one-story concrete building houses a business that sells hundreds of thousands of packets of soup mix every year in supermarkets, online and even on television. Step through the door, though, and two things strike you: the cement-block walls are painted bright pink, and the air smells yummy, like your grandmother's kitchen.
In the early 1980s, Millie Pezzillo was a stay-at-home mom, raising four sons. Her husband, John, commuted to Boston, where he worked for a governmental agency that assisted import-impacted manufacturers with loans. When the Reagan administration curtailed the program, John found himself out of a job.
Both Pezzillos had grown up in the food business. Millie's mother, a single parent, owned a coffee shop in Providence, where John's family ran a traditional Italian butcher shop. "We always wanted to be on our own, and if the circumstances had been different, we might have continued our parents' businesses," John explains. Instead, they decided to create a mail-order catalog of Italian foods, jewelry and other products. "We needed to put something on the cover," Millie recalls, "and we thought of my aunt's lentil soup that we used to eat every Friday. 'Aunt Hilda's Lentil Soup' went on the cover of that first catalog, and it became our best seller. We would go to the supermarket, buy lentils and spices and plastic bags, and get our friends to help package the soup mix in our cellar."
As the soup continued to sell well, they decided to try to find retailers to carry it. One day, in 1983, Millie and John drove up to a Boston-area supermarket with a batch of lentil soup mix in a glass jar. To their surprise, the market placed an order—for 100 cases, which was 2,400 packets of soup.
Fast forward to 2007. Millie still creates the basic recipes, by reading about food, health and nutrition, scouring her cookbook library for inspiration, and drawing on family traditions and a lifetime of cooking. Though not as active as she was in the early years of the business, Millie keeps an eye on things from a comfortable chair next to her bookshelves. Across the room at his desk, John oversees the financial details.
From offices in the other end of the building, sons John and Mike handle much of the day-to-day running of the business. "Mike buys, and I sell," is how John delineates their roles. Each soup recipe starts in Millie's kitchen. Mike, a chemist by training, sources ingredients and translates his mother's recipes into formulas for mass production. John, a former rock musician, guides the marketing effort and serves as the public face of Millie's Soups, and the most public appearance of all is on television.
In 1995, John (dad) saw a small newspaper ad placed by the Rhode Island Economic Development Council inviting local companies to a trade show to meet with representatives of QVC, which was scouting products from each of the fifty states to feature on their shop-at-home network. Hundreds of vendors vied for the opportunity, and Millie's Soups was not selected. However, two years later, when QVC returned to Rhode Island, Millie's made the cut, and the Pezzillos were invited to the QVC studio to sell a twelve-soup set on live TV.
"It was exciting!" says John (son). "Of course, we realized we would need someone to go on stage. We thought Mom should do it, but at the time she had a bandage on her nose and refused to go on camera. So I said I'd do it, I'm on stage all the time— you know, the 'I could have been a rock star' thing. The host of the segment really did all the work. I just stood there, stirring and eating soup on television. And we sold out in less than two minutes." Thanks to that first success, Millie's Soups still appears on QVC several times a year.

BACK IN GREENVILLE, trucks arrive at the back door of the warehouse, bringing pallets piled high with ingredients: 5,000 pounds of lentils per month, 10,000 pounds of pasta, thousands more pounds of dried beans, barley, dehydrated vegetables, and tomatoes and spices. Salt and sugar and soy protein. Three tons of long-grain rice.
Converting Millie's recipes from kitchen stove to dry soup mix took lots of trial, and an occasional error. (They'll tell you about the time a vendor delivered hot chili pepper instead of mild bell pepper. As soon as they opened the cartons, everyone began to sneeze. That soup never made it out of the warehouse.) After all, if you're working with dry and dehydrated ingredients, how do you ensure that each ingredient, and each combination of vegetables and spices, tastes just like Mom's soup?
You eat, of course. Mike has suppliers send a sample package of each ingredient, which he checks for flavor. And there is the Pezzillo family quality control program, also known as lunch. The entire family eats soup for lunch every day, and every batch of mix is tested on the stove in the warehouse before it's packed and shipped.
Their first product—the soup formerly known as Aunt Hilda's Lentil Soup—is still Millie's personal favorite, but Garden Soup (farfalline with garden vegetables) is the best seller. Though most of the all-natural, meat-free soups are inspired by the Pezzillos' Italian heritage—Minestrone, Pasta e Fagioli, Tortellini, Pasta and Peas, Vegetable Barley—their products also include Mexicali, Five Bean, and Chili with Beans, and the newest addition, Red Lentil and Spinach Soup with Ginger.
On every package of Millie's Soups, you'll find two things printed along with preparation instructions (add water and heat) and nutrition information. First, an old Italian proverb.
Soup does seven things:
Appeases your hunger,
Slakes your thirst,
Fills your stomach,
Cleans your teeth,
Makes you sleep,
Helps you digest,
And puts color in your cheeks!
Below the proverb is Millie's phone number. Call her. Ask for a recipe. Send a note and tell her how much you like her soup. She'll write back.
Millie gets lots of fan mail. She calls these her "love letters," and she responds to each one with a personal note and recipes for how to use her soup mixes in casseroles, chili, pasta salads, stuffed cabbage and stew. Some of her fans are famous (Alan Alda, Mario Andretti, Joan Rivers); others tell her they're grateful to have a healthy, easy-to-prepare meal during times of illness. "I hear from people who have cancer and can't eat anything but soup," she says, "and from older people who have difficulty cooking because of a stroke or some other physical limitation. It's very gratifying to know that we're feeding people in their time of need." And the company goes one step further, donating soup to several local soup kitchens.
Tacked up on the office wall, along with favorite letters and photos, is a piece of paper with this quote from Millie herself: "The line is shorter when you are in it." The story behind this family motto has something to do with a hot dog stand at the Deerfield Fair, but its meaning has gone deep into the soul of this two-generation company. "If you want to sell your product, or your idea, nothing will happen unless you 'get in the line' and make it happen," son John explains. "You have to take the first step. None of this would have happened if my mom hadn't gotten in line."
Millie's Soups, 949-3558. Visit www.milliessoups.com for retail locations and online ordering.