Inside the Little Clay Studio
The program provides art classes for adults with disabilities while producing pottery for retail and restaurants.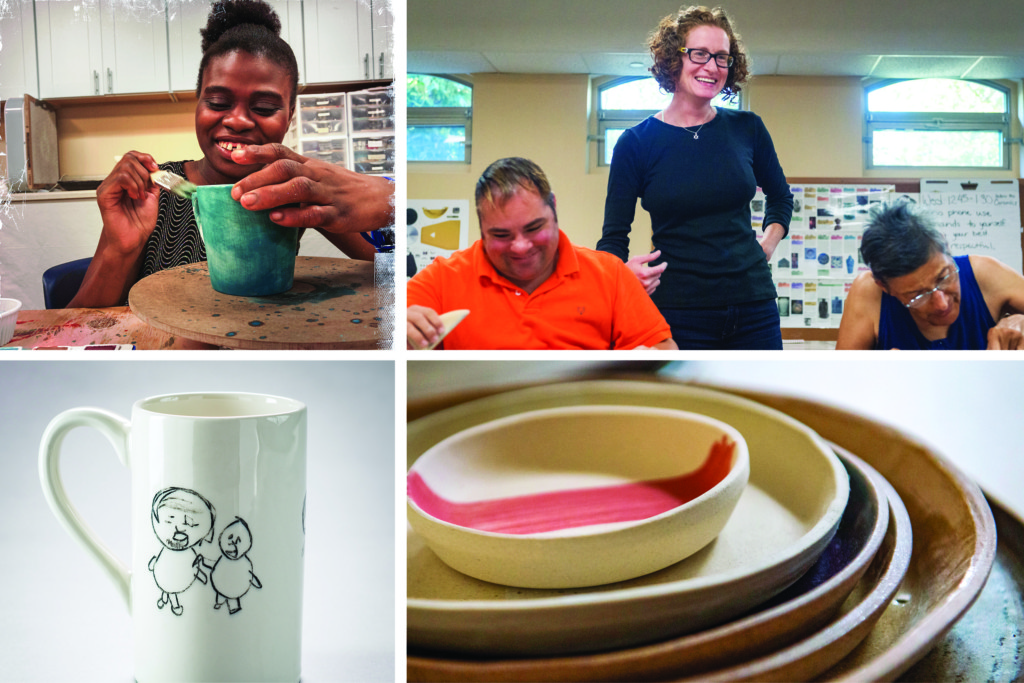 In ReFocus's airy room at the Gilbane Community Center in the North End of Providence, the Little Clay (TLC) Studio offers pottery education, recreation and vocation. The Greeley Street location provides day programs for adults with physical and developmental disabilities, but TLC Studio clients do more than just learn to work with clay. Some make pieces for retail and wholesale.
"We take our clay rib and smooth out the clay," says thirty-six-year-old Andrew Palumbo, of bowl-making. "Then we put it in a mold, and take a rice pack and form it so that it's right." 
Palumbo and Jackie Silva, seventy-four, are two of TLC Studio's most adept and prolific potters. Silva maintains a breakneck pace that would outdo someone one-third her age; she gets antsy when she has to take a break because the carts are full and there's no place to put more finished work.
Jessica Schlachter, TLC Studio's founder and pottery instructor, also runs the two on-site kilns, and keeps the potters supplied with clay and pottery glaze. After being hired by ReFocus in 2014, she quickly realized that "the potters wanted more" than was available, and TLC Studios (a "client-supported cooperative") was soon born.
The potters don't do wheel work, and while there are several levels of classes, not all clients — some of whom have physical as well as developmental challenges — are able or interested in turning out finished pieces. For them, the studio is, if nothing else, a place to unwind. "It's really quiet and chill, kind of a sanctuary for them," says Schlachter.
The beauty of clay is that it accommodates practitioners of varying levels. "Clay is pretty forgiving as a medium," she says, "meaning if you make a mistake, you can just wedge it up and start over."
This production team produces pieces en masse that are typically sold at festivals and craft shows. There is also a core group of five, including Palumbo and Silva, who make commissioned sets of dinnerware for private clients and restaurants including Gracie's, Ellie's Bakery, Waterman Grille and Metacom Kitchen. The potters receive 75 percent of the proceeds. "I'll design samples for the client," says Schlachter, but TLC potters "do all the making." And Schlachter knows about making; when not at ReFocus, she runs her own metalsmithing and jewelry studio (jessicaschlachter.com). thelittleclaystudio.org
TLC Studio's most inclusive event, "The Cup Show: An Exploration of Individuality," on November 29 from 6–8:30 p.m. at Hope and Main in Warren, will feature sixty to seventy cups decorated by ReFocus clients, staff, agency board members and supporters of TLC Studio. There will also be tableware for sale made by TLC Studio's production team.