Inside RISD President Rosanne Somerson's Home
Almost everything inside was made by students, faculty and alumni.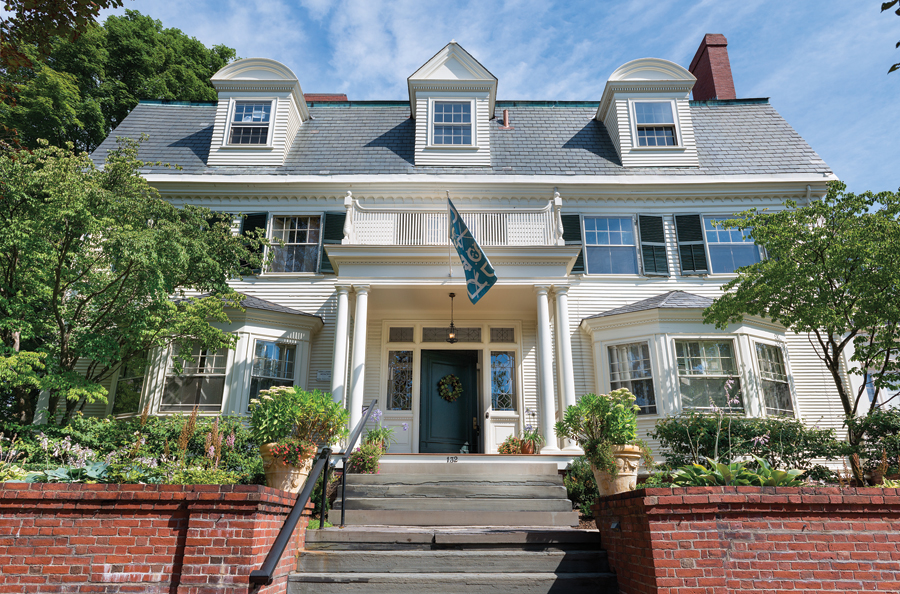 RISD President Rosanne Somerson's home is the quintessential design center. Just about everything in it — textiles, furnishings, art — is the work of students, faculty or alumni. Having formerly held the post of school provost and then interim president, Somerson makes her new role official on October 9. For complete inauguration weekend information, visit president.risd.edu.
Crash Course
The historic 1894 Colonial Revival — it comes with the job — looks staid on the outside as dwellings of school VIPs generally do. Inside, however, myriad works of art and artful utilitarian items fill the airy rooms. The yin yang — contemporary contents meets classic architecture — suits the place. "I wanted the house to be expressive of RISD but also a home," explains Somerson, who's officially inaugurated this month. It was her idea to draw from the school's talent pool to furnish the twenty-one-room residence. Now, if ever there were proof that good design enhances daily living, visitors — cultural dignitaries, community leaders, parents — witness it here.
Stay to dine, and it's a sensory feast: David Wiseman's (B.F.A. 2003) nature-inspired chandelier sails above a mahogany table built by Dale Broholm, a senior critic in the furniture department. The table's inlay — a series of words — was arranged by Jan Fairbairn, senior critic in graphic design.
The breakfast room where Somerson starts her day includes a large-scale painting by Martin Smick, Villa Rose 2 dining chairs by Ligne Roset and artwork by Nick DePace and Charles Rittman.
Nick Hollibaugh's table is the foyer's centerpiece, flanked with paintings by Clement Valla and Kate Blacklock.
Home Work
Less energized souls quail at Somerson's impressive skill set: art advocate, educator, designer, furniture maker (she maintains a Fall River studio) and, let's not forget, parent of two daughters. She'll be the first alumna to serve as president. Arriving as a RISD student in the '70s, she surged on helping to found and eventually head the school's furniture design program. Suites of environmentally friendly furniture she devised along with faculty members John Dunnigan, head of the furniture design department, and former faculty member Peter Walker, nest in a guest room and in RISD dorms. Recently, we convened in Somerson's stylish living room where twin chairs devised by Lothar Windels, an associate professor of furniture design, stand clad in fabric by Jennifer Siani (B.F.A. 2015). The graphic rug — like the one unfolding beneath Eames chairs across the hall — is by Martin Emlein (B.F.A. 2009) for Merida.
Gwen Strahle's painting hangs over the fireplace. The southeast living room also features art by Hyun Yoo, Deborah Zlotsky, Dan Hood, Mary Anne Friel and Lane Myer. The sofa and cushion upholstery are by Rachel Doriss for Pollack. John Dunnigan made the coffee table.
Jake Antonelli crafted the southwest living room's bar. Art is by Lucinda Hitchcock. Landscape designer Pat Brown fashions the ever-changing flower arrangements and helps keep the house running smoothly.
Book Report
Wandering room to room is like gallery cruising, so people take their time. Still, perhaps, no space draws more comment than the library. Books by well-known RISD celebs like Roz Chast and David Macaulay are here but there are scores more by alumni and faculty keeping them company, including Somerson's The Art of Critical Making: Rhode Island School of Design on Creative Practice (Wiley, 2013). Even the window sill is a display area. Somerson's candle wrap rests next to hand-blown vases by Elizabeth Pannell and James Watkins (both B.F.A., 1981) of Peàn Doubulyu Glass. Really, everywhere we look there are beautiful and functional RISD objects. A whole house encompassing creativity — what finer testament to the country's top arts and design school could there be?
Somerson designed the guest room's desk and chair in collaboration with two fellow faculty members.
The piece on the right wall was created by Johnny Adimando.
RISD President Rosanne Somerson