Inside Dirt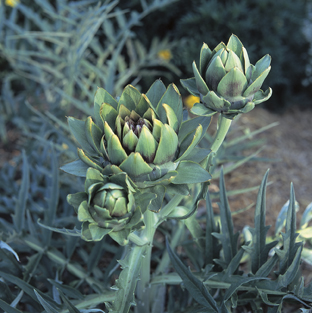 Here's a handful of plant suggestions to get you started. A kitchen garden is an expression of the owner's taste. Fill your beds and borders only with things that please your palate and your senses. If you hate spinach, nix it and plant beans or edible nasturtiums. Or take just a baby step with a miniature garden of assorted salad greens. Each of the following settled in happily at Prescott Farm:

Vegetables
Artichoke Imperial star. Fastest maturing green globe artichoke around. Sow indoors two months prior to last frost.
Cabbage Early Jersey Wakefield. An American heirloom variety. Small pointed heads. Ready in two months from transplant.
Cabbage Savoy. Big-headed European heirloom perfect for sauerkraut and stuffed cabbage. Start mid-summer for fall and winter crops.
Cabbage Primer. Red, delicate-tasting variety with round heads — perfect for small gardens. Matures in seventy-two days.
Green Bean Fortex. Vigorous pole bean with tender pods and a sweet flavor.
Leek Broad London. Light, onion flavor. Grows eight to ten inches high and one and a half inches in diameter.
Lima Bean Red calico. Prolific bean. Revels in a long, warm season.
Greens
Lettuce Rouge d'hiver. An old-time favorite with red-tinted leaves. Grows best during cool weather.
Lettuce Black seeded Simpson. Large heads of crinkly green leaves. Grows well all season.
Kale Dwarf blue curled varieties. Low, compact plants with finely curled blue-green leaves. Recommended for both cooking and salads.
Swiss Chard Ruby red. Swiss chard has a mild flavor similar to spinach. Pick young for salads.
Ornamentals and companions
Calendula. Single yellow variety. Hardy annual used for culinary and medicinal purposes since the Middle Ages.
Purple Hyacinth Bean. Purely show, not for eating. Grow the lavender-flowered vine on an arbor to frame a pretty entrance.
Scarlet Runner Bean. Heart-shaped leaves and red flowers. Scales a support in no time flat. Perfect for kids' gardens. The beans are edible when young.