Indian Cuisine Shines at Dabbawala Lunchbox
This small Indian restaurant looks unassuming on the outside, but its dishes are anything but ho-hum.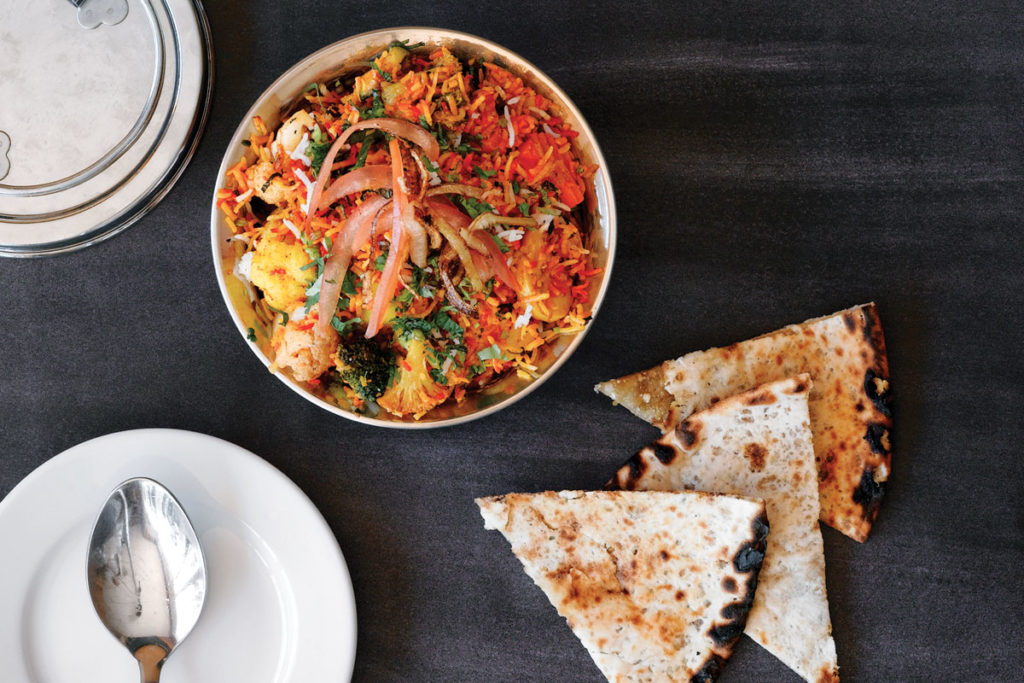 Indian food is nothing short of mesmerizing. Unless it's your indigenous food, there is something about the amalgam of spices, the methods of cooking and the ovens themselves that exudes exoticism. It's not just a foreign language; it's a foreign language with a different alphabet and to grasp it, even casually, is profoundly transformative.
The added bonus is that Indian food, even here, largely remains outside the sphere of American influence. It evolves on its own terms, resistant to the ubiquitous effects of continental cuisine and often hidden in the most humble enclaves. That's the case with Dabbawala Lunchbox, which sits on an unremarkable roundabout in North Providence in what appears to be more pop-up shop than restaurant. The staid gift wrap of mustard walls and lacquered tables gives little hint that the present within is so enthralling.
The twenty or so seats are often empty; much of Dabbawala's business is taken out the front door. It's fitting given that Dabbawala is a Hindi term for someone who picks up lunchboxes from a person's home and delivers it to their office. The parcels themselves are a bit like a bento box collection of sundry dishes, but embedded with the comfort of domesticity and the irresistible scent of mystery. It's also metaphoric as every dish at Dabbawala is surprising: unexpected texture, nuanced spice, an adherence to culture that tastes less like tradition and more like artwork.
The familiar appetizers, such as samosas, are few. Most dishes convert familiar ingredients, like cucumber and kale, into a wholly different food. Cold salads are molded in rings, an architectural production of divergent textures. Bhel poori ($4.99), a mix of puffed rice, crisped lentil noodles, tomato and chickpeas, has the half-life of a bowl of Rice Krispies. It has to be eaten fast before the consistency becomes muddled, but no problem: dominated by sweet, tangy tamarind, it goes down faster than a bag of potato chips.. The same holds true for a cucumber and chickpea salad with gooseberry dressing, a dish so clean and bright that it acts like a chaser for anything hot and spicy.
To narrow "hot and spicy" down to a single bite begins and ends with chicken momo ($6.99). The firm line between Indian and what we call Asian food dissipates entirely with these steamed dumplings, so tender and diminutive that you want to swaddle them in a baby blanket. They don't have any heat of their own but when paired with a hot puree of tomatoes, they become a culinary convergence of culture that fully explains why far Eastern food is revered around the world. (Incidentally, in print the tomato puree is offered as "heirloom tomato-sesame coulis," a description that suggests something refined to the point of pretentious. It translates on the tongue, however, as earthy and entirely unforced.)
Even the quotidian curries emerge from the kitchen with a certain level of pomp and circumstance. At the restaurant, they come to the table in traveling lunch boxes, clipped together but separated from the basmati rice beneath. Again, diners do remain in a sort of limbo: The dining room affords the opportunity to experience not just the formality of presentation but also the pervasive geniality that underlies Dabbawala. At the same time, there are bags going out the door in a procession amid a backdrop of what one teenager aptly deemed "swanky elevator music."
The backdrop does recede slightly in the fog of fragrance and anticipation. One has to imagine that if there were an official dish of every heritage and corner of the Earth, it would have to be a stew. Long simmers are easy enough for the most extreme conditions but the layering of flavor, the accumulated depth of personality, ends up being so much more than the sum of simple parts. And though the French can make a mean daube, it's hard to think of a braise more fulfilling than one that comes from an Indian kitchen. Dabbawala doesn't disappoint. It's common to return to favorites like tikka masala, vindaloo and biryani, but the lamb bhuna, steeped in its own juices, is just as compelling, as is the fennel and anise-spiked chettinad.
It should go without saying that there is one critical dish left to mention. Indian bread functions like the American french fry: the condescending might consider it superfluous, but in its best form, it's the lynchpin of a meal, the (literal) foundation on which everything else rests. And to the non-Indian cook, making naan remains aspirational, akin to wishing you could really sing. The clay oven has a lot to do with it, but it's also a dough that demands fluency developed over a lifetime.
The one ode to Americana is a truffle oil-washed naan that is subtle enough to match with saag or tandoori chicken. The most celebratory variety, however, is the slightly sweet Kashmiri, flecked with pistachio and almonds so small that the lingering flavor suggests marzipan. It should be ordered in bulk to eat in the car, for breakfast the next day, for a lifetime. Or you can eat it with the almond-based chicken korma, a pairing that ought to be enshrined as a gastronomic icon.
By evening's end dessert is often overlooked, not because it should be, but because baskets and baskets of naan have been used to sop up even small pools of sauce. The sweets do take a notably different approach: Where savory dishes are built from an amalgam of spices, desserts are a billboard for sugar. Rice kheer (rice pudding) and gulab jamun (fried dumplings in syrup) are part of the same genus as cotton candy and nougat. Subtlety is secondary at most.
But the primary focus at Dabbawala is the big reveal. Once the lunchbox opens, something enchanting takes shape, and if it's disguised by an indifferent physical space, all the better to understand the palpable impact of this cuisine. We may want the mysteries of the universe solved but Dabbawala reminds us one bite at a time that sometimes the best gifts are the ones that remain perpetually adventurous.
✱✱✱
2009 Smith St., North Providence, 337-5830, dabbawalalunchbox.com
Open Wed.–Mon. for lunch and dinner. Wheelchair accessibility is challenging in that there is a step up through the front door. Street parking.
Cuisine Indian.
Capacity Roughly twenty.
Vibe With your eyes open, an anteroom; with your eyes closed, it's everything India has to offer.
Prices Appetizers $4.99–$8.99; entrees: $12.99–$17.99; dessert: $3.99.
Karen's picks Bhel poori, chicken momo curry, Kashmiri naan.
Key ✱Fair ✱✱Good ✱✱✱Very Good ✱✱✱✱Excellent +Half-star