Indebted: A Higher Education Story
One writer reflects on minimizing risk in the college gamble.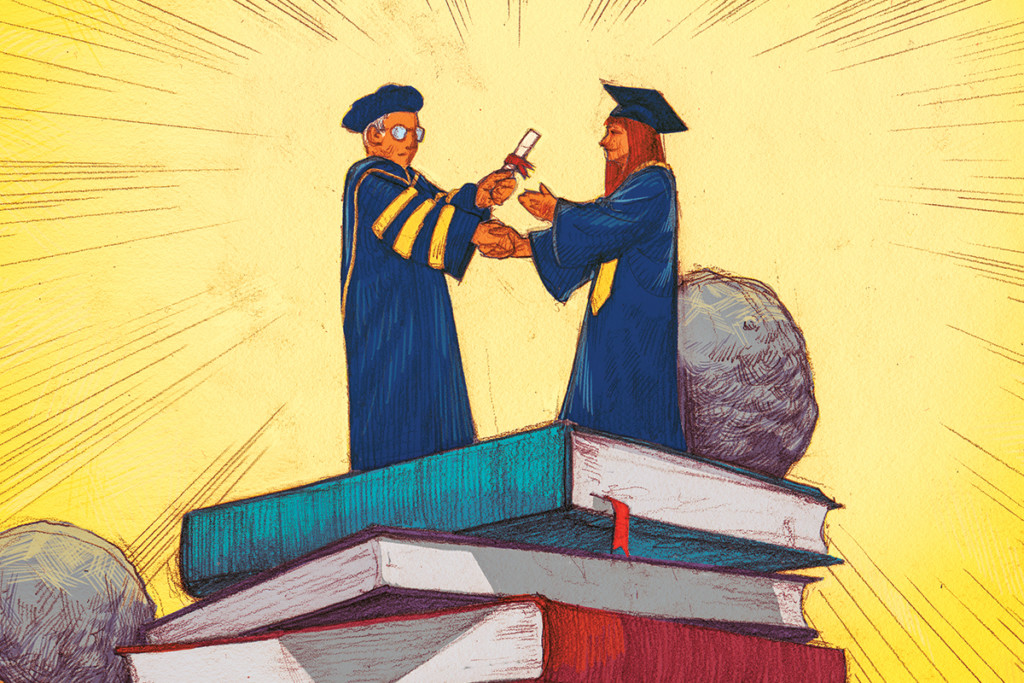 I was committed. I went on the college tour. I bought the $50 sweatshirt. (And the $40 sweatpants.) My parents laid down their credit card for the non-refundable $500 deposit to hold my spot. I was going to the private, four-year university of my dreams, $125,000 in student loans be damned.
"You're sure you want to do this," my mother said, standing over me as I pretended to be very busy at the computer desk in our kitchen. The summer light poured through the adjacent window. I can still feel the heat on my neck as I turned to face her.
It wasn't the first time she'd asked. And she never phrased it as a question. She knew my immediate response would be "Yes; I'm going," with varying degrees of teenaged exasperation. Where else would I go? And so I said it one last time, swiveling away from her so she couldn't see the doubt erupt on my face.
My mom's parenting manifesto, which I now implement with my three-year-old daughter, is simple: Say it enough, and it'll eventually stick.
"Go slow." "Call me." "I love you." "You're sure you want to do this."
Later that night, a scant month before orientation weekend, I reckoned with my future: Would I ever earn enough to pay off the debt? Would I be able to buy a house? Could I afford to have a family?
I wanted to be a writer. More specifically, I wanted "my words in glossy print," and I put in the work most nights, scribbling poems and short stories and saccharine diary entries that make my cheeks burn today. I'd hoped my first-choice school would help me get there, but a college degree doesn't come with a money-back guarantee. Would I have to sacrifice my singular aspiration — one I craved for as long as I can remember — for a job that would support my student loan debt?
My god. I drove a $900 car and worked at my favorite store for the discounts. This was too big a decision for an eighteen year old to make.
My mother's reckoning came a few months earlier, when we sat in the financial aid office at my dream school with an official who, in my recollection but almost certainly not in real life, resembled a cold, shadowy schoolmistress behind a heavy wooden desk, a ruler ready for the whapping. They'd given me a pretense of a scholarship, too small to put any real dent in tuition, room and board and school fees. My parents were struggling to pay down their own debt, yet I didn't qualify for much need-based financial aid.
"So you're telling me she'll be on the hook for $125,000?" my mom asked, incredulous.
"Yes," said the official, probably not with a dismissive sigh followed by a shuffling of papers, but memory is a funny thing. It made me want it more, knowing it was beyond our means. I was a child with a $125,000 decision.
Another important phrase in my mom's repertoire was: "You need a degree for that." Fancy car, nice house, cool clothes: All fantasies required, at minimum, a diploma from an accredited higher education institution.
My mom always wanted a college degree, but life got in the way — a good life, by all measures, filled with travel and adventure and a close-knit family but clouded by financial insecurity. She wanted more for my brother and me. To my mom, college was our salvation.
But, until the very last moments, affordability was never part of the discussion. Private, Ivy League, party school, religious institution: It didn't matter much where I went. I just needed to go. I'd be paying for it myself, with some helpful co-signing from my parents. That was the deal all along. They'd contribute when they could, but they couldn't float the cost of college for me. That vast, intangible, $125,000 sum was my own to carry. It was my call.
So I wimped out on my first choice. I sacrificed the traditional four-year experience for a more practical one: two years of general education classes at an affordable local school — also on loan, but smaller and federally subsidized — then two years of specialized courses at a private college.
I commuted to Rhode Island College to study the rules of writing so I could break them with authority, plus some economics and statistics and biology — facts and figures that didn't linger in my brain for long. I do, however, remember exactly how my philosophy professor drank his green tea: loose in a glass travel mug, no tea bag. Did he ever accidentally swallow the tea leaves and, if so, did he mind? Do tea leaves have free will?
RIC would've been a great place to spend all four years of college. But part of me wanted some semblance of the sleepaway experience. I wanted freedom. So I hatched an escape plan.
During slow shifts at a bookstore cafe, I'd pull the Fiske Guide to Colleges off the shelf and flip through, careful not to break the binding. Either out of kismet or impulsivity, I found my school early in the alphabetical listings: Brandeis University in Waltham, Massachusetts. It's a private, nonprofit institution that prioritizes social justice — it was named for the incorruptible Supreme Court Justice, Louis Brandeis — with a lauded journalism department. I applied as a transfer during my first year at Rhode Island College. I did not get in.
I continued to work at the cafe and earn good grades at RIC and write in my spare time. I applied to Brandeis again. I wore them down.
The admissions team at Brandeis decided I was a safe bet and gave me a scholarship for a little more than half off tuition. I never would've gotten it without two low-cost, remedial, transformative years at RIC. It's where I read The Elements of Style and The Yellow Wallpaper and nearly everything by Willa Cather, my daughter's namesake. It's where I discovered that hard work and cash can equal out in the end. It's where I — a mediocre high school student, more social butterfly than studious — learned to take my education seriously.
My first semester at Brandeis, I rented an apartment with another transfer, a more affordable option than on-campus housing. I signed up for the school newspaper, wrote my first-ever article and, immediately thereafter, received my first grammatic hazing, red ink and all.
I befriended transfers and non-transfers alike but felt closer to the students who, like me, came late to the game. I struggled through my classes, which were of a caliber I'd never confronted. I took a job at a Venezuelan restaurant in the next town over, which I needed to afford books and utilities. I adjusted, and I flourished.
All the while, debt accumulated — about $40,000 that I'm on track to pay off in the next three years thanks to some light snowballing. (My mom listens to a lot of Dave Ramsey.)
There were dark days, especially during my first Recession-era reporting job at a daily newspaper, where I cursed myself and my school and the student loan gods for my fiscal situation. But this is how we do college in America — at least the part of America that can only afford higher ed on credit. To date, forty-four million of us owe a collective $1.521 trillion in student loan debt.
One hot day at the newspaper, a photographer and I were chatting in an apocalyptic part of the newsroom where journalists sat before the layoffs. An offensive smell seeped from a broken fridge, which was crammed with uneaten takeout from long-gone staffers. Someone must've opened the door.
"Couldn't I have done this without a college degree?" I asked my co-worker, cranky from the smell and the busted AC and the Wells Fargo bill waiting for me at home. I didn't have long to whine (please, no Millennial jokes); a three-alarm fire came over the police scanner.
In the years since, I've answered that question myself: Nope, definitely not. Without college, there would've been no newsroom, no fire-chasing, no words in glossy print. Not in the twenty-first century. "You need a degree for that."
Today, I'm grateful for $500 monthly payments which, in a parallel universe, could've been three times as much. I'm grateful I can afford a home and a family and a reliable car without sacrificing my dreams or defaulting on my loans. And, in the big picture, I'm grateful that Rhode Island students can cross the threshold to college without acquiring debt on day one.
I'm a little jealous, too.