Hunting for Shellfish in Apponaug
The tiny coastal village was once an important Native American settlement.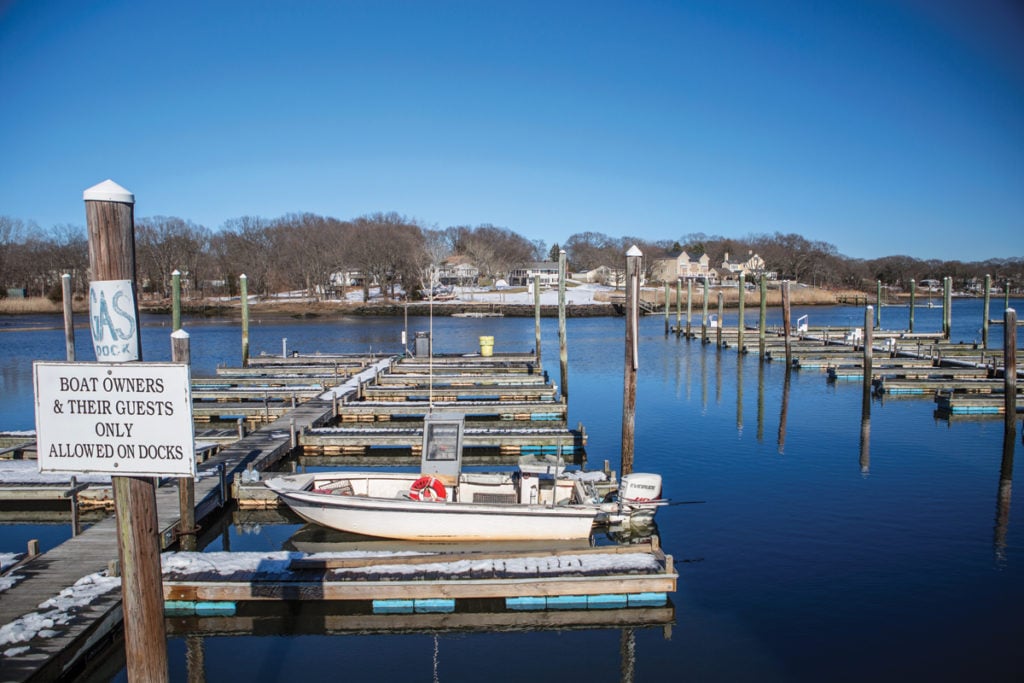 Great places for foodies
Apponaug
Remington House
An Apponaug staple, the Remington House is known far and wide for its terrific seafood. In the warmer months enjoy great views of Greenwich Cove from the waterside deck. The restaurant, near the historic center of town, serves classics like calamari, filet mignon and fish and chips. If you're in the mood for a lighter meal, try the salmon salad.
3376 Post Rd., Warwick, 736-8388, theremingtonhouseinn.com.
Crow's Nest
As the crow flies, the Crow's Nest is located across the street from the western shore of Greenwich Cove, and the views are almost as good as the food. The eatery has been serving up quality seafood, including fresh and locally caught lobsters, clams and fish, since the 1960s. In addition to great food, it has a homey ambiance. Cozy up by its fireplace with a platter of delectable peel 'n' eat shrimp any night of the week and you'll understand just why the Crow's Nest is a longtime Warwick favorite.
288 Arnolds Neck Dr., Warwick, 732-6575, crowsnestri.com.
A Short Drive Away
The Tree House Tavern
Eclectic-but-cozy decor along with expertly prepared victuals makes the Tree House Tavern a great spot for fine dining. Originally a florist shop, the Tree House expanded into the thriving restaurant it is today. For those just looking to grab a drink, there are a number of specialty cocktails and regional beers available.
1094 Centreville Rd., Warwick, 821-1105, thetreehousetavern.com.
The Shanty
If you're a locavore, the Shanty is the restaurant for you. Specializing in farm to table meals, the chefs prepare a variety of dishes from latkes to roasted duck with spiced butternut squash rings. It even has a cheekily named TV dinner that consists of a Cornish game hen, smoked cheddar mac 'n' cheese and a variety of sides. You can drink local too with a variety of craft beers.
3854 Post Rd., Warwick, 884-7008, theshantyri.com.
Great places to shop
Apponaug
Apponaug Color and Hobby Shop
The art of model trains is forgotten in much of the world, but at the Apponaug Color and Hobby Shop, it's alive and well. Choose from an immense variety of scale model trains, buildings and everything else you can imagine (in the miniature of course). The folks at the hobby shop are also happy to make repairs to your old trains should they need it.
1364 Greenwich Ave., Warwick, 737-5506, hobbyri.com.
A Short Drive Away
Giant Stride Dive Shop
If you're an avid scuba diver or you're looking to learn, head over to Giant Stride Dive Shop. The shop is equipped with all your diving needs, from regulators and tanks to fins and masks. The experienced staff also offers classes from basic open water certification to specialties like wreck diving and nitrox.
1935 Warwick Ave., 732-8808, giantstridediveshop.com.
Wild Birds Unlimited
Finches, cardinals, blue jays — Rhode Island's avian spectrum isn't lacking in color. If you'd like to see more birds around your home, visit Wild Birds Unlimited to pick up bird food, feeders and other supplies. Would you rather spy on birds from afar? Peruse the wide variety of binoculars in stock. As an added bonus, the staff will be happy to help identify the names of any birds hanging around your feeder.
1000 Bald Hill Rd., Warwick, 826-0606, warwick.wbu.com.
Great places to explore
Apponaug
Warwick Center for the Arts
Whether you'd like to wander a curated gallery or get some hands-on experience creating a masterpiece, the Warwick Center for the Arts offers it all. It has a rotating gallery that exhibits the works of students and professionals alike; it's open to artists both local and international. It also has summer programs available to kids trying to tap into their creative sides.
3259 Post Rd., Warwick, 737-0010, warwickcfa.org.
A Short Drive Away
Oakland Beach
A short drive away from Apponaug, Oakland Beach is a classic summer hangout. With a slew of iconic restaurants nearby (Iggy's Doughboys and Chowder House anyone?) and a stretch of sandy beach along Greenwich Cove, what's not to love? Munch on clam cakes while you stroll along the sea wall or visit the area during one of the frequent events and fairs.
Oakland Beach Ave., Warwick, 738-2000.
Greenwich Odeum
First opened in 1926, the Greenwich Odeum was originally a vaudeville theater that had the capability of showing "picture shows." These movies became the theater's staple in the later twentieth century. For a time, the building was effectively out of commission, but now, it is host to a variety of shows, from live music and movies to comedians and ballet.
59 Main St., East Greenwich, 885-4000, greenwichodeum.com.
Ocean State Theatre
The Ocean State Theatre Company's mission statement says it all; it aims "to preserve and pass on the tradition of live, professional theatre — including the American Musical — and to pursue avenues of enrichment and education for the benefit of the state of Rhode Island and the surrounding region through the theatre arts." Support this nonprofit by checking out one of its outstanding and unique productions, including musical renditions of Little Women, Shrek and Clue.
1245 Jefferson Blvd., Warwick, 921-1777, oceanstatetheatre.org.
---
A Walk in a (Nearby) Park
With extensive walking and riding trails, at Goddard Park you'll find a place to partake in your favorite form of outdoor locomotion. Looking for the perfect place for a picnic? The park has more than 350 picnic benches with some along the beach, so you're guaranteed to find a spot. For those looking to get some time on the green, it has a nine-hole golf course open to the public.
1095 Ives Rd., Warwick, 884-2010.
Overlooking the lighthouse of the same name, Conimicut Point Park is a scenic location for nature lovers. It's chock-full of activities for the whole family, from running on the beach to swinging around on the playground. Many people visit the park to go fishing or clamming, so if you'd like to catch your dinner while enjoying the view, head on over.
Point Ave., Warwick, 738-2000.
The deeper and deeper you go into Warwick City Park, the more amenities you'll find. Towards the entrance are a handful of baseball fields, a dog park and a field hockey rink. Further in you'll discover a playground, a well-paved walking and bike path and a pristine beach. For adventurous folks, there are unpaved trails for hiking or mountain biking.
Steven O'Connor Blvd., Warwick, 738-2000.
In the not so distant past, Rocky Point State Park was an amusement park attracting thousands of visitors. Now, more than twenty years after its closing, all of the park's rides have been torn down and replaced with a scenic walking path.
Admire the arch that still bedecks the entrance to the grounds: It's a good reminder of the park's colorful history.
Rocky Point Ave., Warwick, 738-2000.
History buffs, take note: Pawtuxet Park, situated in Pawtuxet Village along the banks of Pawtuxet Cove, is rumored to be the site where British prisoners were captured and held following the sinking of the HMS Gaspee. Historical significance aside, the park is also a hotspot for local happenings, regularly hosting the  annual arts and crafts festival as well as a number of holiday-related events. But if you're just looking for a place to hang with the fam on a sunny day, the area has two acres of lawns, picnic tables, a horse shoe pit, a swing set and a gazebo.
2 East View St., Warwick, 738-2000, friendsofpawtuxetvillage.org
.