Hunting for Shellfish in Apponaug
The tiny coastal village was once an important Native American settlement.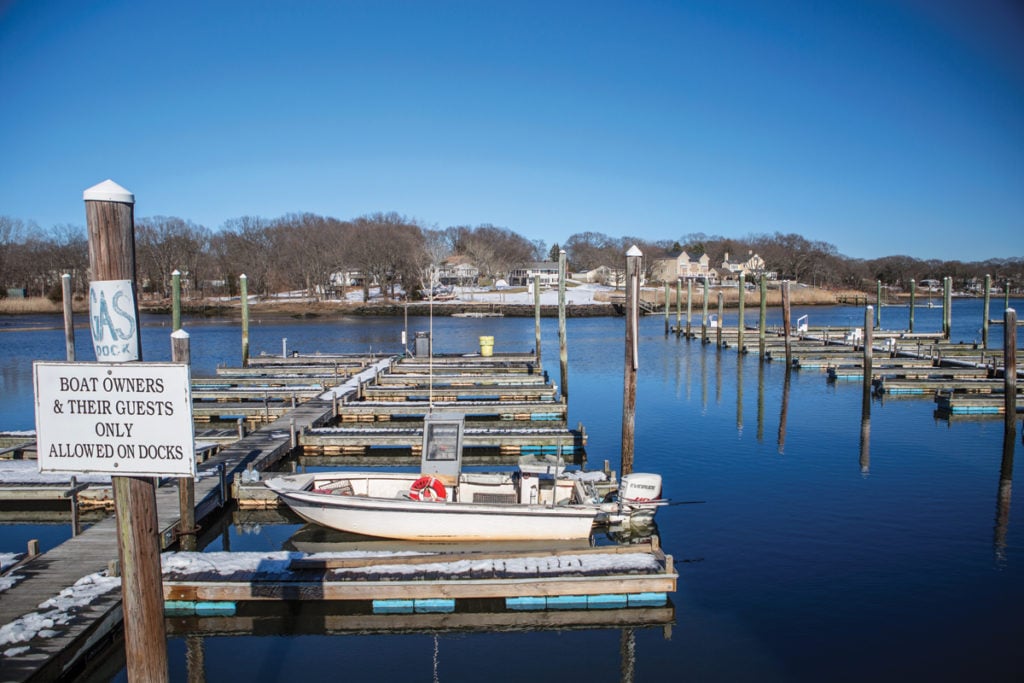 Submerged eight feet beneath the waters of Apponaug Cove, I could see about as far as my nose. Covered to the gills with scuba equipment and shivering from the cold, I swept my flashlight across the mucky abyss. What was I doing in water the color and opacity of thin pea soup? Looking for sunken treasures? Yes and no.
On the dock eight feet above me, my father anxiously waited, not to see if I returned safely, but to learn if I had been able to find his car keys. Gliding through the water, all I could make out were alabaster-white shells scattered along the silty seafloor. It was a shellfish graveyard: deceased quahogs, long-dead scallops, departed oysters (gone but not forgotten). There was every variety of mollusk imaginable. I didn't find my dad's oh-so-important keys that day, but I did find the bits and scraps of Apponaug's past. The story of these creatures is the story of this Warwick village.
Long before people conceived of installing convoluted roundabouts, Apponaug was a major Native American settlement at the crossroads of two important footpaths, a focal point of indigenous traffic.
Why did this spot become such a vital pit stop? Sweet Meadow, a 2,100-year-old settlement excavated in the 1950s, revealed one major factor. As they dug, archaeologists found stone tools, bowls, deer remains and, of course, heaps of shellfish refuse. Apponaug was the perfect place for weary travelers to stock up on nutritious clams, oysters and quahogs for their journey. The name of the town even reflects its molluscan heritage: Apponaug is a derivation of a Narragansett term meaning "place of oysters."
Long after the Native Americans were forced to relocate, Apponaug continued to be a shellfishing hotspot. In the 1800s, quahogs and clams were plentiful and highly accessible. You didn't need a spear, fishing pole, net or any other tool (although a rake always helped) to dredge up these flavorful victuals; all you needed was a willingness to dig through the mud.
Apponaug native Oliver C. Wilbur, in an 1846 letter to his brother, waxed nostalgic about the town's affinity for shellfish.
"You remember the 'quahog tide'; will the like ever be seen again? They (the townspeople) would move off, all in the carts for the shore, with hoes, baskets and quahog rakes to commence operations. As soon as the tide was down they would go into the water as deep as their necks. You could see hundreds with their heads just out of the water, digging and scraping with hands, hoes and rakes for a long time. All was merry, fun and frolic."
This quahog-philia would continue well into the twentieth century. Judy Jencks, a longtime Apponaug resident and active member of the Warwick Historical Society (WHS), reminisces about her family's involvement with shellfishing.
"Fishing played a big role in my own family. My dad was really involved in the marine industry in general. He'd build boats, but he was also a fisherman. He'd gather mussels and take them all the way to New York."
She thumbs through an enormous binder full of faded maps, articles about the village's history and old pictures of forgotten places and people. She stops on a blurry black and white photograph: A man stares confidently into the camera while perched atop a titanic mound of shells. A thick wooden mast juts in the background, and the fringe of a drooping sail is just visible.
"That's my grandfather on a heap of oysters they had just caught. That's a lot of oysters. He was a fisherman in the '20s on a sailboat."
"Those boats were designed specifically for dredging oysters," adds Felicia Gardella, president of the WHS.
"By the '30s and '40s, my family was still heavily involved in fishing," says Jencks. "My grandfather was a scalloper at that time. He had a shanty where they used to bring the scallops. There was this bench as long as the building — it was thirty-five feet. Women and men would stand there and cut open the shells. When they were done, the scallops were piled up to the ceiling."
This type of commercial shellfishing was once a mainstay of the Apponaug economy, but now its importance is diminishing.
"Most of the heads of household in 1940 worked in the mills or were fishermen, according to the 1940 census," explains Jencks. "Now of course, people are into different fields. There are still a bunch of quahoggers around, but a lot are only part time."
You can still see professional fishermen on the waters of Apponaug Cove in little metal boats, bobbing in the gentle waves. Their quahog rakes are submerged beneath the water, poles bent as they dredge the silt for all varieties of shellfish.
But they aren't the only ones still plying the cove's plentiful waters. During the summer months, whole families can be seen wading into the waters at low tide, trowels and buckets in hand, ready for business. Parents point out to their kids the telltale signs of a submerged clam and how to dig it up. They eagerly tunnel down and uncover their prize from the same sand that yielded its treasures to Native Americans thousands of years ago, keeping the tradition alive.