Hunger is Just Nuts
North Kingstown student Haley Stamp started a Twitter account to fight hunger as her senior project.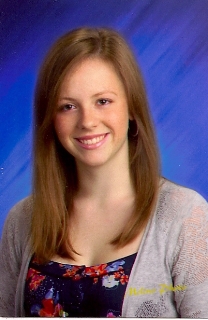 What does a North Kingstown High School senior have in common with actress and singer Selena Gomez?
Both Haley Stamp and Gomez are concerned about people around the world who don't have enough to eat. And both are using social media to urge others to help them.
Stamp has made fighting hunger through social media her senior project, a graduation requirement. During her junior year, Stamp had seen a "Dateline" segment that highlighted a product called Plumpy'nut, a high-quality peanut paste that organizations like UNICEF are using to fight severe malnutrition in children around the world.
Then she and her mother toured Edesia, a Providence nonprofit that manufactures Plumpy'Nut and related products. After that, Stamp decided she wanted her senior project to be about fighting hunger.
In March, she met with employees and talked about what she could do.
"We decided that the best way to reach people—and especially young people—was through social media," Stamp says.
She started a Twitter account called "It's Just Nuts." Her feed is a mix of links to reports from organizations like UNICEF on malnutrition, fundraising efforts for Edesia and videos posted by Gomez on hunger in the Sahel region in Africa. She's learned some about effective use of social media from Gomez, a UNICEF Goodwill Ambassador who dates Justin Bieber.
Stamp's scheduled to present her project on May 17, the day she turns eighteen. She plans to keep "It's Just Nuts" going when she heads off to Marist College in New York in the fall, where she plans to study communications with a concentration in advertising and possibly business.