Humans Worth Checking Out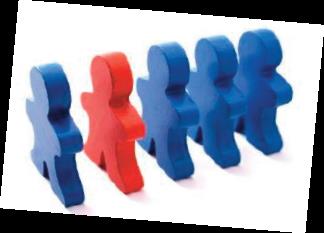 Have you ever met a person who, without pressure, pretext or romantic motive, you'd really like to know? Not a movie star or celebrity or even a politician, but the everyday Joe or Jane who likely has a good story to tell. It's not easy — and borderline offensive — to approach a new acquaintance and say, "Hey, you seem interesting. Let's get some coffee and you can tell me all about yourself." But you know you'd like to do it; this Sunday, you can.
The Human Library, a collaborative project between Barrington Public Library, East Providence Public Library and Providence Community Library, aims to open the eyes of Rhode Islanders through human books, people who have volunteered to share their personal stories.
The Human Library feels similar to the Great Check-Out, Providence Community Library's fundraiser later in March (click here for our coverage of 2012's fundraiser). But the events are different in two ways. The Great Check-Out offers "living books," well-known Rhode Island celebrities, artists and more, while the Human Library showcases people who have, according to the Human Library website, experienced "prejudice or disadvantage due to their race, gender, age, disability, ethnic or community background, sexual preference, beliefs or lifestyle choices." The Great Check-Out also aims to raise money, so ticket prices for a night of cocktails, hors d'oeuvres and raffles range from $75 to $125. The Human Library, on the other hand, is free.
The concept of the Human Library was created in 2000 by Danish youth organization, Stop the Violence. The now-international project, as stated on the website, was "developed to challenge societal prejudices wherever and for whatever reasons they occur…[and] to help people form a better understanding of those with whom they share their communities."
Interested "readers" can visit Rochambeau Library on March 3 and browse through a catalog with a title and a description of each book. The reader may then select a human book to check out for a one-on-one conversation, but must return the human book by a designated time. The event is four hours long, and readers may check out as many human books as time allows.
There are forty-three different human books to choose from. Here are our top ten picks to pull off the shelf:
1. Parenting Across Borders, Race and Biology. A story of international adoption.
2. Refugee. A story of a journalist who grew up in a poverty-stricken, polygamous household in Gambia.
3. The Anarchist Next Door. A story of a "small-d Democrat" who builds bicycles and runs his truck on vegetable oil.
4. Searching for Meaning Outside of War. A story of a retired Navy captain with an antiwar stance.
5. Looking from the Inside Out. A story of a female ex-con struggling to find employment.
6. Eat This and Save the World. A story of a person who, for more than a decade, has worked to develop insects as a food source.
7. Amigo o Enemigo. A story of changing anti-immigrant sentiments in the United States.
8. A Butch Lesbian and Mother of a Biracial Child: A story of a woman who was told she would grow out of being gay.
9. Living on the Hyphen of Being Iranian-American. A story of a person who grappled with national pride.
10. Face of Homelessness. A story about life experience and the homeless population.
The Details: March 3. (Snow date: March 10.) 1–5 p.m. Free. Rochambeau Library, 708 Hope St., Providence, humanlibraryrhodeisland.com.