How to Tap Your Backyard Maple Tree
An expert from Coggeshall Farm shows us the sweet, syrupy way.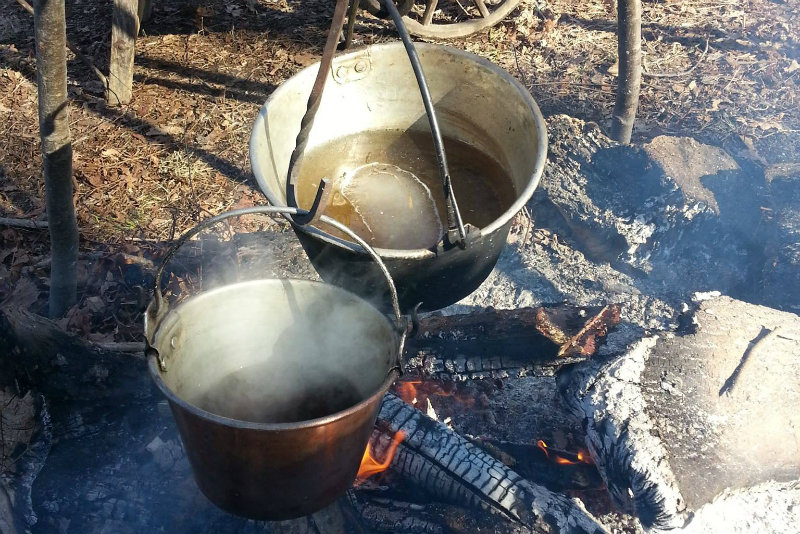 Now's the perfect time to tap your backyard maple tree, reports Cindy Elder, executive director of Coggeshall Farm Museum in Bristol. The museum, an eighteenth century tenant farm and one of the prettiest spots in the state, hosts maple sugaring demonstrations every weekend through late March.
The farm uses non-invasive techniques to collect sap from maple trees and guests participate every step of the way, from drilling a hole in the bark with an old-fashioned auger to snacking on johnny cakes with freshly boiled maple syrup inside the farmhouse.
Head to Coggeshall Farm to see the process for yourself, or order a spile kit online and do it in your own backyard. Here are Elder's tips for capturing the most syrup in your pail at home:
1. "Weather temperatures have to be very particular during maple sugaring," she says. "It must be above freezing during the day and below freezing at night. As the day warms up, it causes sap to run up the tree. When the day cools, the sap runs down the tree."
2. "We boil it over the campfire and it takes forty gallons of sap to make one gallon of syrup. It's a little bit like watching paint dry."
3. "If the trees start to bud, the sap will still run but the flavor of it — it goes bud-y. It gets a little bitter."
For more information about Coggeshall Farm's Maple Sugaring Days, visit coggeshallfarm.org.