How to get into Harvard
It's Ivy League or bust for many high schoolers, but is the name-brand degree worth all the hype — and angst? PLUS tips on getting into the college of your dreams.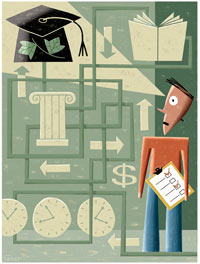 AN IVY LEAGUE DEGREE. It's the key to proud parents, power and prestige. A lifetime of happiness, success and second homes. Maybe even fame and fortune. Sound farfetched? Not to thousands of high schoolers frantic about what the future holds — and clamoring to get into the elite eight. n But is an Ivy degree a magic bullet? "No, not really," says Bill Caskey, a college admissions consultant based in Barrington. According to executive research firm SpencerStuart, more than 90 percent of CEOs at the top 500 U.S. companies went to non-Ivy schools, and many are state college graduates. "It doesn't really matter where you go," says Caskey. "It matters more who you are." Hard work, talent, discipline, passion all tip the balance. So when he tells this to his clients, both students and parents, do they heave a sigh of relief? "No, not really," he says. "They still want it, just the same. They want that name-brand school." n The eight schools in the Ivy League have long histories — Cornell, founded in 1865, is the youngest — and they have huge endowments: Harvard's, at close to $30 billion, is the biggest. Brown, Columbia, Dartmouth, the University of Pennsylvania, Princeton and Yale round out the exclusive group. Costs at any one of them add up to about $180,000 for four years. Whether that investment will earn dividends over a lifetime is debatable. Some studies have shown that bright students will do well no matter where they go to school; others suggest a lifelong economic return from a prestigious degree.
United States colleges accept, on average, about 70 percent of applicants, but Ivy League schools reject 85 percent.
Despite that uncertainty, Ivy League applications are increasing year to year, and admissions are becoming more competitive. A perfect storm of trends are converging to boost demand. The number of high school graduates has climbed in recent years and is projected to peak in 2008–09, with 3.2 million students earning diplomas. The percentage who goes on to college has been rising, to 66 percent of today's grads. Also, students are applying to more schools, partly because it's easier to do with online applications, partly to stack the deck in favor of winding up with options.
Meanwhile, the number of slots at the Ivy League has remained fairly static, allowing the schools to be incredibly selective. United States colleges accept, on average, about 70 percent of applicants, but Ivy League schools reject 85 percent. At Columbia, Harvard, Princeton and Yale, close to 90 percent of applicants are turned away. Last year, Harvard received a whopping 22,955 applications, and accepted just 2,058, or 9 percent, of them, the school's lowest acceptance rate ever. A high class ranking and stellar SAT scores may seem impressive in a small high school pond, but amid oceans of Ivy League applicants, they're simply the norm, and no guarantee of admission.
Louis Toro, director of guidance at Classical High School in Providence, says students already are thinking about college when they arrive for ninth grade. They pay for special courses to prep for the SATs, and take the tests again and again in an effort to boost scores. They pile on Advanced Placement classes, strive for good grades, excel in extracurricular activities, and volunteer in the community. Some families hire private consultants, like Caskey, to guide them through the complex application process.
College admissions officers sort through all those applications from outstanding students, athletes and artists, and make tough decisions. "They are not just looking for well-rounded individuals," says Caskey, who formerly worked on the Brown admissions staff. "They're trying to create a well-rounded class."
At Harvard's website, hopefuls are told there is "no formula" for gaining admission. Well-rounded is good, but so is "well-lopsided," that is, demonstrated excellence in one particular endeavor — academic, extracurricular or otherwise. Students with fresh perspectives formed by unusual personal circumstances or experiences are valued. References and work experience are considered. "Like all colleges, we seek to admit the most interesting, able and diverse class possible," says the site.
With so many high-achieving applicants to choose from, though, Toro says admissions decisions can come down to "splitting hairs." And the whole process has become so expensive, so competitive, so stressful and complex that some students and parents — and even some of the colleges — are starting to question its merit.
Last year, Harvard's interim President, Derek Bok, took a step toward simplification when he eliminated the college's early-admission process. Many colleges accept applications from prospective candidates in the fall of their senior year, and offer an early decision if the student will commit to their school and withdraw other applications. The deadlines and requirements vary from school to school, and the complexities of the process ratchet up the stress level. Students must start in their junior year, or sooner, to master the ins and outs, seek expert advice, and be sure that they're keeping up with the competition.
"This generation of students is very savvy," Brown's James Miller says. "They start looking several years earlier than we did a generation ago."
President Bok decreed that starting this fall, all Harvard hopefuls must meet a single admissions deadline of January 1. Early admission programs tend to give even more advantages to students who already have an edge, he says. Those from more sophisticated backgrounds and affluent high schools gain, while students from rural areas or high schools with fewer resources, or those who need to compare financial aid packages, miss out. The entire admissions process has become "too pressured, too complex and too vulnerable to public cynicism," he adds. "We hope that doing away with early admission will improve the process and make it simpler and fairer."
In a 2006 Harvard Gazette article, James Miller, dean of admission at Brown University, says Brown reviewed its early-admission procedure in light of Harvard's announcement and the plan for now is to retain the current system. "This generation of students is very savvy," he says. "They start looking several years earlier than we did a generation ago. They have access to lots of information, websites and guidebooks. They know where they want to go and why, very early on."
Competition for "prestige" and rankings has also gone too far, in the view of some. In May, twelve university presidents signed a letter agreeing to withdraw from participation in the U.S. News & World Report popular annual "best colleges" issue. They argued that the rankings are misleading, attach too much importance to a school's reputation, encourage wasteful spending as institutions compete for higher standing, and distract students from considering their real educational needs. By midsummer, another thirty-four schools had signed on. Not everyone agrees, however. To date, none of the Ivy presidents has put pen to paper in support of the ban.
WHAT ABOUT BROWN?
How to get the nod at our state's very own Ivy.
"WE CARE A LOT ABOUT THE STATE OF RHODE ISLAND," says James Miller, dean of admissions at Brown University. "A lot of leaders in the state have graduated from here." There's no specific formula for dealing with local applicants, he says, but "we do pay close attention to students from Rhode Island. We consider them very carefully."
So how does Brown select its freshman class? "The first thing we look for is to be sure they will be able to handle the very challenging academics here," Miller says. "Then we look at what they've done outside the classroom — it could be community service, or a job, or sports. Something they've been deeply involved in, showing enthusiasm and commitment. And we worry a lot about personal qualities. We're building a very diverse community here, and we want to bring in students who can get along and learn from other people, and who have something to teach others, too."
Brown has "need-blind" admissions, Miller says. They don't consider family financial circumstances, and once a student is admitted, they guarantee to give them as much financial support as they need. "It's pretty rare to be able to do that," he says. "We can do it because generations of Brown graduates have been very generous, and they extend a helping hand to the next generation."
This year, Brown got about 19,000 applications and accepted 2,500 students or about 13 percent. "When reviewing applicants, authenticity is very important to us," Miller says. "My sense is that you can tell which applications really represent the student, and which are more packaged. We have Brown graduates around the world who volunteer to interview the applicants, and about 95 percent go through that process. Most things can't be faked — a student either has an A or they don't. Academic performance, transcripts, the facts of what they have done and accomplished — all of that counts."
Miller says his advice to students who have their heart set on Brown would be to challenge themselves as much as possible during their high school years. "That doesn't mean you have to take every Advanced Placement course there is," he says. "But we want to see that you've taken advantage of the opportunities available to a considerable degree, and tested the limits a bit."
It's also important to be yourself. "We get students who volunteer in the Amazon, or raise thousands of dollars for charities, and that's great," Miller says. "But one of the most interesting essays I remember was written by a student about his summer job working at a Dairy Queen. It was a job where he learned a lot, a watershed experience for him. He wasn't saving the rainforest, but the way he wrote about it, it was warm, genuine, thoughtful, deep and mature. It was wonderful."
CRACKING THE CODE
Expert advice on how to boost your chances for admission — whether you're Ivy-bound or not.
>> HIRE AN EXPERT
One way to get a leg up is to hire a consultant, like Bill Caskey, who specializes in guiding students through the college-selection and application process. Your school's guidance counselors can do the same thing, of course, but those counselors likely have much higher student workloads. A private consultant offers one-on-one attention. "Paying for SAT prep has become pretty standard," says Caskey. "So many kids are doing it, parents feel it's necessary to be competitive. It's getting to be that way with consultants. If everyone else is doing it and you're not, well, you feel you're not keeping up." • Consultant fees can vary from about $3,500 to as much as $40,000 for high-profile stars who have books, speaking engagements, network interviews and elaborate websites. No official certification is required, but members of the Independent Educational Consultants Association must uphold certain standards, so that's a good place to start, Caskey suggests. Ask other parents and school counselors for recommendations. Check the Internet for ideas. With email and cell phones, you can hire a consultant from across the country. • Rita Nowak of East Greenwich hired Caskey to work with her son, Michael, starting the summer before his junior year at Wheeler School. She found one of the unexpected benefits of the process was not only access to Caskey's expertise, but also that he was an adult her son would listen to. "We could tell Michael we thought he had potential as a leader, that he's great with kids, and he should pursue those interests," she says. "But he wouldn't take us seriously. When it came from another adult, who is not involved, that really gave him confidence that maybe he really did have these qualities."
With so many high-achieving applicants to choose from, admission decisions can come down to "splitting hairs."
Caskey helped her family to sort through all the options and find the right school for Michael, his mother says. Starting early helped avoid stress, and having a timeline with tasks and deadlines mapped out gave them confidence. But the best part, says Nowak, was that Caskey encouraged Michael to get involved with Summerbridge, a program at Wheeler that helps inner-city kids prepare for college. "It was the greatest thing Michael ever did with his summer," says Nowak. "It was really rewarding, and that experience was the inspiration for his college essay."
>> DO YOUR HOMEWORK
The professional consultant is not necessarily the right choice for everyone. You might feel the cost is too steep, or your school's guidance office can provide all the help you'll need, or maybe you're just a do-it-yourselfer. If you decide to go it alone, there are plenty of resources available. Freshman year is not too soon to start thinking about future options and planning a strategy. Introduce yourself early on to your child's school guidance counselor and ask what kind of help they can offer. Develop a plan, decide when you will start to research schools, when you will compile your short list, and which schools you will visit. Be sure to know the deadlines and the options for applications (early decision or otherwise) at each of your final choices.
The Internet is a gold mine of information. The websites of the Ivy League schools list details of their admissions criteria and procedures. Websites like ivywise.com and ivysuccess.com offer free newsletters, archives of articles about the application process, and updates on trends. Ask around among relatives and friends to find alumni of the schools you're interested in, and seek out their advice.
Instead of hiring a high-priced adviser, you can find their books on Amazon, such as A is for Admission: The Insider's Guide to Getting in to the Ivy League and Other Top Colleges, and The Truth About Getting In: A Top College Advisor Tells You Everything You Need To Know. Both books can be had for about $20, while hiring their authors as personal consultants would cost thousands more.

>> KNOW WHAT YOU WANT
An important part of the process is not just to focus on school rankings and prestige — but to find the right match for the student. Caskey says sometimes students are so focused on that Ivy League degree as the ticket to success that they have lost touch with their own interests and passions. "I try to get them to reconnect a bit. What were they spending their time doing when they were ten years old?" he says. "That might give them an idea of where their real interests are, so they don't get into this great college and then just spin their wheels."
Students should examine the academic strengths of each school, its research programs, and class size. Who are the faculty in their areas of interest, and will they have access to them? They also should consider the school setting — will they be more comfortable on a rural campus like Dartmouth, or do they crave the urban environment of Columbia? It's a complex process for the student, requiring an inner journey as well as a research effort.

>> DON'T FAKE IT
Once a student settles on a short list of schools, it's important that they don't try to tailor their applications — or their lives — to appear to be the person they think the school is looking for. Most admissions' offices are a bit vague about their selection criteria, partly to avoid being swamped with thousands of cookie-cutter wannabes.
Nancy Reiner, of Lexington, Massachusetts, says her daughter, Danielle Dahan, opted for Brown University not because of its Ivy League rank but because on her visit there she saw recycling bins all over the campus. "Danielle was impressed that the campus community at Brown is so socially and politically active," says Reiner. During high school, Danielle took part in campaigns to help the people of Darfur and to combat climate change. "But she did these things because of her sense of justice — she was sincere," says her mother. "Her purpose was not to impress the admissions office." She will be a freshman at Brown this fall, studying engineering and alternative energy.
>> STUDY YOUR OPTIONS
Freshman year can be a shock to the system for many students. They've been so focused on getting in, it's easy to forget that it's just the starting line. This is, perhaps, one reason that gap years are growing in popularity. "I'm a huge fan of that," says James Miller, from Brown's admissions office. "If it was up to me, I'd make the entire freshman class take a year off after high school." Miller says about fifty freshmen admitted for this fall asked to take a year off, and he was happy to allow it. "It's great to get off the train for a bit," he says. "They've worked so hard. They come back after a year refreshed, more mature, and ready to go. I've never seen a student who didn't benefit from it."
>> CONSIDER THE COST
For some students, the gap year can also be a time to earn money to help cope with the huge expenses to come. Financial aid and scholarships can ease the load, but with costs at private colleges hovering at $45,000 per year, the pressure and the debts can add up. Louis Toro, at Classical High, says many parents experience sticker shock.
"When costs started to get up over $40,000, some parents start putting the brakes on," he says. "They are paying more attention to financial aid and looking for alternatives." Students may consider going to a state school for a couple of years, then transferring, he says. Or they wait and go name-brand for graduate school. They can still get that Ivy League degree but at a substantial savings.
>> FIND THE RIGHT MATCH
For many students, even if they have the grades and the ability, the Ivy League may not be the right place. The important thing is not to aim for the "best" school, but the best match for the student's needs, the place where he or she will thrive.
Emeline Allen, who's now studying urban studies at Brown, says getting into an Ivy League school was not her number-one concern. "There are so many good schools to choose from," she says. "The Ivy League tradition has a certain appeal, a certain panache, but I didn't feel pressured that I had to go with an Ivy. In fact, Brown wasn't my first choice — I grew up in Providence and went to Classical, so I would have liked to try a Boston school, just to be somewhere new." A family friend who graduated from Brown showed her around the campus, she says, and helped her to decide that Brown could be a good fit.
Helen Scotte Gordon, director of college counseling at Moses Brown, cited two recent cases of students who were accepted at Harvard and Cornell, but instead chose non-Ivy schools they felt offered better opportunities in their field of interest. "We encourage all of our students to follow their hearts and minds, to focus on finding the right match, and remember to find joy in the process," she says. "It doesn't have to be all torture and stress."
Caskey agrees. "Be careful how you define success," he advises both students and parents. "Don't select a school based on its reputation. It's not the name that counts, but the match."