How to Escape Rhode Island's Holiday High Drama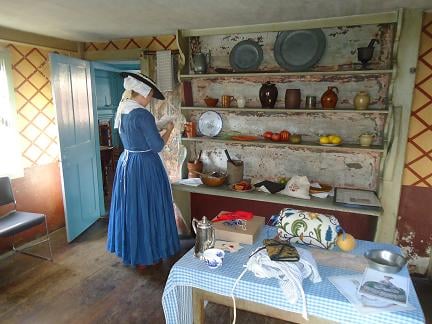 It's a little scary to think that just about any tree lighting could be picketed by bored soapbox heroes. But just in the nick of time, before you really lose it, we've found a way to avoid all the holiday high drama while still celebrating the beauty of the season. Our solution? Step back in time — way back — to a place without a Holiday Tree debate.
Our ancestors were too busy bedecking their servant's quarters with winter finery or struggling to survive the frigid coastal winter to engage in this type of mêlée. Celebrate the simple beauty of the season with these local events throughout December. And if anyone brings up the, ahem, tree controversy, feel free to drown them out with a cheerful rendition of "Frosty the Snowman." (We know it doesn't fit the historical bill, but if they can be annoying, so can you!)
Holiday Lantern Tours
Dec. 6–29: Learn the history of eighteenth century winter holiday traditions on a lantern-lit stroll through Newport's streets. Hear how residents did or didn't celebrate the holidays. Reservations strongly encouraged. Thurs.–Sat. 4:30 p.m. Admission $12, members $10. Departs from Museum and Shop at Brick Market, 127 Thames St., 841-8770, newporthistorical.org.
Candlelight Tour with Live Music
Dec. 8: Take a leisurely self-guided stroll through the house to enjoy the twinkling decorations at nighttime, accompanied by the soft music of an antique stringed dulcimer. 4–7 p.m. Adults $10, seniors $8, youth ages ten to seventeen $5, members and children younger than ten free. Hearthside House Museum, 677 Great Rd., Lincoln, 726-0597, hearthsidehouse.org.
Undecked Halls
Dec. 8, 15, 28: Heiress Doris Duke spent Christmas in Hawaii far away from Rough Point, her Newport estate. Experience the quiet house, see the decorated staff wing and learn how Rough Point's winter caretaking traditions have remained the same for the past half-century. Tour the first floor and enjoy refreshments in the staff dining room, not normally open to the public. Tours offered every half-hour starting at 10 a.m., with the last tour at 2:30 p.m. Adults $10, children $8. Rough Point Mansion, 680 Bellevue Ave., Newport, 847-8344, newportrestoration.org.
Winter at the Wanton-Lyman-Hazard House
Dec. 8: Tour the c.1697 Wanton-Lyman-Hazard House, hear about the house's history and learn how eighteenth-century residents made their way through the winter. At the tour's conclusion, meet a historical interpreter portraying Polly Wanton Lyman who will discuss winter life in 1795. Reservations required. 11 a.m. Admission $15, members $10. Departs from Museum and Shop at Brick Market, 127 Thames St., 841-8770, newporthistorical.org.
Holiday Evening Duet
Dec. 15: Enjoy live music, eggnog and sweets as you stroll through softly lit rooms, taking in the ambience of a Gilded Age holiday. This tour offers two-for-one priced admission into the Elms and Marble House. 6–9 p.m. Members $25 in advance, $30 at the door; non-members $28 in advance, $35 at the door. The Elms, 367 Bellevue Ave., and Marble House, 596 Bellevue Ave., Newport, 847-1000, newportmansions.org.