How to Butcher a Pig
The day I came face to snout with my favorite food.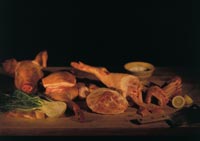 I have been invited to butcher a pig. Matt Gennuso, co-owner and chef of Chez Pascal restaurant in Providence, has come out from the kitchen to my table after a night of gluttony. My husband, Lorne, and I have eaten mussels and duck confit, steak and chestnut bisque. But what has put me into a state of ecstasy is the pork tasting: housemade sausage, slices of leg, pulled brined shoulder and a chop. I am a carnivore. And the meat that makes me drool, that makes my heart speed up and my eyes shine, the meat I love the most, is pork.
My moans and sighs have brought Matt into the dining room. Like a tween meeting Justin Timberlake, I gush and giggle and manage to say, "That pork…" For a minute, Matt looks as if he isn't sure what to do with me. But then he brightens. "Hey!" he says. "Want to come butcher a pig with me?" "Yes!" I practically shout. I am giddy with pork, giddier with the idea of more pork.
"A lot of people say they'll come and do it," Matt says. "But then they don't."
"No, no," I tell him. "I will come. I want to do it. I want to butcher a pig."
I do not think of blood or Babe. I don't yet think about what it will mean to see exactly where my food comes from. At that moment, I only know that a girl does not get asked to butcher a pig every day.
On the Monday morning I am going to meet Matt, I hurriedly drop my kids off at school, eager to get to the restaurant. I fret about what to wear, unsure of how much blood I might encounter, how much splattering this could involve. Settling on an old button-down shirt and my jeans with the most holes, I remember something a friend had told me. On a search for the best authentic jerk pork in Jamaica, he and his wife went to watch a pig being slaughtered. A freshly slaughtered pig, they were told, makes the best jerk pork. His wife has not eaten pork since.
Of course, my pig has been killed several days earlier in Vermont. I am going to butcher, not to slaughter. But still, I can't help but wonder how squeamish I will be. I am a person who walks quickly past dead squirrels or birds on the sidewalk, looking the other way. However, I love a bloody steak, a juicy lamb chop, and most of all, I love pork in all of its incarnations. One of the highlights of my culinary life was a wedding in North Carolina where we were served a roasted pig complete with its crackling skin. I couldn't get enough.
Among discerning chefs and diners, there is no disputing that the quality of meat is related to the quality of the animal's life. The rabbit, venison, lamb and pork that are served at Chez Pascal are all from milk-fed animals who have not had growth hormones or antibiotics. And they are all butchered by Matt.
Many chefs say they butcher their own meat because the act forms an important connection to the source of their food. "Sure," Matt says, "it's easier to have someone else do it. But it doesn't seem right. I just really enjoy it. I love seeing where my food comes from." I did not necessarily have that same belief. Or I hadn't articulated it yet. I did love picking strawberries and eating them still warm from the sun. I always selected local produce, and eschewed tasteless winter tomatoes, preferring to wait until they were in season. And I appreciated good food. I sought out restaurants that were innovative, that cooked using locally grown vegetables and naturally raised meats. But did I really need to look my dinner in the eye? When I glanced at that pig's solemn face, would I lose my love of all things pork? Would I be able to thrust a butcher knife, Charles Manson-like, into the animal that had inspired Charlotte's Web and the lovable stuttering Porky Pig?
When I park my car on Hope Street and head toward the kitchen door, the pink face of my two-year-old's favorite, most beloved stuffed animal, the eponymously named Pig, drifts across my mind. When she asks me, "What did you do today, Mommy?" will I have the courage to actually tell her?
In the kitchen of Chez Pascal, a thirty-five-pound dead pig is lying on a wooden cutting board with four butcher knives glistening beside him. Matt eagerly greets me, ready to get to work. He snaps on surgical gloves and begins to show me where the various cuts of meat come from—loin, ribs, shoulders—moving the stiff pig around as he indicates each section. I try to take notes, but I'm mesmerized by the pig. His ears stick up straight, not unlike the kind I buy at Target for my dog, Zuzu, to chew. The gray tongue protrudes from its mouth, and its little pig tail sticks out straight. He is a bad shade of yellow, and he has been slit open from throat to butt.
"I used to start at the legs and move up," Matt explains. "Now I start at the shoulders and move down. Maybe because I'm left handed, I do everything backwards." He smiles, tosses the pig onto its back and begins cutting. The bones make funny little crackling noises as they break apart. After Matt dries the cavity and spins the pig around to face me, I peek inside. No blood. But a pair of kidneys are still in there. "People eat these," Matt says. He removes them, and some membrane, and then urges me to feel around until I find the shoulder blades.
Slowly, I feel more comfortable touching the pig. And as Matt expertly removes pieces, he tells me how he will cook them. This will be brined and slow roasted; this will be marinated. At one point, the pig's head is sitting on its naked neck like something out of a horror movie. But soon enough, Matt removes the head too.
I am beginning to understand why Matt does this as he lays out two perfect pork tenderloins. They look exactly like the ones in the meat department of Stop and Shop, except they are fresh. Those supermarket tenderloins in their tight plastic wrappings have been around a long time.
The pig is starting to look less and less like anything recognizable, and I am starting to get used to the sound of bones breaking. Matt uses his fingers as much, or even more, than he uses a knife. The meat comes off easily. "Let the knife and the meat do what they want to do," Matt says. Here are the ribs, looking exactly like ribs. And the hip with its ball and socket. "Some people see the whole animal and they think, 'Oh, poor pig!' " he says. "But he wasn't somebody's pet. He was raised for this."
I am surprised that this thought—Oh, poor pig!—does not come into my own mind. Instead, I am standing here while the pig is being butchered, and I am feeling a mixture of awe and gratitude. Matt tells me he likes to come in here alone in the morning to do the butchering, and I understand why.
There is almost a reverence about the process. When Matt cleans the table of bone and pig parts and puts the meat together like a 3D jigsaw puzzle of pork, I am amazed. I am impressed. And unlike my friend's wife, I am hungry. Hungry for the bacon Matt will smoke, and the loin he will marinate with lemon zest, fennel seed, parsley, crushed red pepper, Dijon mustard and olive oil. Hungry for the sausages. Hungry, still, for pork in all its delicious forms.
Weeks after I butcher the pig with Matt, I am eating at a fancy restaurant in New York City with friends. The special that night is roast suckling pig. I ask the waiter if it is milk-fed, from a sustainable farm. It is. And I order it, happily and eagerly. As I eat, I have the same thought I had that morning at Chez Pascal as Matt offered up the beautiful natural pork: As Charlotte said of Wilbur, "That's some pig."
Ann Hood is the Providence-based author of several novels, including most recently, The Knitting Circle.