How Rhody are You?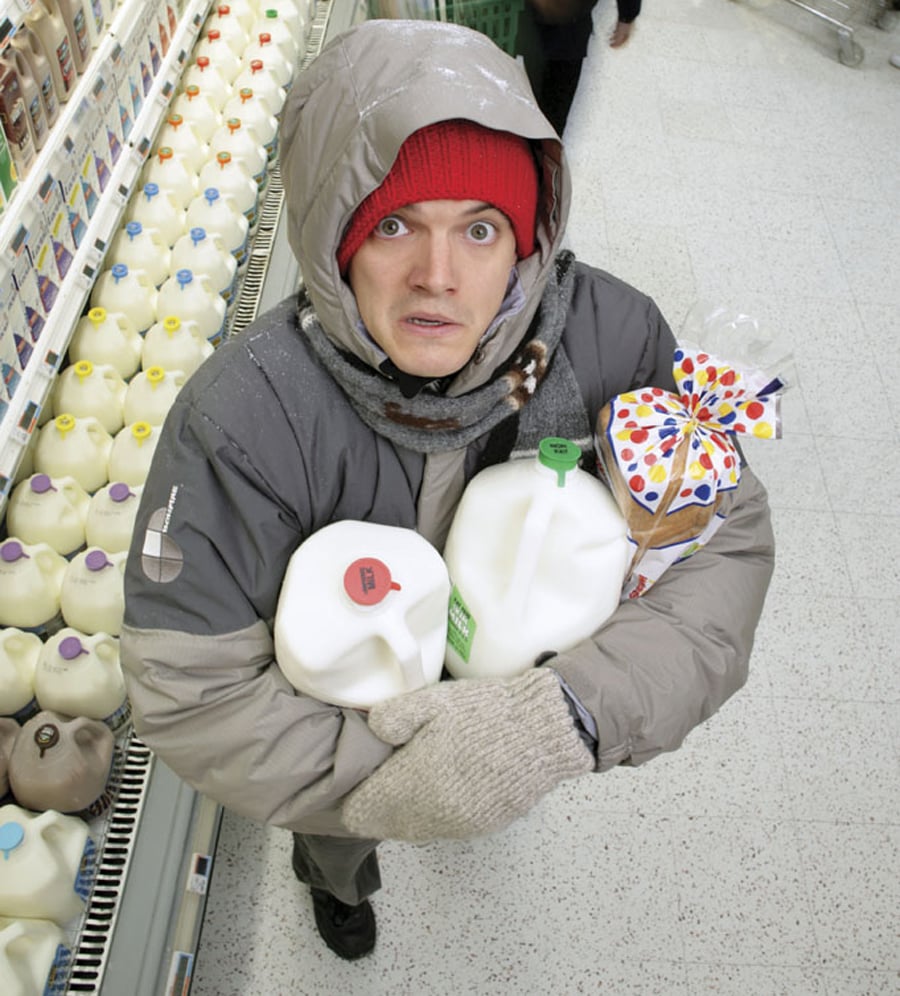 • You rush out to get bread and milk when a snowstorm is predicted.
This one's such a classic Rhodyism, we almost didn't include it. "It stems from the 1978 blizzard, when some people couldn't get out of their homes for days," explains historian and ProJo editor David Husband.
"Now everybody runs out and buys three loaves of bread and four gallons of milk every time even the smallest storm threatens. When there's a storm on the horizon, I like to tell people, 'Looks like it's going to be a three (four, five, etc.) loafer!'
• You remember the longest game in baseball history.
Who can forget the smell of roasting benches the players burned to stay warm? Or a twenty-year-old hitter named Cal Ripken Jr. going two for thirteen? Or pitcher Luis Aponte being banished to the couch after he came home near dawn and his wife didn't believe he was at work? Answer: just about everyone, it seems. Of the 1,740 fans who went to see the PawSox play the Rochester Red Wings at McCoy Stadium on April 18, 1981, only nineteen remained when play was finally suspended at 4 a.m. the next day, still tied after thirty-two innings. WJAR/NBC-10 news anchor Frank Coletta, an assignment editor and weekend reporter back in 1981, recalls how he couldn't even get a sports reporter to come in early to cover the historic game: "He told me in no uncertain terms that he would not interrupt his Easter dinner to do that." By the time inning thirty-three commenced on June 23, everyone wanted to watch. Much to the disappointment of the 5,746 people (plus 140 reporters) who crammed into McCoy stadium, the finale lasted all of eighteen minutes.
• You keep thinking you'll learn how to sail.
• You call the Dunkin' Donuts Center the Civic Center.
The name may be new, but old habits die hard. Following a downward slide epitomized by encroaching seediness and far less stellar events (Cher and ice skating shows), the Civic Center received a much-needed infusion of cash in 2001 by officially becoming the Dunkin' Donuts Center. Dunkin' Donuts' parent company, Dunkin' Brands, made a deal to give the city of Providence $8.65 million over ten years in exchange for naming rights. The money is being used to spruce up the joint and hire more glam acts (Christina Aguilera and the Trans-Siberian Orchestra).
• You visited the House of Horrors at Rocky Point.
Perhaps the oldest "dark ride" ever, the House of Horrors is certainly one of the most legendary. Originally built in 1938 to replace rides destroyed by the hurricane, it was already a much-revamped (and renamed) fixture by the 1950s when it featured the Big Bad Wolf blowing the roof off the Three Little Pigs' house and Popeye fighting Bluto. Later it became the Castle of Terror, then got really serious as the House of Horrors in the 1960s, courtesy of master dark ride designer Bill Tracy. Even the employees were scared to walk through it. By the 1970s, most of Tracy's stunts were replaced with inferior ones, mirroring the park's overall decline. By the 1990s, Rocky Point was memorable more for teen gang violence. In 1995 it closed forever, the rides auctioned off to other parks. Despite vandalism and fires, the House of Horrors still stands, stubborn and immortal, a deteriorating heap that's scarier than anything Bill Tracy ever imagined.
• Your first live concert was at the Civic Center.
Built in 1972 for $13 million, the Civic Center's 14,000-plus seats were soon filled with screaming fans of Elvis Presley, Black Sabbath, Kiss, Alice Cooper and Neil Diamond in the 1970s; Springsteen, Clapton, Pink Floyd and Sinatra in the 1980s; and Metallica, U2 and Smashing Pumpkins in the 1990s. You may even be able to hear yourself yelling "Do me, Ray!" on the Kinks' 1980 album "One for the Road," which contains seven songs recorded live at their 1979 Civic Center appearance.
• You've been to Twin Oaks for your birthday.
For as long as anyone can remember, it's been a top place to celebrate special occasions. If you've ever blown out your candles there, you're in good company. Lots of local celebrities have done likewise: ABC 6's April O'Dell, Josie Guarino and Walter Cryan, Karen Adams (WPRI 12), Doug White (NBC 10) and former Celtic All-Star Antoine Walker, to name a few.
• When you were a kid, you rode in the wayback.
That was the part of the family station wagon where the action was: the snacks, the toys, all the siblings scrapping over the snacks and toys. "Plenty of wayback room!" car ads used to shout. Then SUVs arrived and wagons disappeared, taking their waybacks with them. Recently wagons made a comeback, but the wayback is now the "cargo area."
• You can describe driving across the old Jamestown bridge with teeth-rattling precision.
• You use I-95 like it's a local road.
Because highway exits in Rhode Island are often less than a mile apart, Rhode Islanders hop on and off like it's Main Street. "Most interstate freeways are situated around the perimeters of cities. Then there are straight-line roads that come down to different parts of the city," explains Robert Murray, senior vice president of AAA Southern New England. Though the distance from Westerly to Pawtucket is only forty-nine miles, that stretch of I-95 has about thirty exits. "We've become accustomed to using our limited access highways as our personal local roads to get where we want to go," he says.
• Your idea of a vacation is heading south…
to South County, to be exact. According to Jim Durkin, owner of Durkin Cottage Realty in Narragansett, "Thirty-five to forty percent of beach house rentals and sales in the Point Judith area are to Rhode Islanders." Dennis DeGrass of Wallander Realty in Charlestown agrees: "Rhode Islanders like the area from Matunuck to Narragansett."
• You've been to the Biltmore on prom night.
Styles may change over the years, but Rhode Island proms will forever be magical. Take the accessories (from go-go boots in the '60s to fancy baseball caps in the '00s) and the grinding that chaperones pretend not to see (from lambada in the '80s to "freaking" now). Brownie cameras may have been replaced by digital ones, and limos by school buses (yes, it happened at Venus de Milo in '95), but attitude still rules.
• You've been mowed down on the bike path by a roller blader.
• You know what a bubbla is.
It's a bubbler, of course (a.k.a. drinking fountain). Roberta Mudge Humble, professor of English at Community College of Rhode Island, explains the Rhode Island dropped r thusly: "It's a product of the cultures that came here: first the English and Scottish, then the Irish, Italians and French, and then Africans and Hispanics. The largest influences are the earlier ones. The dropped r is commonly found in those countries. The hard 'th' is from the Italians and French, primarily. In their languages, 'th' is hard, not soft. Hence, you hear 'wit' as opposed to 'with.' " Notes the Urban Dictionary: "The Rhode Island accent is most aptly characterized as a cross between the accents and dialects of Boston, southeastern New England and Long Island, New York." Mudge adds: "The Cranston-North Providence-Johnston accent is comparable to New York's Bronx accent. It is the most distinctive of the lot." Or, in our own words: in a side-by-each race wit Nawt Smitfeel an' Canahsie, it's a toss-up who'd get ta Bvooklyn foist.
• It takes you under 2 minutes to find a Dunkin' Donuts.
Not for nothin', but we have 169 shops in the Ocean State. That's 6.2 shops per square mile. There's still some catching up to do with Massachusetts, of course, with 7.2 shops per square mile, and Connecticut (the winnah!) with 10.9.
• You own a set of Ginsu knives.
• You've been held up in a traffic jam because of the filming of Underdog.
Or, you cheered wildly when the Big Blue Bug appeared in There's Something About Mary. Or the dry cleaner is closed with your interview suit locked inside because a movie is shooting outside. The advent of Hollywood in our midst has met with mixed local reviews. Sure, businesses are raking in dough (some $150 million over the past two years, according to the Rhode Island Film and TV Office), especially hotels, car rental outfits and restaurants. And 3,000 Rhode Islanders worked as paid movie extras, some logging enough hours to qualify for Screen Actor Guild cards (Mayor David Cicilline among them). But on the downside are the daily inconveniences. The historic Statehouse was redecorated absurdly for Underdog, and Governor Don Carcieri finally chased out Disney for replacing the state flag with a cartoon one. When Spielberg shot Amistad in Newport, he paid entire blocks of businesses $100,000 each to close, great for business owners, but a hardship for residents who rely on them. When the Farrelly brothers shot Me, Myself and Irene in Jamestown, residents were asked to vacate their apartments during filming. Shooting was then delayed by a tabloid photographer holed up in one of the buildings, taking unauthorized pictures of Jim Carrey from a window and interfering with scenes. The crew eventually got rid of him by blinding him with a giant mirror.
• You have a favorite South County beach (and can get there without taking Route 1).
Ever since Money magazine named South County one of its "12 Perfect Places in North America" to vacation in 2001, followed by huzzahs from Forbes and New York, the influx of out-of-staters has challenged Rhodies to reach their favorite beaches by the traditional method. According to Kimberly Charlet, marketing director of the South County Tourism Council, you can get to the Narragansett beaches by taking I-95 and exiting at Route 138 in Richmond, and then traveling east to 1A. And you can get to the Watch Hill and Misquamicut beaches by taking the Westerly exit off I-95. And speaking of descending hordes…
• You bought a place in a neighborhood where you wouldn't have been caught dead ten years ago.
Every Rhode Islander who ever walked around Pawtucket with a baseball bat (and we don't mean for a game) is now slightly aghast at how people are snapping up high-end condos there. (The Riverfront Lofts and Bayley Street Lofts are selling from $189,000 to $725,000 per unit.) Other hotspots are East Providence, Woonsocket and the Foundry across the highway from Providence Place. Michele Caprio of the Rhode Island Association of Realtors says, "No developer would have touched them until recent market conditions made them a viable alternative." Beantowners especially consider housing in all these places a bargain. A similar residential boom has transformed rural areas, too, says Caprio, because developable land was cheap in the Hope Valley/Hopkinton area, and demand was accelerated by expansion of companies like Pfizer and Amgen.
• You've figured out parking in Providence.
No overnight parking. No parking without a permit. No parking, ever. Where can you park? That's been the $64,000 question ever since the city banned overnight on-street parking to provide better access to snow plows, garbage trucks, public safety vehicles and the like. Ticketable infractions range in unpleasantness from overtime parking ($15) to hogging a tow zone or sidewalk ($100). Periodically the city experiments with resident parking permits and a holiday moratorium on overtime tickets (call 421-7740 for details). Providence Place has a carpool deal: $2.50 from 6 a.m. to 8 p.m. on weekdays (call 270-4421 for details.). No HOV? No problem. Regular mall parking costs a mere $1 for up to three hours. On weekends, street meters and the Statehouse parking lot are free.
• You've been to a quahog festival.
Why, there's the Warren Quahog Festival, and the International Quahog Festival in Wickford, and the Charlestown Seafood Featival, and, well, you get the picture. The French Chef herself, Julia Child, loved to go to the beach and collect her own. ("Ho ho!" she'd roar, "free meat!") You can, too. Then try this recipe for stuffies from Cooks.com: 2 quarts steamed quahogs; 6 slices bread, chopped fine;
1 onion, minced; 1 small green pepper, minced; 1 egg; salt and pepper to taste;
1 red cherry pepper, chopped fine. Preheat oven to 350 degrees. Steam quahogs; remove from shells. Mix quahogs with remaining ingredients; cook 2 minutes in skillet. Stuff mixture in shells; tie with string and bake 20 minutes.
• You refer to the Rhode Island Mall as the Midland Mall.
Rhode Island's first climate-controlled, enclosed mall opened in 1968. Midland Mall was a big hit — until the Warwick Mall opened down the street in 1970. Along with cosmetic updates to help it compete, Midland Mall underwent a name change in 1985 and became Rhode Island Mall. None of it helped much; it has since changed hands twice, and a chunk of the retail space is vacant. Fun fact: the mall's ghostliness may have been exacerbated by turf wars. Stop and Shop bought the mall's center core in 2003 primarily (according to rumor) to prevent another tenant, Wal-Mart, from expanding into a supercenter that could compete with the new S&S down the road.
• You were born at Lying-In Hospital.
Now called Women and Infants' Hospital, Providence Lying-In Hospital was founded in 1884 as a maternity hospital but changed its name to reflect its broader scope. It's the largest obstetrical facility in the Rhode Island-Massachusetts-Connecticut region and the tenth largest in the country, delivering more than 9,700 babies annually.
• You know where Escoheag is, without consulting a map.
If you've ever been to the Rhythm and Roots Festival (which used to be the Cajun and Bluegrass Festival) that used to be held in Escoheag (and has since moved to Charlestown), you know it's a wide spot on Route 3 between Exeter and Hopkinton. There's not a whole lot there (population 5,900), but it's renowned for its festivals (snap beans, anyone?) and is one of the oldest continuously inhabited villages in the state. It was first settled in the 1600s by the Nipmuc subset of the Algonquin tribe (who used to be the Pequot) after they were captured (and later freed) by the English.
• You know what Legs and Eggs is.
Perhaps the most popular breakfast in Rhode Island, Legs and Eggs is the brainchild of the Foxy Lady strip club in Providence. If you like lassies with your latkes, this is the place for you. Buddy Cianci reportedly visited, and WHJY's Mike "Dr. Metal" Gonsalves (sadly, a casualty of the Station fire) was long the favored DJ. The buffet, which is free (they make their money from the bar), includes scrambled eggs (natch), ham, bacon, sausage, corned beef hash, pancakes, fruits and pastries. It's probably the only place in Rhode Island where you can see diners wash down breakfast at 6 a.m. with beer.
• You've been to an Ancients and Horribles parade.
"It started as a parody of Boston blueblood militia types called 'The Ancients and Honorables,' " explains Connie Leathers, the parade's chair. Now entering its eighty-first year, the Ancients and Horribles Parade is held every July 4 in Chepachet. It features marching bands, color guards and some of the craziest floats you'll ever see. Though it's billed as political satire, participants will spoof anything. One year a Curves gym set up shop in town, resulting in a float called "Pervs" with men exercising in drag. "The Ancients and Honorables were stiff-upper-lip kind of people," says Leathers, "and we're exactly the opposite of that. We have people poking fun at Democrats and Republicans. We even have people poking fun at the parade committee. There needs to be room for people to just have fun, say what they think, and laugh."
• The wait staff in your favorite restaurant ignores you because the chow hounds at the next table are screen stars.
Joe Pantoliano and Billy Baldwin, stars of the CBS pilot "Waterfront," eat at Venda Ravioli, Providence Prime, Costantino's and Raphael Bar-Risto. Jason Clarke and Jason Isaacs, stars of Showtime's "Brotherhood," frequent Cafe Nuovo, Capital Grille and Al Forno. Matt Dillon, Cameron Diaz, Matt Damon, Renee Zellweger, Debra Messing, the Farrelly brothers and James Woods have all dined at Twin Oaks. Woods also frequents Bugaboo Creek (his family lives in Warwick, see).
• You have visited the Newport mansions only because you took out-of-town guests.
Last August the Preservation Society of Newport County conducted a study to see exactly who does visit the mansions. John Rodman, the society's director of marketing, says 9 percent of guests are Rhode Islanders. Another 75 percent are from the northeast U.S., with the balance mostly from the rest of the U.S., Canada and Great Britain.
• You're one degree of separation from someone who appeared on a reality show.
Besides movies, Rhode Island also attracts TV production companies looking for suckers — uh, we mean contestants — to star in their nonfiction hits. HGTV came looking for prospects for "Generation Renovation" and "What You Get for the Money," while rival TLC shot six "Moving Up," "Trading Spaces" and "While You Were Out" episodes here. Bob Vila's syndicated "Home Again" devoted the entire second half of its eleventh season to houses in the Providence neighborhood of Elmwood. ABC's "Wife Swap" invaded Warwick in 2005. National shows that conducted local auditions in Rhode Island were "America's Next Top Model," "Jeopardy," "Wheel of Fortune" and "Weakest Link." "The Amazing Race" shot scenes in Narragansett, home of contestant Duke Marcoccio. And we shall leave nameless the Providence citizens who starred in three 1996 episodes of the Fox show "Cops."
• You wince when you get your property tax bill.
Congratulations! Yours is among the highest in the country — 45 percent above the national average, reports the Rhode Island Public Expenditure Council. In the decade from 1994 to 2004, RIPEC says the state's "total [real estate] tax burden increased from the nineteenth highest in the nation to the seventh highest," while Massachusetts's declined from twenty-second highest to thirty-first. Why? RIPEC cites an "over-reliance on the property tax. Property taxes accounted for forty-two cents of every dollar Rhode Islanders paid in state and local taxes, whereas the sales tax paid took nineteen cents, and the state's personal income tax accounted for almost twenty-two cents." The state blames increases in education and Medicaid expenditures. Translation: when your town council chases Big Box stores out of Dodge to preserve its precious rural character, but your kids still have to go to school, guess who gets nailed for the revenue gap?
• You can name the town that almost became the site of the United Nations.
That would be Scituate. In 1946, a U.N. team traveled the globe looking for a location for its new headquarters that offered a good climate, scenic setting and access to major cities, and that would create minimal disruption to the area locals. Chopmist fit the bill. Then oil tycoon J.D. Rockefeller got wind of the search and offered a multimillion dollar donation to help build a headquarters in New York. The U.N. accepted his gift, and the United Nations building as we know it today was constructed on Manhattan's East Side. Scituate proudly describes its brush with international peacekeeping greatness on its website, scituateri.org.
• You can recite the license plates of everyone you know.
Rhode Island's fascination with low-numbered tags is eternal. They originally achieved status symbol rank in the 1950s, when governors awarded them to supporters. For the next three decades, a low-numbered plate guaranteed police wouldn't notice when you blew through a red light. The plates are still so prized, they're passed down through families. In 1983 two brothers sued each other for custody of their late father's three-digit plate. In 1986 Carmine Carcieri paid $25,000 for Plate 7, only to have it seized by the state and end up on Governor Bruce Sundlun's wife's car in 1994. In 1995 Rhode Island implemented a lottery for low-numbered plates, to eliminate patronage. The last lottery occurred in 2003 — coincidentally, the same year an Illinois gubernatorial staffer who gave low-number plates to contributors was imprisoned for influence peddling.
• Your blueblood family has lived in Newport since Roger Williams was around, and your home phone number is published.
You'd think the rich and famous of Newport, following the lead of their showbiz and royalty counterparts, would jealously guard their privacy. But no! Lots of old-money home phone numbers are published in the exact same book as the rest of us. The reason? Well, it seems that people with philanthropic and cultural interests but no office still need to be accessible. Ergo, public phone numbers. Or rather, they have different phone numbers for different people — a private one for folks they really want to talk to (friends, relatives, stockbrokers) and a listed one for party invites from people they've never met and guys selling satellite dishes. Among the listed: Eileen Slocum, Senator Claiborne Pell and Hugh Auchincloss III.
Locations: East Side Marketplace, Dunkin Donuts Center, Twin Oaks Actors: Ben Johnson, Georgia Cohen
Stylist: Maxine Wheelock Photographer: Patrick O'Connor