How Onne van der Wal Captured Photos of Frozen Bay
It was a memory from fifteen years ago that inspired this up-in-the-air photo shoot.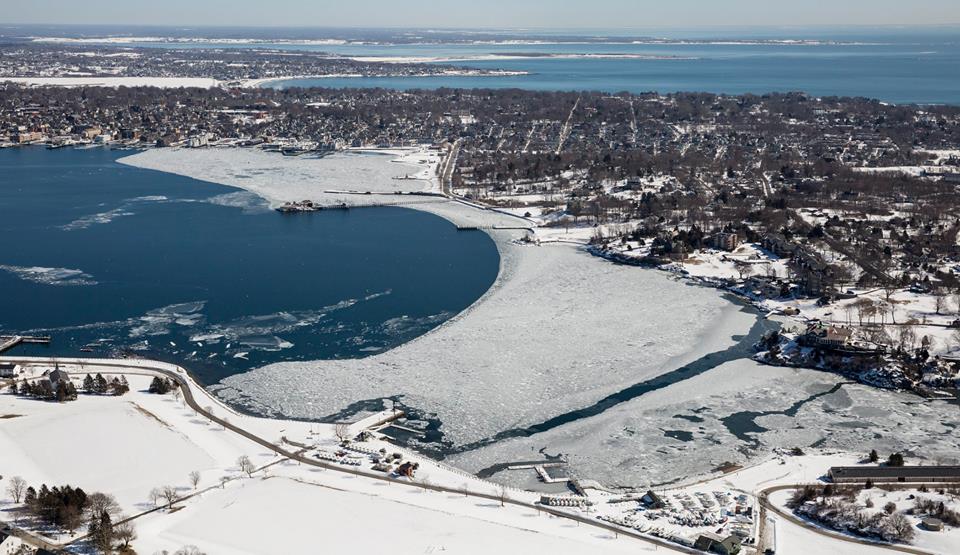 Fourteen or fifteen years ago, internationally known nautical photographer Onne van del Wal was on a plane descending at TF Green airport when he looked down below and saw frozen Narragansett Bay. "It was the only other time I had seen it frozen," he says. This winter, when he saw the bay freezing over, it was the memory of this sight fifteen years ago that inspired him to charter a helicopter to capture images of the ice-covered body of water.
"I remembered that sight looking out of the airplane," says van der Wal, who moved to Newport in 1985 and started his photography business in 1987. "And I thought this is my chance to capture it right." His gallery is located on Bannister's Wharf in downtown Newport.
Van der Wal connected with friend Jeff Codman, owner and pilot of Bird's Eye View Helicopters, and arranged a day to charter the aircraft. When the sun was shining and the temperature read twenty-two degrees on Sat. Feb. 28, they took off to capture the bay from above. "We didn't want to go up when it was five degrees out, because I have to keep my hands bare to control the camera," says van der Wal, who is a Jamestown resident. "The weather was perfectly mild, but the nicest thing was that there was no wind. It made the bay look like glass."
The photos of Newport, Jamestown, Portsmouth and Bristol have gone viral on social media, and soon prints will be for sale on his photography website, vanderwal.com.