How Green are We?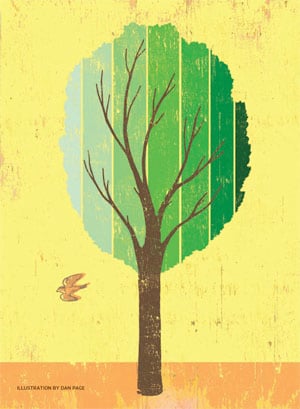 The word "green" gets tossed around a lot these days, but it's a hard one to define. And really the question "How green is Rhode Island?" comprises a bunch of questions: How clean is our air? Our water? How much energy do we use and where does it come from? How much trash are we producing? And how much are we recycling? In short, how does our little state
help or hinder the health of our planet, and, ultimately, the health of its inhabitants?
In 1990, around the time the word "green" became a political catch-word, a comprehensive report came out that boldly asked: Will Rhode Island be the first green state? The report looked at water and air quality, recycling, open space and energy, and offered up public policy suggestions that would help the state become less wasteful.
In the introduction of the piece, the authors optimistically say: "Probably no U.S. state can achieve true 'sustainability,' but becoming 'green' might be comparatively easy for Rhode Island because its size is small, its vistas are beautiful, and its citizens are not only innovative but committed to cleaning up their state."
So did we become the first green state? No. Are we greener today than we were then? The short answer is, nobody really knows. Though most environmentalists and politicians in the state say we're going in the right direction, most agree that lack of funding and leadership makes for a painstakingly longer color switch from brown to green.
Seventeen years after the report, environmental watchdog groups like Scorecard.org consider Rhode Island a very pale green at best. In the latest Scorecard rankings for states with the most polluted air, we came in thirteenth. The Environmental Protection Agency lists us as one of the worst in the country when it comes to the number of waterways threatened by pollution. For chemical releases into the environment and waste generated, however, Rhode Island is listed as one of the cleanest.
Rhode Island made a "brave start towards serious recycling" in the early 1990s, but since then our percentages are "pretty pitiful," in this and other environmental areas, says Harold Ward, an author of the 1990 report, and a retired professor from Brown University's Center for Environmental Studies. Even though, for example, the state has one wind generator in Portsmouth and feasibility studies in motion for a dozen more, the gears of progress toward renewable energy have proved rusty. "We're even looking at wave power," Ward says, "but the state has been waiting for two years to permit just a small
test unit in Point Judith."
Rhode Island recently became the last New England state to join the Regional Greenhouse Gas Initiative, a cooperative
effort to reduce greenhouse gases in the Northeast. The announcement was a crowd pleaser during Governor Carcieri's most recent State of the State address. And with the governor asking that 20 percent of the state's energy be derived from wind and water by 2011, it seems like Rhode Island is at least going in the right direction.
"We're really at zero right now when it comes to renewable energy sources," says Andy Dzykewicz, the chief energy adviser to the governor, a position Carcieri created. He says that of the 8,615 megawatt hours of electricity the state generated in 2006, only one megawatt came from hydroelectricity and twelve from landfill gas. "We have 650 dams we're eyeing for hydroelectric power," says Dzykewicz. "We have wind, we have water, let's use them."
The one thing the state has done best is preserve land, says Ward. "This is one of the few areas where you can't slide back," he says. Nearly 50 percent of the state is undeveloped, and a large percentage of that is protected. Statewide Planning, the Department of Environmental Management and local land trusts are all fighting to get to the rest before developers do.
And some Ocean State cities are making efforts at the microlocal level.Ward points to Warwick's efficient recycling program as a bright spot in efforts to reduce waste. Providence mayor David Cicilline is one of 350 mayors who have signed the U.S. Conference of Mayors Climate Protection Agreement. In signing, he has agreed to reduce energy consumption and greenhouse gas emissions in every level of city government by following the groundbreaking Kyoto Protocol, which the United States has yet to sign.
"We're really at zero right now when it comes to renewable energy sources."
—Andy Dzykewicz, chief energy adviser to Governor Carcieri
"It's clear to me that if there's going to be any real progress with the environment, it's going to happen at our level," says Cicilline. "This is really about education. In places like Seattle, the parents of the people running things instilled responsibility. We want to start that here."
And of course, our state is only part of a much bigger issue: "Nobody in this country is sustainable," says Harold Ward, "We're consuming way too much. For the country to be sustainable, the population would have to be reduced to 10 percent."
As far as rankings go, Ward says it's too difficult to give a "green report card." In 1989, an attempt was made to rank the greenest states by the Institute for Southern Studies and Renew America. Rhode Island placed fourth and thirteenth respectively. Today, there are no comprehensive state environmental rankings, but the EPA and Scorecard.org both compile state statistics that give a glimpse into how each state is doing.
Assessments of environmental health always have an element of subjectivity, says John Torgan of Save The Bay, author of the 2006 "State of the Bay" report. "Most assessments are based on facts, but at some point you make a value judgment if things are better or worse," he says. Ultimately, numbers can be deceiving, hiding initiatives and laws that plan for future protection. In his report, for example, Torgan says he looked at more than just nitrogen levels or pollution. "We measure policy victories and give them a certain weight, too," he says.
So, how green are we? Here we give you some tools to help you decide for yourself. In the following pages there are many numbers: charts and graphs and figures on factors that affect the health of our environment, ranging from transportation to energy. They'll only show part of the whole picture. But together they are a telling snapshot of our state's impact on the earth. Our hope is that they'll give you an idea of where we stand. Perhaps they'll even inspire you to ask some hard questions, start a conversation with a neighbor—or maybe, just turn your heat down a few degrees.
ENERGY
When it comes to energy consumption, Rhode Island rules: we havethe lowest per capita energy use in the nation. Unfortunately, hardly any of it is renewable. Our one wind turbine is but a faint breeze when compared to the trend gusting through the country (a 64 percent rise in wind power nationwide between 2005 and 2006). Governor Carcieri's 2006 energy strategy, however, calls for 20 percent of our electricity to come from renewable sources within the next four years. Much of this will come from wind, found in abundance along our shores. There are also many dams and old mills that could support waterpowered generators. It will take some serious effort to overcome our dependence on fossil fuels. But it appears that greener energy is finally blowing our way.
---
Light source
Our electricity comes from a pool of generators in New England and imports from adjacent areas. From July 1, 2005, to June 30, 2006, Rhode Island received electricity from turbines powered by ⇒
---
20
Proposed percentage of electricity in Rhode Island provided by
renewable energy sources by 2011, according to the state energy plan.
---
Do Greeners
National Grid's electricity customers can purchase renewable energy certificates that help fund alternative energy in the region.
Enrollment numbers are still low, but the percentage of Rhode Island
buyers is more than twice as large as neighboring Massachusetts.
---
GreenUp Enrollment
STATE ENROLLED PERCENT
Rhode Island 4,515 .96%
Massachusetts 5,654 .04 %
New York 13,600 .08 %
Locally Made
The electricity generated in Rhode Island feeds into the New England grid. We contribute about 6 percent of the energy in the New England mix, generated by turbines powered by the following:
Natural Gas 96.8%
Other Renewables* 2.1%
Petroleum 1%
Hydroelectric .1%
* Wind, landfill gas
SOURCE: NATIONAL ENERGY INFORMATION ADMINISTRATION
LEEDing the Way
The governor's bright idea: make every new state building an energy-efficient one. Last August, Governor Carcieri signed
an executive order requiring all new state building projects (and those undergoing significant renovation) to attain LEED
certification. This stamp of approval, created by the U.S. Green Building Council (LEED stands for Leadership in Energy
and Environmental Design), is given to buildings that meet strict sustainable standards, drastically cutting the
amount of energy, water and toxic materials they use.
Currently, there are no LEED-certified buildings in Rhode Island, but at least nine are registered, the first step in the
process. Some are state-funded; others are nonprofits and private businesses. Two of the projects: the new state police
headquarters in Cranston and the South Providence Development Corporation. The former, a 143,500-square-foot
building, will feature energy-efficient heating, lighting and insulation. Its construction will also incorporate recycled
materials, and the grounds will be landscaped using drought-resistant shrubs. The latter, a renovated 25,734-squarefoot industrial space, has a roof covered in plants, naturally bringing the building's temperature down and reducing carbon
dioxide in the air.
Together the nine projects represent more than 775,000 square feet of earthfriendly real estate.
AIR QUALITY
Since the enactment of 1963's Clean Air Act, the Rhode Island departments of health, environmental management and transportation have combined efforts to reduce the amount of harmful toxins our cars and factories send into the atmosphere. And the results show: air quality has improved, as carbon monoxide and other pollutants have decreased, thanks in part to low-emission vehicles, congestion alleviation projects and stringent Environmental Protection Agency standards for industry. In 2009, the state will adopt California's strict car emissions standards for manufacturers, which will reduce emissions by 31 percent by 2016. There's still work to do, however. The national standards the state uses to create its air quality index do not include airborne toxins like benzene, a compound of gasoline released from cars and a known carcinogen. The state does monitor benzene, though. And while levels of the chemical have declined, it has been measured recently in the state at amounts ten times higher than the EPA's goal.
---
Deadly Numbers
Added cancer risk is the estimated individual risk of getting cancer due to a lifetime exposure to outdoor air pollutants. The national Clean Air Act's goal is to reduce this risk to one in one million people. An added risk of 670, then, is 670 times higher than the Clean Air Act goal. Scorecard.org, a nonprofit, online clearinghouse of pollutionrelated information, estimated ACR using Environmental Protection Agency exposure figures
based on 1996 emissions data.
Added cancer risk per 1 million people

| | | |
| --- | --- | --- |
| National Rank | State | Added Risk |
| 5 | MA | 890 |
| 9 | CT | 850 |
| 13 | RI | 670 |
| 29 | NH | 470 |
| 42 | ME | 240 |
GREENHOUSE GASES
In early February, a United Nations report, representing scientists from hundreds of countries, confirmed what environmentalists have been saying for years: global warming is real, and it is mostly likely caused by humans. As the threat of warming due to man-made pollution has heightened, so has our state's response. In 2002, the Rhode Island Greenhouse Gas Action Plan (RIGGAP) was created. And in January, Governor Carcieri became the last New England governor to sign the Regional Greenhouse Gas Initiative. Both aim to significantly reduce greenhouse gas emissions over the next two decades. What will happen if we don't turn back the clock? The same U.N. report predicted that global warming will cause sea levels to rise six to twenty-three inches by 2100, a change that would undoubtedly transform our state.
Global Warming 101
How it works: Naturally occurring gases create a "blanket" over the earth that traps heat from the sun in the atmosphere, making earth livable. Eighty to 90 percent of this "greenhouse effect" on earth is due to water vapor. Another natural greenhouse gas is carbon dioxide. For the past 150 years, man-made gases, like carbon dioxide, methane and nitrous oxides, released from fossil-fuel burning, have enhanced the effect, combining with the natural gases to make a "thicker" blanket. The result: Global warming, a planet-wide rise in temperatures scientists warn will eventually cause warmer, wetter weather (and associated health risks), rising sea levels, stronger storms and less snow.
---
Gassing Down
To establish greenhouse emissions goals for Rhode Island, Boston-based Tellus Institute was hired to crunch the numbers. The institute considered regional energy use, vehicle and factory emissions, demographic figures and climate predictions to estimate what our future emissions would be if unchecked, and how much they would be reduced once certain policies were put in place.
The state has already taken actions that will reduce emissions by 3.55 million tons by 2010 (see how below). But this is not enough to meet the RIGGAP goal of lowering emissions to 1990 levels by 2020.
STATE ACTIONS TO REDUCE EMISSIONS
(results reflected in blue line on graph):
1. Require cars sold here to meet California's low emission standards by 2009.
REDUCTION BY 2010: 17,200 tons*
BY 2020: 175,500 tons
2. Require local electric utilities to increase retail electricity sales from renewable sources, starting with 3 percent in 2007 to 16 percent in 2019.
REDUCTION BY 2010: 40,000 tons
BY 2020: 172,000 tons
3. Subsidize residential, commercial and industrial purchases of energy-efficient electrical equipment.
REDUCTION BY 2010: 53,500 tons
BY 2020: 118,700 tons
4. Subsidize commercial and residential purchases of energy-efficient natural gas-fired furnaces and turbines.
REDUCTION BY 2010: 38,300 tons
BY 2020: 114,100 tons
5. Require that certain appliances—from air conditioners to commercial freezers—meet federal lowenergy use standards.
REDUCTION BY 2010: 9,200 tons
BY 2020: 41,100 tons
*emissions measurements are in metric tons of carbon equivalent
SOURCE: OFFICE OF STRATEGIC PLANNING AND POLICY, RIDEM
Water
First the good news: The National Rural Water Association ranked our Department of Health number two nationwide for providing safe drinking water.
Now the bad: We're a water-rich state, but experts warn our high usage may not be sustainable, a problem heightened by our increasing reliance on one source, the Scituate Reservoir. What's the biggest residential guzzler? Lawn watering.
And now the worst: Narragansett Bay's health continues to decline. 2.2 billion gallons of untreated sewage are released into the bay annually. The sewage increases nitrogen levels, harming fish and important microorganisms, and closing beaches and shellfishing beds. The future does look less murky. In 2006, a 16,000-foot-long tunnel was completed, part of a large project that will divert waste from overflowing sewers.
The State of the Bay
Seven years ago, Save The Bay rated Narragansett Bay, giving it a 4.5 out of 10, 10 being the healthiest bay imaginable, 1 being the most polluted. In 2006, it scored even lower at 4.3. These two reports used ten indicators to evaluate the bay. Here are some of the highs and lows. The bottom line: our state's most defining landmark still needs saving.
HIGHS
Toxic Substances 2000: 6 2006: 7
Toxics, ranging from heavy metals (like mercury and lead) and chemicals (like pesticides and PCBs) discharged from wastewater plants and other industries have been reduced from high levels in the 1940s
and '50s by more than 90 percent.
Salt Marshes/Coastal Wetlands
2000: 4 2006: 5
These serve as nursery and spawning grounds for sixty-three species of fish, as well as stabilizing the shoreline and helping to filter pollution runoff. More than 70 percent of the historic acreage has been lost,
but several restoration projects have been completed since 2000.
LOWS
Bottom Fish 2000: 2 2006: 2
Stocks of fish like winter flounder and cod are still very low compared to historic levels. Overfishing, increased water temps, nutrient pollution (sewage) and loss of spawning habitat are all to blame.
Migratory Fish 2000: 6 2006: 2
Alewives and blueback herring declined 95 percent since 2000, due to increased water temps, nutrient pollution and overfishing. But striped bass and bluefish made a comeback thanks to improved local management.
Shellfish/Crustaceans 2000: 6 2006: 4
Shellfish stocks sharply declined between 2000 and 2006. Lobster landings decreased by 66 percent, most likely due to low juvenile populations in the '90s, overfishing, shell disease and several oil spills.
See the complete"State of the Bay"report at www.savebay.org/advocacy_sotb06.asp
Testing theWaters
The Department of Health tests the drinking water supply for coliform, lead and copper, and various other contaminants including microorganisms, organic and inorganic chemicals and radioactive substances.
The Big Suck Up
Over the last decade, per capita water use has gone down, but our overall consumption continues to increase.
| | |
| --- | --- |
| | |
Transportation
The stats prove what we've always known: Rhode Islanders love their cars. While population growth has slowed, car usage has skyrocketed, producing more pollutants that contribute to poor air quality and global warming. And though ridership on RIPTA's buses and ferries has increased, efforts to promote mass transit have been slowed by tight budgets and an ethos of personal independence.
On the bright side, work began last summer on the ten-year-old plan to link Boston's commuter rails to T.F. Green Airport. But there's at least one possible glitch: Amtrak's commitment to link its service to the
Warwick station is still not finalized.
Damn Traffic Jam
Road rage may be the least of our worries: morevehicles on the road equals more pollution.
Increase in average daily traffic onI-95 RI, 2001 to 2006: 19%
RI population increase, 2001 to 2006: .86%
Public Airways
We're driving more, but we're taking the bus more often, too. The result? An ongoing reduction of volatile
organic compounds (VOCs), nitrogen oxides (NOx) and carbon monoxide (CO), pollutants that cause
disease and contribute to global warming.
26 Percent increase in public transit use between 2003 and 2006.
Source: RI Public Transportation Authority

Air toxin reduction due to public transit use:
VOC and NOx reduced by 194.2 kg/day in 2004 218.4 kg/day in 2005
CO reduced by 1,031.2 kg/day in 2004 1,236.2 kg/day in 2005
Source: RI Public Transportation Authority

---
Zipping Up Emissions
A car-sharing program eases parking woes and pollution.
What do you get when you mix thousands of Brown University students with an already desperate Providence parking situation? Lots of exhaust emissions as people troll the streets for spots. The solution? Zip Car, a program at Brown University that allows students and faculty to rent a car by the hour or day.
Reservations for one of two low-emission cars are made online, and users simply wave a card in front of the windshield to unlockthe doors. Gas, insurance, XM radio and a reserved parking spot are included in the fee (rates are from $8 per hour and $60 per day, plus a $30 annual fee). Two hundred people have signed up
for the program since it started in 2005, and today reservations average 100 each month. The cars have become so popular that a third car, a Toyota Prius, is scheduled to arrive this year.
"We've found that exhaust emissions and competition for parking are directly related. It turns out that most environmental impact reduction measures are just good business decisions," says Kurt Teichert, the university's resource efficiency manager.
Zip Car is a national program. Cities like Boston and New York have fleets of cars for rent. So will Zip Car be making its way past the Brown borders and into the city? Unfortunately, the company has no immediate plans for Rhode Island expansion, though a spokesperson says they are always on the hunt for new markets.
Check out www.zipcar.com for more information.
WASTE
There are some states where residents cheerilycut their cardboard into neatly twined stacks, where tossing cans and bottles into the recycling bin is second nature. Not so Rhode Island. With a recycling rate hovering around 14 percent, this basic act of environmental stewardship hasn't really proved our forte. Massachusetts' recycling rate is even lower, at around 10 percent, but compared to nearby Connecticut, with a rate of 26 percent (and more distant states like Washington, with a rate of 35 percent), our numbers look downright abysmal. The state did reach a milestone in 2005, recycling 55,538 tons of paper, saving 183,275 cubic yards of landfill. But the Johnston Landfill will reach maximum capacity by 2010, meaning we may soon have to ship trash across our borders—and pay big bucks for it.
---
No More Room at the Bin
Where will we dump our trash when our landfill reaches capacity in three years?
Covering 230 acres and towering at 564 feet above sea level, the Johnston landfill receives about 96 percent of our state's garbage. Since 1982, when the state acquired it, 22.5 million tons of solid waste have been piled onto the
site, which has been expanded five times. It is projected to reach capacity again in 2010. A mountain of a problem? It could be if the Rhode Island Resource Recovery Corporation, the group that manages waste in the state, does not receive approval for expansion. With nowhere
to go, garbage would have to be trucked out of the state at a higher cost to the tax payer. Or worse yet, a coveted piece of the area's open space might have to be used to make
room for a new dump.
The RIRRC is working to improve recycling and divert material from the landfill. But only recently have Rhode Island's recycling rates been rising faster than the landfill, which receives more than one million tons annually. No matter what happens in Johnston, the state will need to reduce trash to keep the landfill viable in the more distant future. The best way to do this? It's simple: less dumping, more reuse, more recycling.
---