Hot New Venue: Pump House Music Works
The Peace Dale music hall primes the pump for aspiring musicians.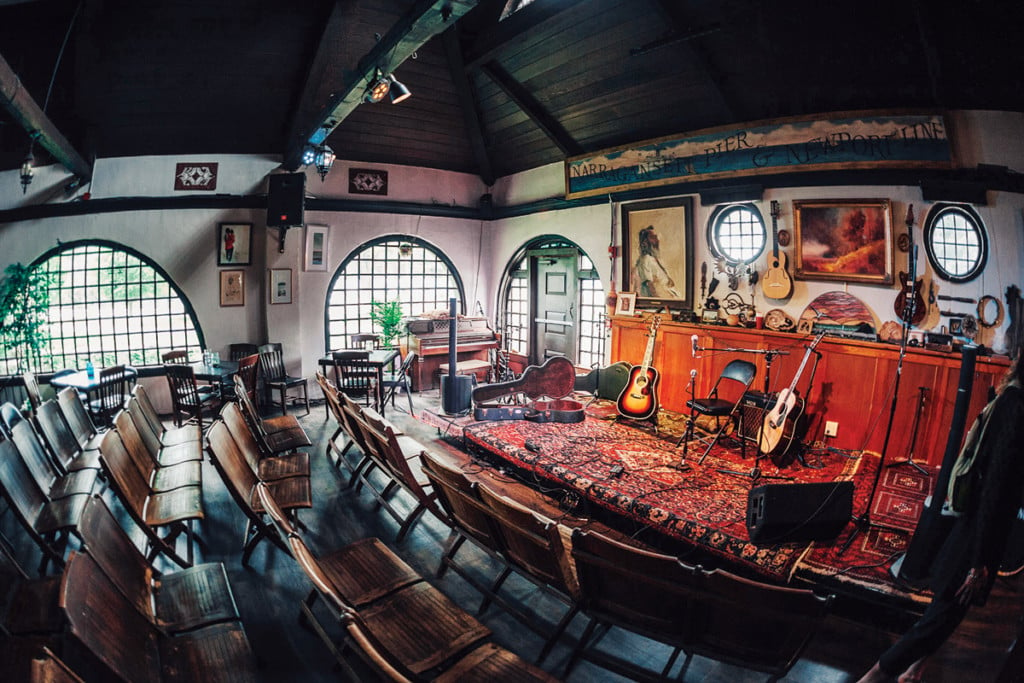 Instruments that began as slabs of raw wood in the workshop of Shady Lea Guitars come to life in the hands of the musicians who built them at Peace Dale's Pump House Music Works.
Luthiers Dan Collins and Ariel Rose Bodman are partners in love as well as artistic collaborators. Last year, they moved their custom instrument business and guitar-making school from North Kingstown's Shady Lea Mill to Peace Dale's historic Pump House. The space enjoyed a long run as a landmark South County restaurant. One former dining room is now the Music Works performance venue, drawing crowds nearly every weekend evening, while another holds the work benches and tools used by Collins, Bodman and their students during the day.
The nonprofit Pump House Music Works provides space for musicians to perform live — some for the first time. Shows start early, which keeps the neighbors happy, and attract area music fans. "I don't think anyone can even step foot into the Pump House without being struck by how inviting and creative the space is," says South Kingstown musician and producer Ray Gennari. "People are there for the music — to hear it, be part of it and support it."
The Pump House is also the couple's home, and when they are not building, teaching, cleaning, hosting or performing, they live in an apartment out back. A dedicated core of volunteers helps keep the place humming. Music instructor Victor Main donates his time serving drinks during shows, while Gennari is helping Bodman learn sound engineering. "The amount of generosity people have shown us is mind-boggling," says Bodman.
Pump House Music Works recently received its first grant from the Rhode Island State Council on the Arts. "The venue is going beautifully, and the school as well, but we definitely want to start producing our own line of instruments," says Bodman. "It's its own organism at this point, and it feels like Dan and I are just along for the ride." 1464 Kingstown Rd., South Kingstown, 824-9971, pumphousemusicworks.com