Host Your Own Clambake
Bring the beach to your backyard for a party of eight to ten people with this menu and recipes from Middletown's Blackstone Caterers.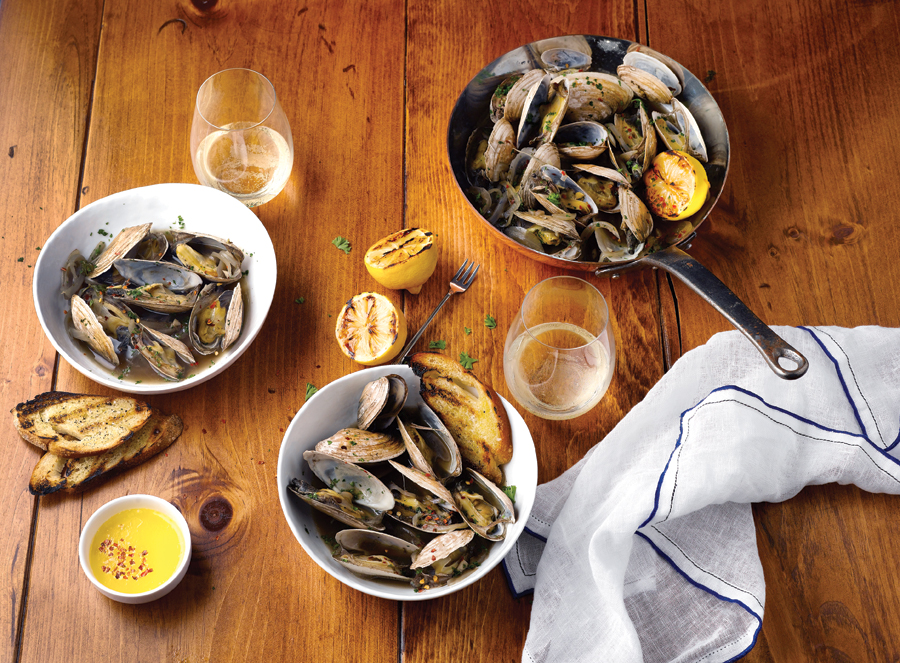 TIPS:
• Shop locally: Go to your local fish house and farmers market to make the most of what's in season. (Hint: Strawberries are great in June.)
• To keep it casual, pick furniture that's already in your house, such as a round dining table as a chowder station. Use garden chairs for seating, or rent tables and linens to make it easier.
• Pick flowers from your own yard and place them in vases on the tables.
• Set up the raw bar for guests as they arrive.
• Rather than having the buffet on all one table, break it up so the chowder is on one table, the dessert is on a separate little table and the bar is in another area so the guests are not all in the same place at one time. Spread them out in your backyard.
• Set up separate tables for lemonade and cucumber water and beer and wine and make them self-service. Del's Summer Shandy and a nice, crisp rosé pair well with the menu.
• Use smaller containers, such as Le Creuset Cookware with a little burner underneath, to keep dishes like chowder warm and add a punch of color.
Menu
Raw Bar
♦ Native littleneck clams and a variety of local oysters (twelve to fifteen of each) and eighteen to twenty-four chilled cocktail shrimp, presented on a bed of crushed ice and seaweed.
Serve them with spicy cocktail sauce, horseradish, fresh lemon and wasabi melon mignonette (see recipe).
Wasabi Melon Mignonette
½ cantaloupe, skin and seed removed
1 Tbs honey
1 tsp wasabi (you can find in any Asian grocery store)
¼ cup rice wine vinegar
Dice the cantaloupe into one-inch cubes. In a small bowl, blend the honey, wasabi and vinegar. Place the cantaloupe in a blender or food processor. Blend on medium speed, slowly adding the wasabi, honey and vinegar mixture. Serve with fresh oysters, littleneck clams or cocktail shrimp.
---
New England Clam Bake
♦ Native steamers with drawn butter and broth (see recipe)
Native steamers with drawn butter and broth
40 steamer clams, soaked in shells and scrubbed
2 Tbs extra virgin olive oil
6 cloves garlic, minced
1 cup white wine
2 Tbs sweetened, unsalted butter
½ cup chopped parsley
Wash clams to remove any dirt or sand. In a large pot, heat oil over medium heat. Add garlic and saute for one minute, or until tender. Pour in the white wine. Add the clams, cover and steam until the clams start to open. Add the butter, cover and cook until most or all of the clams open. Discard any clams that do not open. Serve with parsley, the stock from the pot and melted butter.
♦ Eight to ten 1 ¼-pound boiled New England lobsters, with drawn butter and fresh lemon
♦ Roasted local new potatoes with sea salt and fresh dill
♦ Grilled chourico and onions with petite rolls
♦ Fresh native corn on the cob
♦ New England clam chowder
♦ Herbed corn bread
♦ Strawberries, raspberries, shaved red onion, crumbled chevre, toasted almonds over spinach and arugula with vanilla honey vinaigrette (see recipe)
Vanilla Honey Vinaigrette
¼ cup Champagne vinegar
1 Tbs whole grain mustard
¼ tsp salt
½ tsp pepper
1 pinch of sugar
1 Tbs honey
¼ tsp vanilla extract
¾ cup of 25 percent vegetable oil/75 percent olive oil blend
In a small bowl, whisk together Champagne vinegar, mustard, salt, pepper, a pinch of sugar, honey and the vanilla extract. Slowly add the oil blend, whisking until it's emulsified. Or add the above ingredients to a blender, mix on medium and slowly add the oil blend.
---
Dessert Station
♦ Berry shortcake bar: homemade biscuits, fresh strawberries, blueberries and raspberries with vanilla-infused whipped cream and fresh mint.
♦ Coffee, decaffeinated coffee and hot tea.