Horsing Around with PVD's Mounted Command
We got up close and personal with the force's newest equine employees — and the human partners who love them.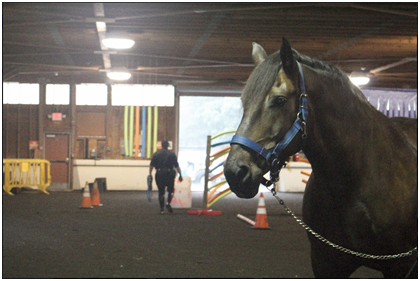 It's a soggy day at Roger Williams Park. Rain drips off a large barn that sits across the street from the botanical gardens, puddles forming on the warm asphalt below. The barn and adjacent stable and corrals are home to the Providence Mounted Command Unit, with the stars of the unit quickly making their presence known with the clop of their hooves and whinnies of warm greeting.
A petite uniformed woman with short white hair and earrings walks out from the small office in the stables, and with a shake of her hand introduces herself as Lieutenant Michelle Guerette, day officer in charge and mounted unit commander. She sounds like Dory from Finding Nemo, and is just as cheerful.
"We'll give you a tour to get you a good picture of what we do here and so you can meet our newest additions," she says, leading me through the hallway, the smell of horse and straw and manure lingering in the rain-soaked air.
Horses peer from their stalls, warm brown eyes curious at this new presence in their midst.
The Mounted Command was formed in 1879, back when the use of horses was commonplace and by far the fastest means of transportation. The unit was re-established in 1980 with an open space grant providing the barn and stables and a maximum capacity of fifteen horses.
"Right now we have eight horses and four riders," Guerette says. "We just picked up the three new horses because some of our mounts started to get a little old."
The horses are chosen based on personality and undergo a thorough thirty-day trial before they are formally adopted as part of the unit.
"We look for soundness, bravery — that's a big one — and quiet demeanor," Guerette says. "The horses are usually used for crowd control, with four horses the equivalent of forty police officers. Plus, a 2,000 pound animal easily clears the streets."
Speaking of massive animals, we walk up to a truly massive horse tied up in the middle of the stable, one of their new acquisitions.
"So, this is Goliath," she says, "he's the biggest horse in our barn."
---
MEET GOLIATH
18.2 hands (that's six feet high at his shoulder for non-equestrian folk — in simple terms, HUGE)
Eight years old
"I like to have fun (running along the fence in the paddock is a favorite pastime of mine), but when you strap my snazzy chest plate on, I mean business. I am said to be spirited, but I'm just proud of my job, my rider Tony and of course, how massive and powerful I am. Oh yes, I'm huge and I know it — and I revel in it. I am the king of this domain (eyes Charlie conspicuously) and don't you forget it!"
---
Big is an understatement. Goliath is truly an intimidating horse, with his shoulder height at a whopping six feet and a regal and muscular neck and face.
"He comes in around 2,200 pounds," Guerette adds.
His rider, patrolman Antonio Laranjo, describes him as "spirited." Laranjo began riding horses at age three, when his grandfather tossed him up on a thoroughbred back when Twin River was Lincoln Downs and his family raised, trained and managed horses.
"Stop, stop, stop," he says to Goliath, who attempt to nibble at his fingers. "Okay, shhhh, relax. He more or less plays, but he thinks I have treats for him."
The bond between Laranjo and Goliath is evident, and each horse and rider is matched by personality.
"I don't know if it's a natural selection kind of thing, but the riders and the horses, their personalities tend to match up," Guerette says. "Tony is an aggressive rider, he's very firm with his horse and his horse needs that. They work really well together."
While Goliath is spirited, he also likes to have fun and can often be found running around the corral. But when he is tacked up by Tony, and his chest plate goes on, he's all business.
"He knows, 'Alright, I'm going to work,' and you can see his demeanor settle right down," she says.
The other two new additions to the pack also have their own personalities and quirks.
We open a stall with a smaller horse that looks up quietly at the intruders.
"So Perk is the newest of our new horses and he is eight years old."
Perk couldn't be more different than Goliath. Where Goliath is confident, competitive and self-assured, Perk is quiet, sweet and shy.
---
MEET PERK
16.3 hands (five feet, seven inches to shoulder)
Eight years old
"I need you to take the reins (literally). I'm still learning the ropes, and sometimes I get a little anxious. All those colors and things popping up out of nowhere make me a bit nervous! And the ball…. oh I do not like that weird, rotund thing that bounces all over the place! But I just want to make you happy, so if you want me to be friends with the ball, I will try. All I want in life is for you to love me. That, and an apple core."
---
Handler Kayla Waskiewicz says, "[Perk's] a little bit introverted, but super sweet and he tries really hard to please you and find out what you expect from him."
She leads Perk into the barn, where an array of pool noodles spring from poles and streamer-like paper hangs from the ceiling. This is where the horses are trained for police work, how to be calm, cool and collected in the face of large crowds, curious children and even rowdy nightclub-goers.
As Perk trots around, tepidly nudging a ball before deciding he definitely does not like it, a third horse slowly is led inside the barn.
This is Charlie.
---
MEET CHARLIE
Four years old (he's a baby!)
17.1 hands (five feet nine inches to shoulder)
"Hi, I'm Charlie. Sometimes I wonder why they want me to work so hard, so sometimes I can't help but give a mopey face when they ask me to start trotting. It's a hard life, being a horse. And Goliath can be bossy sometimes, so I like to tease him by pretending I am the boss. He really doesn't like that! I love my riders and people are so friendly, I love it when they scratch my neck. Sometimes I like to just stand and ponder the meaning of — wait, is that a ball? I love the ball!"
---
Guerette walks over to the large, honey colored Clydesdale (a.k.a. the Budweiser horse) and scratches him under his neck. He responds by stretching his neck out for more, his eyes closing slightly.
"He's the laziest horse I've ever met, but I love him for it," she says, laughing.
Charlie is the baby of the family — basically a cute, curious, goofy toddler.
"He likes to put everything in his mouth, play with everything, see everything," Waskiewicz says as she saddles him up.
Laranjo enters the barn on Goliath, regally trotting around.
"Goliath and Charlie have yet to solidify their bond," says Laranjo from high up on Goliath's back. "Charlie is four years old and he's got the 'leader of the pack' mentality, and Goliath being Goliath is like 'I'm not having that,' " he says.
Waskiewicz trots Charlie around, showing off (despite his laziness) a smooth trot and impressive tolerance to all the distractions set up around him.
"We did some crowd control training prior to the festivals where we lit off smoke canisters, fired off blank rounds into the air and had a number of the police come out and act as an unruly crowd. We took the balls and threw the balls at him, which Charlie thought was a game," Guerette says before nodding to the goofy Clydesdale. "See look, the ball, he found it. And there he goes, 'Oh I love the ball!' "
"We're starting to get him ready to go on post and we've started using him during the day a little bit. He's going be a horse that once he gets it, he gets it like that," she says, snapping her fingers.
After the horses do some work walking, trotting, cantering and exploring the stimulus set up around them, they are lined up for their photo opp: Goliath tall and regal, Perk shy and sweet, and Charlie…. Charlie practically grinning with youthful happiness.
But there are other figures smiling, too. Guerette, Laranjo and Waskiewicz all have huge grins on their faces, proudly lining up their steeds and exemplifying without words the bonds that can grow between human and horse.
Guerette scratches Charlie's neck again and he gently nudges her arm. "This program means so much to our department," she says, "and on a personal level means so much to the officers. They do their eight-hour shift any given day, and afterwards you're going to find them coming in and spending time with the horses."